---
The most divisive US election is done and dusted. President-elect Donald trump overturned all projections of US media giants to garner a comfortable win at the election.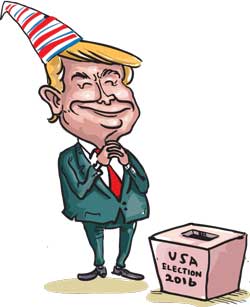 In his first post-election speech, he praised his rival and said the country owed her a debt of gratitude for the hard work during her years as Secretary of State and promised to unite all America.
Mr. Trump's goal which he emphasized in his victory speech was to concentrate on uniting all Americans irrespective of colour, creed, religion or race to rebuild US infrastructure and industry. This is good, because in his campaign, he unleashed nationalistic forces with the anti immigration card -- the threat to deport Latin-Americans living in the US without legal documentation and jailing Secretary Clinton. As it became more and more clear that Trump was on the brink of an upset victory, people at his campaign headquarters were heard chanting "lock her up… lock her up" – a campaign slogan.

It is now up to the president-elect to rein in the forces of nationalism which he himself unleashed. Just two days ago, Daily Mirror correspondent Hafeel Fariz pointed out that in fact sections of the US media were blowing Trump's campaign slogans out of proportion and making them out to be serious issues – like the building of a wall between Mexico and the US. He compared this to President Obama's campaign promise of closing down Guantanamo Bay prison within his first hundred days. A promise which the then Senator Obama was fully aware he could not keep.

There is hope therefore, that Trump's supporters recognize them as mere campaign slogans and not actual actions he was committing himself to. If on the other hand his supporters do take these slogans seriously, a President Trump may face the same backlash premier S.W.R.D. Bandaranaike faced after the divisive poll held in Sri Lanka in 1956, which led to a near three-decade long civil war in this country.

So how will the election of a man described as a loose cannon, affect those of us who do not live in the US? Trump has taken a staunchly anti terrorist stance even going to the extent of promoting the use of torture to safeguard national interests. He will, without doubt appreciate Sri Lanka's crushing of the organization once described by the US itself as the 'world's ruthless' terrorist group. Perhaps we will see a softening of US attitudes towards the manner in which peace was restored in this country and the elimination of terrorism here. This will likely reflect at the UN which has accused SL of war crimes.

Unlike Secretary Clinton, Mr. Trump does not view Russia and its leader Vladimir Putin as the arch enemy of the US. In fact he emphasized having Mr. Putin as a friend, which would help in settling differences. Incidentally Mr. Putin was one of the first world leaders to congratulate Mr. Trump on his victory. Mr. Trump has called for a de-escalation of tension on the European front and for NATO countries to spend for their own defence rather than depending on the US.

Secretary Clinton on the other hand has been upping tensions between the US and Russia which could have led to a revival of 'cold war' tensions. Again Mr. Trump has also spoken of lessening US involvement in the Asian region and calling for nations in the region to settle differences without involving the US, thus lowering tensions with China. We may also see a shift in the US policy in South Asia, where presently the US has been backing India to the detriment of US's old friend Pakistan, which was an active US ally in its 'war on terror'.

How the deal with Iran will fare under a President Trump is uncertain. Mr. Trump has accused President Obama of caving in and bending backward to accommodate Iranian demands and has threatened to tear up the agreement. But his friendship with Mr. Putin will hopefully help find a way out in the future.

In the end, the election of a person not dependent on various interests groups could further world peace and having no political experience may be the best thing that happened to US politics and the world in general. Unfortunately climate change and the dangers it poses to the world are not on Mr. Trump's radar. Sad for a leader of the world's most powerful nation.