---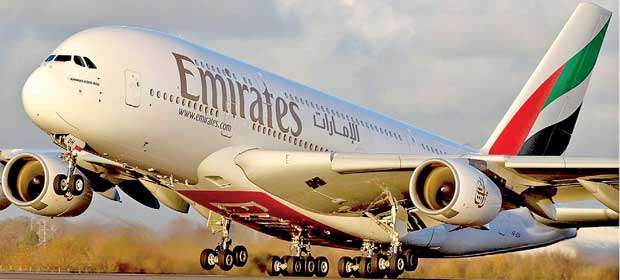 Around early 1985, when I was working with Dubai based English Language Daily Khaleej Times, speculation was rife that the Dubai Government was planning to start an international airline.

Many dismissed the success of such a venture. However some said it would turn out to be a success story. I made queries about the venture from Mr. Maurice Flanagan, the then Manager of Dubai National Air Travel Agency, who later became the founder and General Manager of Emirates Airline.

He confirmed the story and on 25 March 1985 Emirates Airline was launched with its inaugural flight to Lahore with Pakistan International Airlines providing two of the airline's first aircraft on wet-lease.

With $10 million in start-up capital it was required to operate independently of Government subsidy. Pakistan International Airlines provided training facilities to the Emirates' cabin crew at its academy.

Today this is the largest airline in the Middle East, operating over 3,600 flights per week from its hub at Dubai International Airport, to more than 140 cities in 81 countries. From March 2016 to February 2017 Emirates had the longest non-stop commercial flight from Dubai to Auckland.

Emirates operates a mixed fleet of Airbus and Boeing wide-body aircraft and is one of the few airlines to operate an all-wide-body aircraft fleet (while excluding Emirates Executive). As of November 2017, Emirates is the largest Airbus A380 operator with 103 aircraft in service and a further 42 on order. Since its introduction, the Airbus A380 has become an integral part of the Emirates fleet.

When emirates airlines was launched, SriLankan airlines, then Air Lanka, made a remarkable headway as one of the most successful third world airlines. Air Lanka was established as the flag carrier of Sri Lanka once the Government of Sri Lanka shut down the bankrupt Air Ceylon.

In 1998, the then administration of former President Chandrika Kumaratunga, sold 40 percent of the equity of SriLankan, worth US $ 70 million, and later increased it to 43.6%, and gave management rights to Emirates after it suffered years of losses.

However Emirates exited the airline after 2008 and sold their shares to the Government. SriLankan Airlines, which made a profit of 4.4 billion rupees in 2008, the year in which the management agreement with Emirates Airlines ended, has lost 107 billion rupees since then.

Highlighting the precarious situation of Sri Lankan airlines, Deputy Minister Eran Wickramaratne said on 24 March 2016, that the state-run SriLankan Airlines was made to suffer colossal losses because fromer President Mahinda Rajapaksa forced out Emirates Airlines. The national carrier then entered into a questionable aircraft deal, which amounted to a national financial crime.

The Rajapaksa administration had cancelled the visa of then Chief Executive Peter Hill because he did knock off enough paying passengers to accommodate a large entourage of Rajapaksa loyalists in a single aircraft, he said.

Cancellation of visa

"The CEO had said 'We should not offload all these passengers since they are citizens and they are paying passengers with a contract," Wickramaratne told Parliament.

"The next day his visa was cancelled and the year was 2007."

By 2015 there were accumulated losses of 128 billion rupees, debt of 76 billion rupees (542 million dollars) and a hole in its balance sheet of 74 billion rupees. The hole in the balance sheet would have been bigger if not for capital injections by the Treasury which came in the form of taxes collected from the people.
Sri Lankan Airlines had been given 100 million US dollars each year to cover losses by the Treasury. SriLankan's management had then decided to buy A330 and A350 aircraft in a reckless manner, he charged.

He said according to documents 780 million US dollars in Government support was needed in the three years after its acquisition. An 80 million dollar deposit had been paid.

Terms more expensive

"Aviation experts have told us that the lease contract terms are 25 percent more expensive than normal and it needs to be looked into. "The present value of the lease liability over the next 12 years is 1.5 billion US dollars.

"This is a financial crime. We have to investigate this.

Meanwhile, according to the Daily Mirror of 7th September 2018, Minister Champika Ranawaka had disclosed that Sri Lankan had recorded a profit of Rs 80 billion when it was taken over by the Government from the Emirates Airlines. Then after, the Government established Mihin Air, as a regional air service to Sri Lanka, the two airlines have amassed a loss of Rs 200 billion and became a liability to the Treasury. Every Sri Lankan pays Rs 10,000 per year to cover the cost of the two airlines which has become a curse to the country," the minister added.

Now the question is who is responsible for this disaster?

It was the time when Dubai was unknown and unheard of. The population in this country was only a few thousands the country suffered from extreme poverty and illiteracy. There was no school, hospital, electricity nor drinking water. Turning to stormy seas for fishing and trade remained their only means of survival.

When the opportunity for development came in the wake of oil wealth, the rulers and the people alike grabbed it with both hands.

The island's successive Governments, both the United National Party and the Sri Lankan Freedom Party, which ruled and still rule this country are fully responsible for this mismanagement of the airline.

For example SriLankan has been accused in the recent past of corruption, and the former Chairman Nishantha Wickramasinghe is alleged to have had affairs with air hostesses. Wickramasinghe, has been accused of lacking the experience needed for the job nor possessed the formal educational qualifications that were needed of him to be the head of an airline.
In 1998, the then administration of former President Chandrika Kumaratunga, sold 40 percent of the equity of SriLankan, worth US $ 70 million, and later increased it to 43.6%, and gave management rights to Emirates after it suffered years of losses

In October 2015, the Presidential Commission of Inquiry to Investigate and Inquire into Serious Acts of Fraud, Corruption and Abuse of Power, State Resources and Privileges (PRECIFAC) attempted to summon Wickramasinghe to inquire about various irregularities in the Airline. However, they were unable to locate him, and his wife claimed he had not returned home in three years and that she was unaware of his whereabouts. Later he notified the PRECIFAC that he was abroad and was unavailable. This is the ridiculous state of affairs in the country where politicians protect each other and their close associates.

This negative development regarding SriLankan exists despite the fact that it's been three years since the Unity Government was voted into power.

Caption-It is worthy to reflect on why SriLankan is trapped in a financial quagmire while Emirates which started operations much later flies high.