---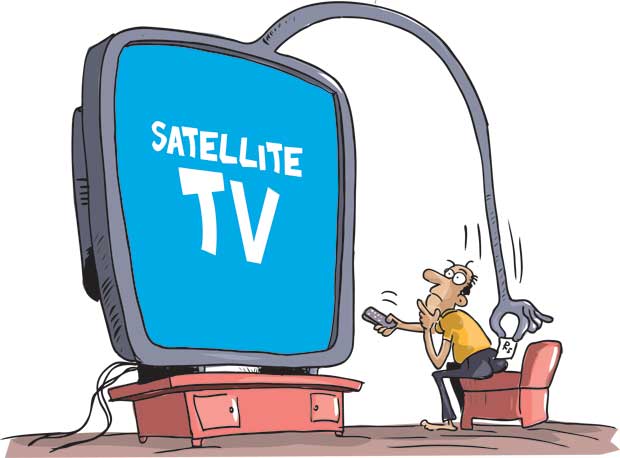 Consumers are getting raw deals from monopolistic satellite TV companies. What are the State regulators doing about them?
If you care to ask around it becomes evident that satellite TV providers in Sri Lanka are playing foul by its customers. With a multitude of shortcomings in their service the question is; 'how have they been getting away with it for so long with a State mechanism presiding over telecom and digital affairs?
Mr Perera was not a fan of local TV programmes produced to satisfy folk who had an affinity for Sinhala humdrum tele-dramas and Tamil and Hindi films. Like many others who had 'better taste' Perera opted for satellite TV that ran a variety of internationally produced programmes. So Perera signed up with Sure TV, a satellite TV service that was hooked to a 'land' telephone line. The application process was simple with the charges being included in the monthly telephone bills. It may have been a peculiar marketing strategy, but, Perera was kept blind to any form of terms and conditions of service in large print or in small print covering the contract or in the proper operation of the satellite TV unit that was installed in his house.
Sure TV mishap 1

At the beginning, like new brooms sweeping well, Sure TV delivered adequately. But, one day Perera's phone together with Sure TV went dead. So Perera contacted customer service to get his problem sorted out.
"Your service has been disconnected; dial 1244," informed customer service.
Perera got through to 1244 after several attempts using a telephone in a communication shop. "My telephone 2996666 has been cut without notice," he complained.
After several minutes 1244 answered: "Sir, your account is in arrears for three months."
"That can't be," blustered Perera, "I have paid all my bills."
"That's not what your account says, sir. We can't reconnect; you have to take it up with 1213 that deals with your area."
"If your line is cut, that means you have not paid your bills," said 1213.
"That can't be. I posted my last cheque in payment two weeks ago."
"But your account shows no payments have been made for two months."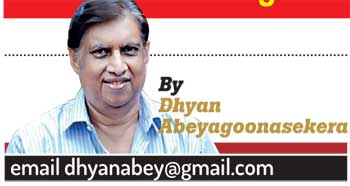 "But I tell you I posted it myself…"
"Ahh, then you better ask the post office what had happened to your cheque," and the line went dead.
In Perera's subsequent efforts to have his telephone service and TV service restored, he was directed to 'head office' in Lotus Road and through 1231 and 2321, to a 'collection branch' somewhere else that informed to Perera's relief : "Sir, your account has been updated just now, we'll reconnect you." The exercise took seven whole days; and Perera was not offered an explanation, relief for the period of non-service or even an apology.
Sure TV mishap 2

Perera's problem didn't stop there. Some days later Sure TV went dead again. So Perera was constrained to begin another patience-testing fresh round of talks with 1213 that explained:
"There's network problem but we are attending to it'; 'we are still dealing with the network problem'; 'we never had trouble with the network. But, your complaint has been passed on to Kirulapone; your complaint number is 11130173; 'we are going into your complaint, sir; we will get back to you in 15 minutes'; but no-one ever did. Perera's nightmare went on with the result that he did have Sure TV service for one month.
TRC inquiry

As a last resort Perera reported the matter to the Telecommunications Regulatory Commission seeking assistance to have Sure TV services restored and compensation paid for the period of non-service. On his complaint TRC ordered Sure TV to restore service to Perera; Sure TV complied.
Several discussions and inquiries on the Perera issue followed under the auspices of the TRC with the participation of Perera and Sure TV lawyers. However there was no settlement and the case was placed before a special TRC committee that found Sure TV wanting in several issues. However, it transpired that its legal framework was inadequate to take action against Sure TV. Perera's trial ended there.
Analogue TV hot-line gone cold

After this episode, Perera decided to get a connection from Analogue TV, another monopolistic satellite TV company. Once again, signing up was a simple process, a sales lady filled a form and asked Perera to sign it and make the required initial payment. Surprisingly, he was not issued a copy of his application or the terms and conditions of service. He was only told to pay one month's service package fees in advance. Analogue TV service worked well until one day it stopped and a message on the TV screen informed that Perera 'had not subscribed to this channel'. Switching to other channels produced the same message. So Perera dialed 0777 666999 – Analogue TV complaints HOT- LINE continuously for about SIX DAYS but, no-one answered. The HOT- LINE had gone cold.
That made Perera visit one of the Analogue branches to lodge a complaint with the manager who too tried 0777 666999 for over ten minutes. But the hot line stayed iced over. The manager explained it was due to a 'queue'; he did not explain it was a queue of complainants. To shorten this narration, Perera was asked to pay arrears he was not aware of, to get his service restored. Perera paid but made a written complaint to the CEO of Analogue TV under advice to the Ministry of Telecommunication and Digital Infrastructure and the TRC. The ministry did not respond; the TRC referred the complaint to another party not connected with the issue; and Analogue TV claimed it did not receive the complaint!
Several months has passed since then but Perera's issue still stands in abeyance.
Another issue arose some months later when Perera's Analogue TV service was disconnected again. Unsurprisingly, Perera couldn't get through to faults-0777 666999 for some days and when he did, he was told the TV service was 'disconnected, because a pre-payment was outstanding' although Perea had paid by the 'pay by date'.
So Perera made a written complaint to the Analogue CEO under advice to the TRC requesting the commission to inquire into these disconnections Perera interpreted as acts of harassment, corporate bullying and infringements of his rights as a customer. Meanwhile Perera found that his cheque had been cleared by his bank but his Sure TV stayed dead: ONE MONTH later it is still dead.
A regulatory white elephant

Many other Pereras who have signed up for Satellite TV have experienced similar torment in the hands of satellite TV companies that have become a law on to themselves. Sadly, the TRC established by the State to protect consumers and safeguard their rights in telecommunication and digital areas has remained a white elephant at a huge cost to the public.
When will this 20-year old institution functioning under a ministry come to the rescue of the public at the mercy of satellite TV companies whose sole aim appears to be milking the public while giving the barest minimum in return?
Terms and conditions of service

Terms and conditions of satellite servers in the main are opaque and little is known about them. But, they appear to be heavily loaded in favour of the TV service providers. Little concern has been placed on customer needs and indeed their rights.
Clause 15 at the back of invoices issued to Analog TV customers for pre-payments supports this thinking.
"... TV (Pvt) Ltd reserves the right to change any terms and conditions herein as and when it decides."
Although Perera sought the view of the TRC regarding the legality of this clause the commission was silent on the subject.
The TRC and the Telecommunication Ministry as regulators and law makers have a duty to develop and streamline satellite TV service while protecting the interests of the Pereras of the country. That process should begin with reviews of basics such as the provision of written terms and conditions of satellite TV service in simple English, Sinhala and Tamil, ( not festooned with legal jargon) for all customers to understand readily-(meaning transparency); disconnections only after written notice; issue of receipts for payments; compensation when services are not provided, (Analogue TV stops working when it rains), easily reachable technical assistance and quick attention to faults etc, to prevent satellite TV companies continuing to have the run of the yard. It is not understood why the State regulators have not addressed these subject areas even after twenty years of existence.
Isn't it time for the hibernating season of the TRC and the Ministry of Telecommunication and Digital comes to a close?
(This article is based on real events.)