---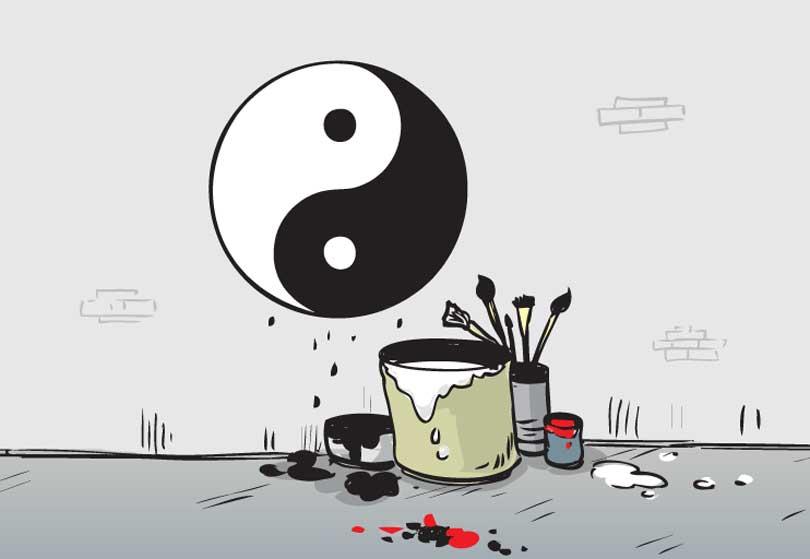 The wall painting trend that has emerged after the Presidential Election among the youth who had got together reportedly through social media is a unique phenomenon.
Youth get together in their respective localities and clean public walls in towns and cities, reportedly collect funds from friends and businessmen in the area and draw murals on them, giving a pleasant look not only to the walls but also to the entire vicinity.

Most of these walls have not been cleaned or repaired for decades by the authorities concerned and have been abhorrently soiled due to putting up posters mainly by teachers of private tuition classes, politicians, trade unionists, artists and traders. These groups make not only the walls but also the environs of them look horrible, as they tear off the already put up posters and litter the area before pasting their own posters. And the stack of paper strewn under each public wall is an eyesore in almost every town and village.
However, the wall painting trend while being commended by the general public and even by President Gotabaya Rajapaksa during a meeting with the heads of media institutions last week has started to earn criticism from some sections of the society.

Some civil society activists have already pointed out that it might shrink the spaces for free expression, as there are no specific boards or any other means for posters in our towns and villages.

Posters, especially political posters are used to express opinions and dissention by politicians, trade unions and student unions and their impact on the general public is in fact well known to be more than that of mainstream print and electronic media. Posters have been a major device of communication during elections and a means of dissent against wrong policies and repressive acts of the governments, despite all their ill-effects such as making the city walls unpleasant. The JVP and the NFF would attest to it. They are also affordable to any small organisation. Several former governments had plans to allocate separate areas in cities and towns for billboards and posters but none was implemented.

Therefore, if all walls are painted with murals, there is a danger of those murals being defaced or vandalized by politicians including those representing the ruling parties during the forthcoming Parliamentary Elections, as it would be an election when thousands of candidates from various political parties and independent groups would fight each other to familiarize their preferential numbers to the voters. Thus far it was posters that had been their main device to do so. There is a message in this to the authorities.

Except for very few places, those involved in wall paintings seem to be hailing from a particular community and supportive of a particular political party, leading to most murals not representing the political and ethnic plurality of the country. The trend has its birth in a backdrop of extreme polarization of the populace on ethnic lines and a strong nationalistic election victory, resulting in most murals taking a trend accordingly. There are reports that some pictures had been drawn in a manner that had vilified certain communities. Tamil media has already expressed concern over what they called the "Majoritarian" ideology that is monopolising the murals.

While it can be argued that the trend was not pre-structured but rather spontaneous and members of the said community involved in wall painting have not placed restrictions on any member of other communities and parties to join their campaign, it can also be argued that there would be hardly any room in the campaign for the ideologies other than what is being represented by the wall paintings now. This point demands some sort of mechanism to provide guidance to these passionate youth.

Wall paintings are ideal media to bring together the various communities that have been divided by politicians for their narrow political ends. President Gotabaya Rajapaksa also said he would be the President of all communities, when he took oaths at the Ruwanweli Seya premises, meaning that he wants to minimize the polarization in the society.
The youth engaged in the mural campaign are not a corrupt lot. But they have to be guided to use their creativity in the long-term and larger interest of the country.