---
Attacks on Media: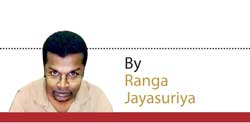 Last week, at a UNESCO organized conference to end impunity of crimes against journalists, Prime Minister Ranil Wickremesinghe found fault with lack of attendance by media personnel, and alleged that some media organizations and senior journalists were at cahoots with the former regime.

Perhaps a better explanation for the media fraternity's indifference towards those political show-boating is that they believe those events have no real impact on media in general or the public at large.

Mr.Wickremesinghe questioned whether media were really interested in media rights and ending impunity. Surely, journalists are not masochists who get a thrill from getting beaten up, abducted, have their legs broken, and made to disappear. However, providing that basic level of physical security (as well as job security) to journalists is not the government's discretion, but the duty.

Also, journalists can hardly be held responsible for the slow progress in the current investigations into the attacks on media. Nor can they be faulted for this ever recurring curious spectacle of stalemate that many investigations come to face, often after some crucial information is unearthed and a breakthrough is announced. That however is not a new phenomenon, because this smacks of a pattern of events well observable during the Rajapaksa regime itself.

Also many other equally heinous attacks targeting Tamil language press have not yet even been launched. That made senior journalist T. Premananth ask the Minister of Law and Order Sagala Ratnayake why a series of attacks against his own paper, Uthayan were not being investigated.

Investigations into two incidents- abduction of Keith Noyahr and the killing of Lasantha Wickrematunge initially seemed to have a decisive breakthrough. Investigations into Noyahr's abduction revealed a trail of telephone calls from Defence Secretary Gotabhaya Rajapaksa to Chief of National Intelligence Major General Kapila Hendawitharana who in turn called Chief of Directorate of Military Intelligence (DMI) Amal Karunasekera, who called Major Prabath Bulathwatte, while Noyahr was being tortured. Major Bulathwatte and four other military personnel - two Sergeants and two Lance Corporals - were later arrested, produced before court and remanded. That breakthrough should have been used to identify the chain of command behind the incident and to bring to book, high-flyers who ordered the crime. Instead, investigation has come to a standstill.

Similarly, the court decided to reopen the investigation into the assassination of Lasantha Wickrematunge on the request of the CID. The CID subsequently arrested a warrant officer attached to the military intelligence, who was later identified by LasanthaWickrematunge's driver in an identification parade. The suspect,Warrant Officer Malinda Udalagama was produced before the court and remanded. Later another former military intelligence officer, I. Jayamanne hanged himself, leaving a note taking responsibility for the killing of Wickrematunge and requesting the release of Warrant Officer Udalagama.
The Prime Minister can look into what is holding back those investigations, and the curious dead-end they all come to face, after some crucial information is unearthed

Also, former Army commander Field Marshal Sarath Fonseka in a testimony to the CID claimed that there was a special secret unit outside his authority and controlled by Gotabaya Rajapaksa through the then-Chief of National Intelligence and that unit was operated outside the army command structure and was used to target journalists and other dissidents. Mr. Rajapaksa shot back saying "it was not possible to operate any Army unit and/or deployment without the sanction and/or approval of the Army Commander." Later during a meeting with the Foreign Correspondent Association, he claimed "a lot of things happened without my knowledge" and that he was working more at "policy and strategy-level and not on things at the tactical-level."

Investigation into the Lasantha Wickrematunge assassination has not moved since the arrest of Warrant officer Udalagama. Similarly, ten suspects including a Colonel, were arrested in connection with the disappearence of Prageeth Ekneligoda, and were subsequently released on bail. That investigation itself is gradually losing momentum now.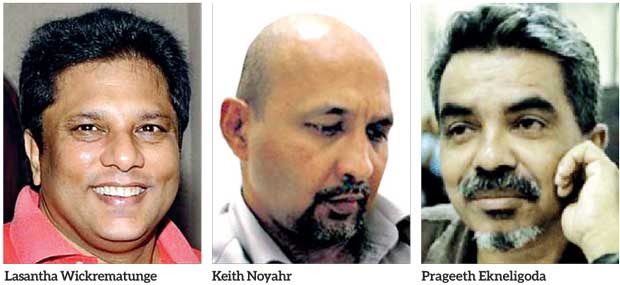 The Prime Minister can look into what is holding back those investigations, and the curious dead-end they all come to face, after some crucial information is unearthed. There is no gainsaying that these investigations are an extremely sensitive matter within the military intelligence circles. That requires a delicate balancing act. However, one should not conflate killings and abductions of journalists and attacks on media institutions with counter-terrorism. Those attacks were carried out to avenge the bruised egos of political and military heavyweights. They effectively discredited the security forces.

In conventional military duties, officers and other ranks can refuse to carry out illegal orders. However in intelligence operations which often operate in the gray area, such a line is often obscure. Therefore, while it is important to hold accountable those who fired the shot, it is far more important to bring to book those who ordered those crimes. Otherwise, these investigations would end up being show trials of the kind of the Udathalawinna case, which acquitted Anurudda Ratwatta and his two sons, while sentencing five army commandos to death.

The Attorney-General can offer reduced sentence to lower and middle level military officials implicated in those crimes, in exchange for their co-operation to trace the chain of command behind those events.

However, there appears to be little interest to investigate political heavy weights behind these crimes. That may be due to a political deal or simply due to fear over an ultra-nationalist backlash, or both. And blaming journalists for the government's vacillation to find truth and justice would be of little help.

Follow @RangaJayasuriya on Twitter