---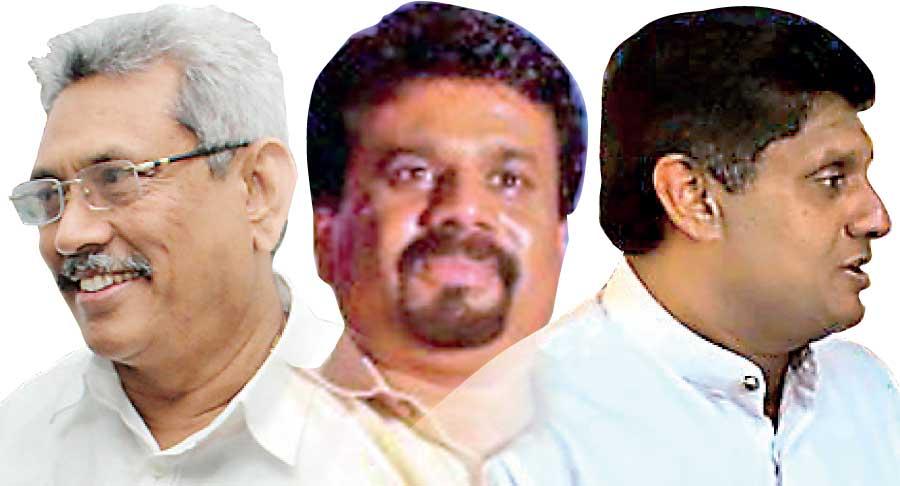 There would be three candidates from mainstream political party alliances, with two already officially announced
those few who claim to be "alternatives" don't have anything "alternate" to offer either
What matters is what they offer the People for the votes. In that, they don't differ in any way
This caption for the article may have strong disagreements, but I believe this presidential poll is just that. Run up to the presidential polls seems to rope in "nonentities", though most who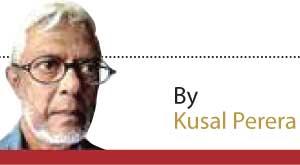 clamour for a "strong" Sinhala Buddhist president-elect believe they have the best candidate the Sinhala Buddhists could have. Those who argue we need "white vans back to clean up this society of rogues and criminals" and ask "why waste many years to prove a 'criminal a criminal' in Courts of law when that can be done without wasting any time and money?" (seen a video clip on 'WhatsApp') also believe they need a strong, firm President. When such is the call for a presidential choice and the list caters to that, it cannot be anything but the "worst". Also because those few who claim to be "alternatives" don't have anything "alternate" to offer either.

There would be three candidates from mainstream political party alliances, with two already officially announced. The SLPP in alliance with unheard-of political parties and groups have Gotabaya Rajapaksa already visiting temples and mosques. The JVP that has shed its name and perhaps the red shirt too, grouped as the National People's Power (NPP) said to include 18 other groups and organisations, announced their presidential candidate at a Galle Face green rally on Sunday August 18. Anura Kumara Dissanayake (AKD) was declared their candidate. The UNP led alliance the Democratic National Front (DNF) yet to be launched on an auspicious day and time stands unable to decide on a "Common candidate". While its allies in government are restless over UNP leadership's indecision, the "ginger group" in the UNP is scrumming down to have Sajith as the candidate.
How do they differ from each other? They differ in all that matters very little to the People, to this country and its future. What matters is what they offer the People for the votes. In that, they don't differ in any way. Their commonality is, they are all trying to clamber to the same Sinhala Buddhist populist platform, though from three different sides.
"I pledge to create a safe and secure environment in which all Sri Lankans, irrespective of their race or religion, will be able to live in peace. I will never allow extremist terrorism in this country." Said Gotabaya, accepting his candidature adding "Buddhism teaches us to respect all religions". People expect disciplined, corruption-free and a people-oriented "patriotic leadership." he said.
"The UNP led alliance the Democratic National Front (DNF) yet to be launched on an auspicious day and time stands unable to decide on a "Common candidate"

"We assure to establish a 'great human society' spiritually attached to the hearts of the 'people in the motherland' completely discarding the divisions based on nationality, sexuality and caste" was Anura Kumara's assurance from Galle Face green and pledged to take all necessary measures to build "national unity".
"Friends, we must be hard-working, focused and dedicated towards 'our motherland' in this journey. To create a developed, prosperous and united Sri Lanka." The presidential aspirant from the UNP led alliance Sajith Premadasa said in Badulla. He also said, as a "Sinhala Buddhist leader" it is his responsibility as well as the responsibility of everyone in power to ensure equal rights and protection for everyone.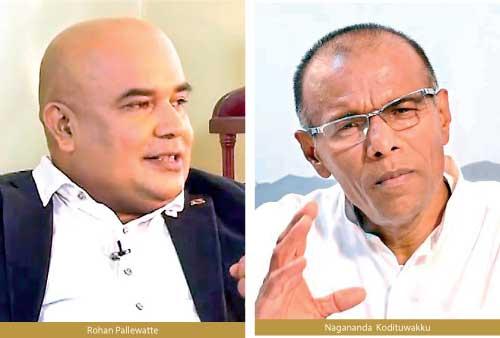 Catch their lingo; "Buddhism, patriotic leadership, motherland". All terms owned by the South. Owned and used by Sinhala Buddhist campaigners. And this terminology has its politics understood by the Sinhala South in terms of Sinhala Buddhist political power. In short, all three of them were strictly confined to politics of the Sinhala Buddhists. Thereafter and only thereafter they promised, they would free this society of corruption, turn around this economy, strengthen democracy, establish peace and unity among all ethnic and religious groups promising a stable country. And on the run, they have all very conveniently avoided talking of the festering wounds that remain after a 30-year war. None of them spoke about his stand on "power-sharing, war crimes, enforced disappearance, war widows and the PTA". They conveniently avoided saying what they would do with extremist Sinhala Buddhist groups whose anti-Muslim hate campaigns lead to a very intimidating social psyche in the Sinhala South though in rhetoric they all promised to eradicate "extremism".
In short, they were all very much focused on issues popular in the Sinhala Buddhist "South" and in a language that suits the Sinhala South.

There were no serious promises on reducing the ever-growing social and economic disparity and inequality between the poor and the filthy rich, between the prospering urban middle class and the increasing rural poor. No explanations on what they mean as "development" for the "left out" rural majority in this city-centered open market economy. They seem to think promises on national security with patriotism, economy sans corruption, job creation and investments would be enough for issues like education, health, commuter transport and urban traffic, housing and rural economy and livelihood. Just one sensible remark by Sajith in Dambulla questioning "neoliberalism" as the development model, seems the only feeble deviation. Citing numbers on yawning inequality in society, he had asked, "….what would happen to the hundreds of farmers, or 95 percent of the country, if neoliberalism is carried out in the country?" a position, if he further develops would be the "alternative" to all others and this mess of an open economy, but would seriously disqualify him to be the "candidate of the filthy rich financial
sponsors of the UNP.

Yet those who claim they are "independent alternate candidates" instead of keep proving they are more confused than the mainstream itself. Their "alternative" projection begins by rejecting "politicians" and political parties as corrupt and not on "development economics". They claim they are outside corrupt party politics. By now they have among themselves begun negotiating an "Alternate Alliance" to nominate a "Presidential candidate". They prove they are clueless as to what party politics is. If they don't have a registered political party, according to the Presidential Election Law, they cannot nominate a candidate unless he or she had been an MP sometime before. They would also register themselves as a "political party", one of the two leading personalities of this "alternate alliance", businessman Pallewatte told BBC Sinhala Service on August 16. So, they too will end up as a political party, while claiming their candidate will be "non-party", a contradiction they don't seem to realise.
"Yet those who claim they are "independent alternate candidates" instead of keep proving they are more confused than the mainstream itself"

The other dominant figure lawyer Kodituwakku who aspires to be the presidential candidate of this "National Alliance of Alternative Forces" (NAAF), told BBC Sinhala Service, all have accepted his proposed draft Constitution as the remedy to usher in a corrupt-free, decent society. The arrogance of Kodituwakku exposes his pathetic ignorance not only on politics but also on Constitution-making. He told BBC Sinhala Service, "If I am elected, on that very same day the New Constitution will be adopted immediately abolishing the Executive Presidency and the parliament dissolved". He went further saying, the Appeal Court and the Supreme Court would also be immediately suspended.

His ignorance does not make him understand that even IF elected, he cannot assume untold and unbridled powers to act on his fantasies. That election does not provide him with any mandate to abolish the Constitution and adopt "HIS Constitution", merely because he says it is "for the People". In this modern world, his ignorance does not qualify him to dump a "Constitution" on the People with what he believes is "right" for the People. Constitutions are made with massive participation of People over many long months, drafting and re-drafting through many rounds of organised participation at every level of the society. Whole drafting process and with copies made available in all languages used in society, draws in all professional, civil society and community organisations including trade unions. A Constitution thereafter adopted by a People's Representative assembly, needs a People's Referendum to make it the "supreme law" of the land. Here is one lawyer whose eccentricities make him believe, he can have his Constitution adopted after dissolving parliament and suspending the two highest Courts in the country. He is also one who adamantly believes, his Constitution will clean up all corruption at every level and that would solve all the problems of the People. That describes how much he understands the crisis in education, in health, rural economy, public transport and the rest of the mess in the country. Pallewatte has told BBC Sinhala Service they have not agreed on Kodituwakku's Constitution and a candidate. If NAAF and Pallewatte go along with Kodituwakku, that stupidly insane "alternative" is not what this country would need even in its most desperate moment.

Summing up all that would leave us with the three mainstream political candidates competing for Sinhala Buddhist votes despite Sajith's seemingly different "economic offer". That thus leaves no choice, except in selecting the strongest of the three Sinhala Buddhist candidates. They leave us without any clear answers for the complex crisis the country is in and with an evolving Sinhala Buddhist Theocratic State, that would provide Buddhist monks more social space for Sinhala Buddhist politics. That guaranteed, rhetorical assurances for "national unity, treating all as equals, race and religious harmony" leave out words like "reconciliation, war crimes, the PTA, enforced disappearances, militarisation, power-sharing" the North and the East is keen to hear about. The eccentric "Alternative" promises also leave out all those issues and that makes the list of candidates for the 2019 November presidential elections hardly worth a vote in terms of the grave and serious issues the society is burdened with. That makes the caption justified; this is the "Worst Presidential List" ever.