---
It is prudent to have a fresh Parliamentary composition through a mid-term General Election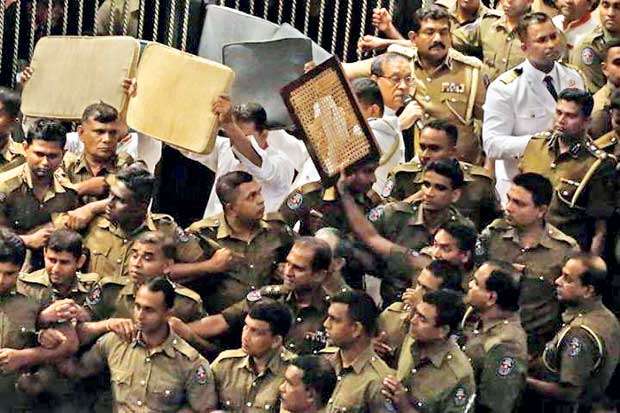 Parliamentarian Namal Rajapaksa, the son of former President Mahinda Rajapaksa, has exclaimed in his twitter feed as to why those who make a fuss on democracy were scared of elections. Not only has him, rather this has become a common question posed by the Mahinda Rajapaksa loyalists these days.
In a way, this is an ironic question on their part. They were overjoyed when their leader was appointed Prime Minister on October 26 by President Maithripala Sirisena, in the wake of the withdrawal by the UPFA some MPs from the Government.

They did not call for an election then. They were further overjoyed when the same President dissolved their leader's Government after two weeks when the latter failed to muster (buy over) Parliamentary majority. Then they wanted an election. They have taken two stances on the elections in two identical situations.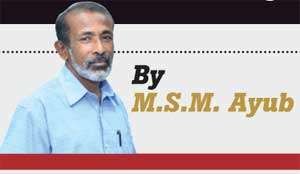 Namal Rajapaksa would not have raised this question had his father bought over MPs sufficient to show the majority power in Parliament after he was appointed Prime Minister in October.
"A General Election is not an assurance that the SLPP would win since the majority of voters had voted against the SLPP at LG Polls, despite them winning majority of councils"

Nor would he or any other loyalist of the former President have preferred a general election then. They would then have definitely opposed any suggestion to hold a premature Parliamentary Elections. Also, they would then have preferred to run the country until July 2020 when the term of the current Parliament elapses, during which time they would be able to reverse the legal actions that had already been initiated against some of them.
With his, Tweet Namal seems to argue that elections were the best indication of democracy or they were synonymous with democracy. According to this contention, the more you would have elections, the more would the country be democratic.

One can even contend on this line of thinking that democracy would flourish if you have General Elections once in every three months! One should not forget that Adolf Hitler also came to power through an election. Elections are needed for democracy but are not always sacred.
Rajapaksa loyalists have been campaigning for a General Elections since their sweeping victory at the February 10 Local Government Elections.
Yet, they did not want to go for an election when the Ranil Wickremesinghe government practically collapsed in the evening of October 26, and when President Sirisena sacked Wickremesinghe from the Premiership, a few hours later. Then again they wanted an election when it was clear that they failed in their unethical effort to buy over MPs from other parties.
"Rajapaksa loyalists prefer a general election for two reasons"

However, their allegation that the United National Party (UNP) is scared to face a Parliamentary Election was not unfounded. A General Election seems to be anathema to the UNP after the February Local Government Elections. UNP prefers a Presidential Election.
Likewise, the Sri Lanka Podujana Peramuna (SLPP) group in Parliament led by Mahinda Rajapaksa abhors any election in Parliament. They raised hell in the House last month and even attempted to throw water mixed with chilli powder at the Speaker when it was clear that a vote was to be taken in the House.
They, under various pretexts, have been boycotting Parliament for fear of voting in the House. In their view, the synonymy between elections and democracy does not apply to the Parliament.
"Rajapaksa faction has taken two stances on the elections in two identical situations"

Rajapaksa loyalists prefer a general election for two reasons. Firstly, they seem to be confident of their victory in a Parliamentary election given their victory in more than 230 out of 340 local councils in February. And in an event they form the Government, Rajapaksa would be able to (And will attempt to) muster two-thirds of majority in Parliament by unethically buying over MPs from other political parties to bring in the provisions of the 18th Amendment to the Constitution again, so that he can contest future Presidential elections.
Secondly, they shy away from a Presidential election before a General Election owing to the Gota factor, which might rob Mahinda Rajapaksa's chances to make a comeback as President.
"One should not forget that even Adolf Hitler came to power through an election"

However, General Election are not an assurance that the SLPP would win an absolute majority in Parliament since the majority of voters had voted against the SLPP at the February LG Polls, despite them having won a majority of councils.
Hence, there is a danger of a hung Parliament being elected again, though President Sirisena's Sri Lanka Freedom Party (SLFP) have patched up with SLPP recently.
It is owing to this very fact that majority voters had been against the SLPP in February that the UNP is demanding a Presidential election first. Yet, now that political alignments that prevailed in February have drastically changed with SLFP/UPFA which had bagged 1.5 votes at the LG elections aligning with the SLPP, the UNP cannot be so confident of a victory at a Presidential election either.

UNP's only consolation is the SLPP not having been able to address the minority communities, Tamils, Muslims and the Christians.
With some of the men around the former President having racism in their very genes and being unable to open their mouths without disparaging any minority community, it would take time for the SLPP to win over the minorities.
For instance, we can cite an incident that happened recently during the voting on the motion to suspend funds allocated to the Prime Minister and Ministers.
When Tamil National Alliance (TNA) Spokesman M.A. Sumantiran protested against UNP MP Lakshman Kiriella's call for a vote by name in Parliament after an electronic vote on the same purpose was concluded, even some of the learned men among the Rajapaksa's ranks described the incident as Sumanthiran controlling the UNP. Would they have claimed that Kiriella was controlling the TNA, had the incidents happened in other way around?
"Elections are needed for democracy but are not always sacred"

What makes Sumanthiran controlling the UNP an issue while Kiriella controlling the TNA does not? Wasn't this pure racism? They have forgotten that they were routed out at the Presidential and Parliamentary Elections in 2015 mainly by the minorities and their behaviour now points that they do not want to win over the minorities at least now.

However, in the light of the current political and Constitutional issues, it is prudent to have a fresh Parliamentary composition through a mid-term General Elections. Unless the Supreme Court upheld the President's November 9 decision to dissolve Parliament, the only way out would be a request by Parliament to the President to dissolve through a resolution passed with a two-thirds of a majority. Yet, the need for an election does not mean one should ignore the law of the land, which is tantamount to end justifying any means.