---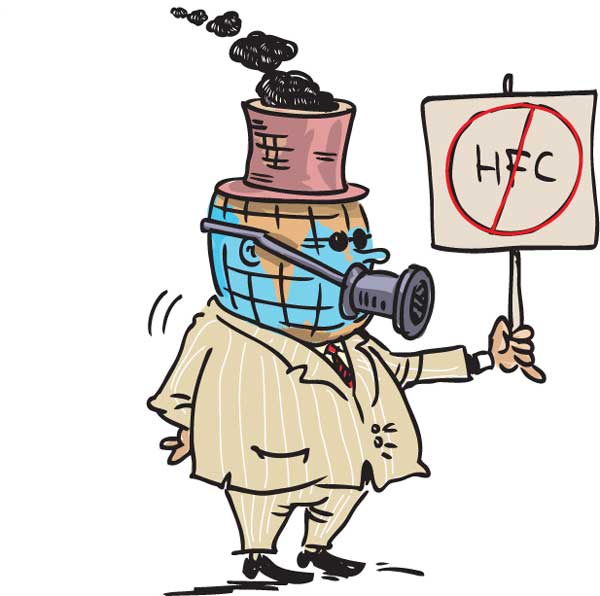 In a monumental move in the life-or-death battle against global warming and climate change, nearly 200 countries have agreed on a legally binding deal to cut back on greenhouse gases used in refrigerators and air conditioners.

The deal, which includes the world's two biggest economies and polluters, the United States and China, divides countries into three groups with different deadlines to reduce the use of factory-made hydro fluorocarbon (HFC) gases, which can be 10,000 times more powerful than carbon dioxide as greenhouse gases.

"While diplomacy is never easy, we can work together to leave our children a planet that is safer, more prosperous, more secure, and more free than the one that was left for us," the White House said in a statement on the deal, after the meeting in Rwanda.

U.S. Secretary of State John Kerry said the deal was "a monumental step forward" as he left the talks in Rwanda's capital of Kigali. Under the pact, developed nations, including much of Europe and the United States, have committed themselves to cut use of the gases incrementally, starting with a 10 percent cut by 2019 and reaching 85 percent by 2036.
Many wealthier nations have already begun to reduce their use of HFCs. Two groups of developing countries will freeze their use of the gases by either 2024 or 2028, and then gradually reduce their use. India, Iran, Iraq, Pakistan and the Gulf countries will meet the later deadline, reports say. They refused the earlier date because they have fast-expanding middle classes, who want air conditioning in their hot climates, and because India feared damaging its growing industries.

"Last year in Paris, we promised to keep the world safe from the worst effects of climate change. Today, we are following through on that promise," said U.N. Environment Chief Erik Solheim in a statement, referring to 2015's Paris climate talks.

The deal binding 197 nations crowns a wave of measures to help fight climate change this month. Earlier the 2015 Paris Agreement to curb climate-warming emissions passed its required threshold to enter into force after India, Canada and the European Parliament ratified it. But unlike the Paris Agreement, the Kigali Deal is legally binding, has specific timetables and has an agreement by rich countries to help poor countries adapt their technology.
A quick reduction of HFCs could be a major contribution to slowing climate change, avoiding perhaps 0.5 degrees Celsius (0.9 Fahrenheit) of a projected rise in average temperatures by 2100, scientists say. Environmental groups had called for an ambitions agreement on cutting HFCs to limit the damage from the roughly 1.6 billion new air conditioning units expected to come on stream by 2050, reflecting increased demand from an expanding middle class in Asia, Latin America and Africa.

Benson Ireri, a senior policy adviser at aid group Christian Aid, said all African countries had volunteered for the earlier deadline because they worried about global warming pushing more of their citizens into poverty.
"It was a shame that India and a handful of other countries chose a slower time-frame for phasing down HFCs, but the bulk of nations, including China, have seen the benefits of going for a quicker reduction. It's also been encouraging to see small island states and African countries, a part of this higher ambition group," he said in a statement. A scientific panel advising the signatories to the deal said phasing out HFCs would cost between $4 billion and $6 billion, said Manoj Kumar Singh, India's Joint Secretary at the Ministry of Environment, Forest and Climate Change.
"The implementation starts from 2024 onwards, so there is enough time to plan and mobilise finance," he told a news agency.

Donors had already put $80 million in a fund to start implementing the agreement, said Gina McCarthy, administrator of the U.S. Environmental Protection Agency. But Sergey Vasiliev, the head of the Russian delegation, said Russia's estimates of the costs were higher and argued countries' contributions to a multilateral fund to help poor countries adapt their technology should be voluntary.
The HFC talks build on the 1987 Montreal Protocol, which succeeded in phasing out the use of CFCs, widely used at that time in refrigeration and aerosols. Among the climate friendly alternatives to HFCs are Hydrocarbons, CO2 (R744), Ammonia (NH3, R717), Water (R718) and R32-HFO blends.

Sri Lanka also has agreed to this deal. We urge eco-friendly citizens to stop buying refrigerators or air conditioners with HFCs. We also urge the Government to obtain international aid and advice. It could also offer tax incentives for those who import refrigerators or air conditioning units that do not use HFCs.