---
The COVID-19 pandemic is still haunting the school system and how kids interact with each other. This is despite the world health authorities having confirmed that children rarely develop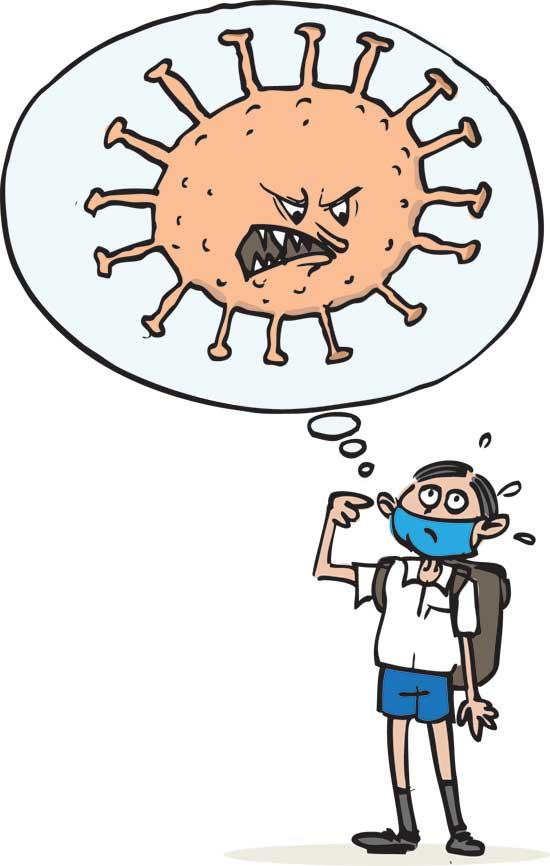 severe symptoms of COVID-19.
Classes are held in schools in Colombo, suburbs and villages in a restricted manner. That in a way would be quite welcoming for those students who are lazy and those who prefer the luxury of studying in an undisturbed location like one's home.
Children have to return to school and enjoy their school life in full. COVID-19 promotes social distancing and suspicion. We need to come out of this mentality slowly, but steadily.

As of now Sri Lankan authorities are yet to commence competitive sports for school children. We've read that in some countries schoolchildren have been encouraged to play alone. Some academic institutes abroad have allowed children to play without masks while some have given the greenlight for kids to engage in activities wearing the mask. What's encouraging is there are academic institutes in other countries which are eagerly awaiting the day when kids can return to their natural way of living, playing and interacting with everyone around.

When the pandemic broke out the natural tendency was to shield our children. The best way to do it was to keep them at home. But educationalists opine now, after several months of battling COVID-19, that sending children to school now is beneficial because 'benefit of attending school outweighs the risks posed by the pandemic'.

Research has revealed that individuals under the age of 18 years are exposed to between 1/3 and 1/2 the risk in comparison to an adult in contracting the virus. So we have some health statistic to lean on for support when our children step out of home and head for school.
Meanwhile kids were told time and time again to have their fruits rich in vitamin C and traditional Sri Lankan food because they are rich in health ingredients which boost the immune system.

It's amazing to know that as a result of COVID-19 Sri Lankan children started eating traditional food items; which before the pandemic found its way to the dustbin as leftovers.
Another plus point of this challenging time is that students or our children are forced to curtail their boisterous behaviour. Social distancing is forcing children to honour personal space; which is about four feet between strangers as recommended in the USA. This distance is approximately between 3 to 10 feet for casual acquaintances and coworkers. We had to wait till the pandemic raised its head to learn vital lessons on social and professional etiquette.

Coming back to school all this social distancing is making children rather passive from a positive perspective. Parents, specially working mothers, are enjoying this period because school uniforms are not getting that dirty. And the days in school being restricted have eased the preparation work parents have to do to send their offspring to school.

Another good thing came out of this pandemic spreading around the world. We remember, especially in Sri Lanka, where the competitive environment in education forced some ambitious parents to send their children to school despite them (Kids) suffering from coughs and colds. At least now these children have learned to wear a mask and attend school if anyone of them contracts an illness which is associated with the respiratory system. This healthy practice has been part of the school and work culture in countries like China, South Korea, Japan and Vietnam.
The present pandemic will after a lengthy period, as predicted by health experts, vanish. But let the important health habits which were introduced to the society as a result remain forever!