---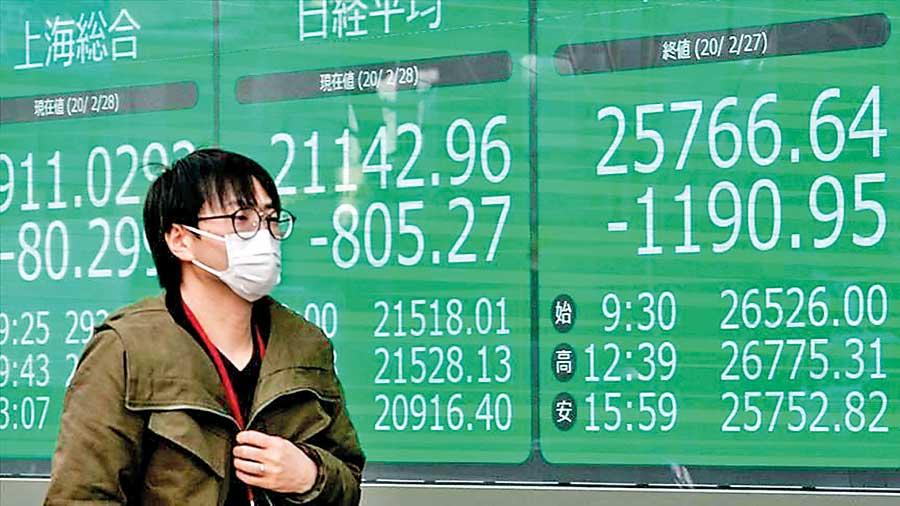 On 12 May, writing a detailed piece to "Daily FT" on the Colombo Stock Exchange (CSE) debacle the previous day, Nisthar Cassim titled it "Stock market loses Rs. 84 b in seconds". In his insightful write up he says, "During the two weeks between 09 March and 20 March the CSE lost Rs. 355 billion in value and yesterday's fall extended the figure to Rs. 440 billion." That loss apart, this year Sri Lanka is burdened with a foreign debt settlement and a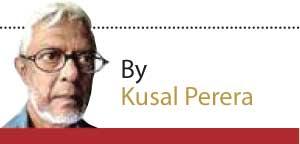 servicing commitment of 4.8 billion US dollars, highest ever in the history of independent SL. During last week of April 2020 the government had printed currency notes to the value of 7.87 billion rupees, according to the CB of SL. That totals 213 billion rupees of new currency printed since the first week of March 2020. It is in such context of bankruptcy President's Secretary Dr. Jayasundera made a controversial appeal to public servants, requesting them to donate their May salary or part of it, for the government to tide over a major financial crisis.
Yet there is an apparent reluctance in giving importance to this economic bankruptcy gaining velocity as the government decides to exit this phase of COVID-19 prevention. While the whole society is held in limbo, the economic crisis is not felt in day to day living. Outside all retail marketing in and around Colombo remains the actual economy of the country.
An unaccounted number of small-time apparel factories with around 10 to 50 or 60 mostly female employees, sub-contracting "orders" the major apparel manufacturers receive, closed on 20 March and their employees left to villages. They were the mainstay of the apparel industry. The export manufacturing industry on FDIs runs with numerous incentives at the expense of the taxpayer, totalled only 16.14 billion US dollars in 2019 as income brought to the country. It was 15.91 in 2018 and 15.04 in 2017 and included the traditional tea export value as well. Of them, apparel the much-fancied export earned 5.6 billion US dollars in 2018 on official data. They incur a heavy expense on importing textiles and accessories as raw materials and in 2018 that cost was 2.6 billion. The gain from apparel export in real terms therefore was only 3.0 billion US dollars and not 5.6 billion as trumpeted. Worker remittances totalled 5.9 billion the same year and was 2.9 billion more (CBSL data).
This FDI based export manufacturing industry has no validity anymore. The Employers' Federation of Ceylon (EFC) admits, the pandemic has severely impacted on all businesses globally, without exception. It is thus used as an excuse for Employers to lay-off employees, not for survival but more as means of saving "profits".
"There is an apparent reluctance in giving importance to this economic bankruptcy gaining velocity as the government decides to exit this phase of COVID-19 prevention"
Apart from apparel sector sub-contractors, two other small-time businesses mainly in poultry trade very much outside Colombo and among the rural poor came to be hit badly by COVID-19 within two to three weeks. These egg and broiler chicken producers have now gone bankrupt. They lost their permanent buyers in a dismantled supply chain. Reason especially for eggs to go rotten cheap during this curfew period. Hospitality trade is another big-time casualty. It had numerous service providers from the informal sector who by now have been simply laid off.
This crisis immediately took over the larger urban based informal sector that easily accommodated another million domestic migrant employees from rural and plantation sectors. Both, the formal sector employees who may face lay-offs in a few months despite government assurances of "zero retrenchment" and the informal sector income earners denied income in a fast-shrinking informality, will be new and additional burdens for the already struggling rural society.
Rural life was routinely on a subsistence economy. Much of it was subsidised by the taxpayer. Paddy cultivation is no full-time employment all year through. It is more a "cultural factor" in rural life that leaves agri-labour wholly under employed half the year through. In the highlands, vegetable and flower growers are a struggling lot. There are other non-traditional cultivators like fruit and spice growers and traditional clay potters, cottage type fancy goods producers who have lost markets and have been left "Ruppeeless".
All these market breakdowns during the COVID-19 outbreak reflect a complex and a long running neglect of the rural economy under all governments. Rural economy was never a profitable attraction for State pampered FDIs. That kept away governments from paying any attention to rural life, other than when the 70 per cent rural vote was important. Rural life was buoyed artificially with money brought in by migrant employment, FTZ and apparel sector workers and by soldiers till the war was concluded in 2009 May. They created a consumer market on a new floating lifestyle that had little roots in villages. Small townships emerged in and around villages on this "imported" cash flow.
COVID-19 proved this lop-sided city based free market economy was fake. This reality is now compelling even major developed countries to focus on "a greater degree of domestic production and stockpiling, introduce a greater degree of self-sufficiency than supply chain diversification and redundancy" a quote in my previous article attributed to Elizabeth C Economy, a Senior Fellow and Director for Asia Studies at the Council for Foreign Relations, in US.
Completely focussed on COVID-19 prevention, we have not been focusing on a new economic strategy for post COVID-19 Sri Lanka. While there was no idea what "development" meant in pre COVID-19 times, now the crisis demands defining "development" that we need. One, development has to be all inclusive. It cannot leave out rural society as before. Two, development should mean equal opportunities to all: in education, sports, arts and culture and employment. Three, it should allow a decent, minimum and a regular income to all, that will provide for all necessities in life including recreation and leisure.
This "total development" requires an economy that will keep reducing the yawning gap in the economy between the bottom 40 per cent and the top 10 percent of the population. That makes it necessary to have a serious dialogue on what the "next" economic model should be. Certainly, getting back per se to pre '77 "era of queues" is no answer. But the pre '77 era was not only about queues. It was also about "import substitution with industrialisation". It was about strengthening "domestic production and stockpiling, introduce a greater degree of self-sufficiency than supply chain diversification and redundancy" as Elizabeth C. Economy now says about post COVID-19 economics.
What needs to be understood is, "pre '77 era" does not mean the 05 or 06 years during Madam Bandaranayake's coalition government that was in power from 1970 with the LSSP and the CP. It stretches from early '60s when industrialisation was introduced with Soviet bloc technology. That technology was heavy and backward for consumer needs. Yet, this industrialisation did not fail the consumer. "Kelani" tyres had no complaints. CTB buses ran a far better service than at present on every route and on long-distance routes as well, on Kelani tyres. "DI" leather products were very durable. So were "Lang-lo" mamoties used in all agricultural work. Handloom products through co-operatives and small-time private investments were substantial additions to rural economy.
That pre '77 industrialisation needed "liberation" from the centralised, State owned economy to become competitive in consumer markets. New private sector participation with better management and new technology, could have made all the difference needed to these products in a decently regulated market. Instead the Jayawardne regime opted to sell them off as "industrial debris", leaving nothing for the local economy to grow on. It is that aspect of the "pre '77 era" which had a nationalist industrial initiative which needs attention in formulating a new economic model.
More importantly, a multi-lateral development strategy should also be looked into, with SAARC region given due importance as stressed in my previous article in DM.
On principle, a new economic model giving due attention to new development parameters thus should be based on,
1. a nationally important firmly regulated import – export trade policy (for e.g. a total ban on import of vehicles)
2. prioritised and demarcated economic areas for investments with more attention to agriculture related production (e.g. post-harvest technology and value addition)
3. industrialisation with emphasis on substituting imports
4. providing incentives to local production with potential for exports
5. more productive use of cultivable land and on novel modes of production
6. urban planning with strict adherence to people based priorities
7. environmental safeguards with due importance on improved and increased green canopy and re-forestation
8. local development planned with people participation
COVID-19 virus prevention and an exit strategy cannot be pursued anymore without serious attention paid to economic revival. COVID-19 destroyed the economy globally and coming out of it therefore demands coming out of the economic crisis too.