---
The United Nations yesterday celebrated one of the most important days of the year — World Environment Day. Experts have for several years been emphasising the vital need for people to get involved actively in the battle against climate change. If this crisis is not resolved, the experts say that within the next two decades, many islands including our neighbour Maldives will disappear from the earth and even islands like Sri Lanka will lose a large part of the coastland. That means thousands of families will be displaced and they will have to find new houses in other places.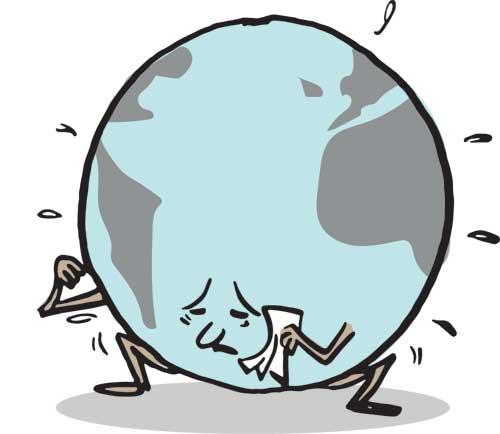 Not only world experts but even spiritual leaders have proclaimed the need for a clean environment and biodiversity. For instance, the Lord Buddha proclaimed: "May all beings be happy." That means we cannot destroy or harm anyone or anything including people, animals and trees. Other religions too protect the nature as part of their theology or philosophy. That is why we are told to refer to the sun as brother sun and moon as sister moon. People need to consider nature as our sister or brother.

According to the UN, the food we eat, air we breathe, water we drink and climate that makes our planet habitable all come from nature. For instance, each year, marine plants produce more than a half of our atmosphere's oxygen and a mature tree cleans our air, absorbing 22 kilos of carbon dioxide, releasing oxygen in exchange.

Despite all benefits our nature gives us, we still mistreat it. That is why we need to work on that. That is why we need this observance of World Environment Day. Since 1974, it has been celebrated every year on June 5: engaging governments, businesses, celebrities and citizens to focus their efforts on a pressing environmental issue.

This year, the theme is biodiversity – a concern that is both urgent and existential. Recent events from bushfires in Brazil, the United States and Australia to locust infestations across East Africa – and now, a global pandemic – demonstrate the interdependence of humans and the webs of life in which they exist.

According to the UN, biodiversity is the foundation that supports all life on land and below water. It affects every aspect of human health, providing clean air and water, nutritious food, scientific understanding and medicine sources, natural disease resistance and climate change mitigation. Changing or removing one element of this web affects the entire life cycle and can produce negative consequences.

Human actions including deforestation, encroachment on wildlife habitats, intensified agriculture and acceleration of climate change have pushed nature beyond its limits, the UN warns. It would take 1.6 earths to meet the demands humans make of nature each year. If we continue on this path, the biodiversity loss will have severe implications for humanity including the collapse of food and health systems.

The UN says the emergence of COVID-19 has underscored the fact that, when we destroy biodiversity, we destroy the system that supports human life. Today, it is estimated that, globally, about one billion cases of illness and millions of deaths occur every year from diseases caused by coronaviruses. About 75 per cent of all emerging infectious diseases in humans are zoonotic, meaning they are transmitted to people by animals.

In Sri Lanka, the government needs to encourage people to actively take part in the battle against climate change. At a personal level, we could do it by saving water or electricity and planting a tree or trees in our home gardens. For instance, every time we switch off non-essential night bulbs or other electrical equipment, we are contributing to the battle against climate change. When opening taps to wash our hands or utensils, we need to open them only halfway. The water used to wash rice, vegetables and food items could be collected in a big can and used to water the plants, instead of using freshwater. This maybe difficult but the difficult way is often the better way. If we could reduce our shower bath times from twenty minutes to fifteen, we could save litres of freshwater. Some enterprising and eco-friendly citizens have used equipment to divert the shower bath water to the toilet system while others are using equipment for rainwater harvesting.

As King Parakramabahu the Great has said, not a single drop of rainwater should be allowed to go waste and we should use rainwater for sustainable human development.