---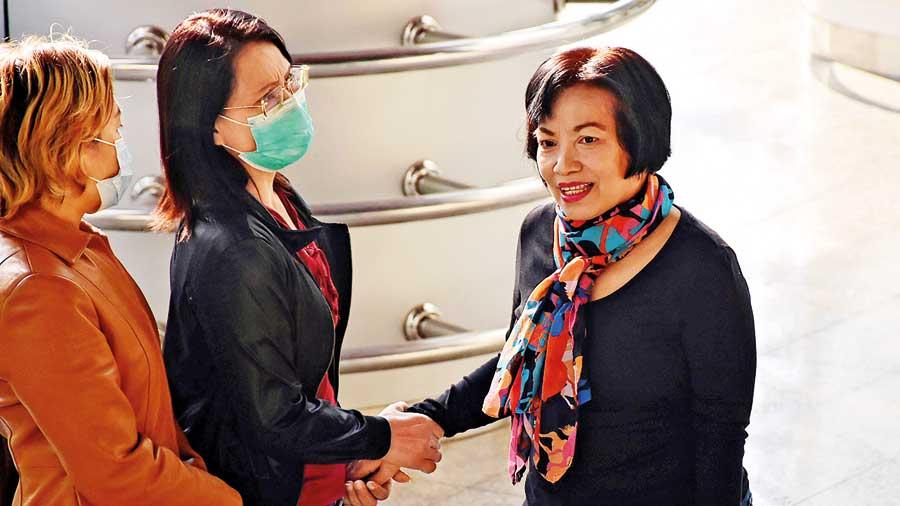 Anchan has been sentenced to over 43 years in prison for lese-majeste -- insulting Thailand's monarchy -- before posting critical audio clips online
In some parts of the world, authorities have used COVID-19 regulations as an excuse to curb calls for greater

democracy and freedom. Thailand, though not one of the countries that was worst hit by the pandemic in Asia, unfortunately falls in the above category.

The government used regulations against mass gatherings to break up the massive pro-democracy protests which swept the country last year. The protests by mostly young people were aimed at the Thai monarchy, increasingly under attack as an insular and undemocratic institution. The demonstrators demanded that it should declare its vast wealth and be accountable under the country's constitution.
"Anchan was sentenced to 43 years in prison for posting audio clips on social media, said to be critical of the royal family"
Official reaction has been severe. Using draconian anti-defamation laws which forbid any criticism of the king, the heir apparent and the queen, dozens of protesters, some as young as sixteen, were arrested last November.
One woman civil servant, identified as Anchan, has been sentenced to 43 years in prison for posting audio clips on Facebook and You Tube said to be critical of the royal family. Normally, those charged can face from three to 15 years in prison.
The severity of the sentence sent shock waves through Thai society. Anchan, now in her 60s, stands to not just lose her job, but her pension as well. She said in her defence that she merely shared the clips on social media with hundreds of others.

Till November last year, Thai authorities had held back from using the considerable lese-majeste laws which protect the monarchy, but the massive demonstrations clearly made them rethink this approach. However, increased repression only serves to strengthen the opposition, and Thailand seems to be heading into turbulent times as far as the monarchy is concerned.
In Argentina, however, women achieved a major legal victory when the country's gender minister Elizabeth Gomez Alcorta announced her government's historic decision to legalise abortion. Argentina thus becomes the first major Latin American country to do so.

Gomez Alcorta said she has received phone calls from neighbouring countries, but added that there could be regional resistance, especially from the churches, before the move became widely accepted.
"The regional conquest will take some time, but I have been getting calls from officials in Mexico, Bolivia, Chile, Ecuador and Peru. Progressive governments are returning to power in some countries, I am very confident there will be a change," the minister added.
"Anchan, now in her 60s, stands to not just lose her job, but her pension as well"
She said the government would also drop charges against more than 1500 women and doctors accused of violating the ban.
COVID-19 has reduced millions to unemployment and poverty, and bankrupted quite a few famous names in big business. But a number of billionaires have never had it better. In the US, billionaires ranging from Elon Musk to Bill Gates have increased their wealth by a staggering One trillion US dollars, while many Americans faced salary cuts, fell into unemployment or worked in risky environments for little or no extra pay.

Amazon's CEO and founder Jeff Bezos increased his net worth by US$70 billion in 2020 while workers at Amazon and Amazon-owned grocery store chain 'Whole Foods' have protested against unsafe working conditions and the pressure to keep up with demand. Several workers who took part in protests allege they were fired in retaliation.
While Amazon netted billions of dollars in 2020 through profits and stockholder shares, the company ended hazard pay in June last year, choosing to pay sporadic one-time bonuses to workers. Amazon workers have on average seen a pay rise of less than one US dollar during the pandemic, while Bezos' wealth increased at the rate of US$11.7 million per hour. Amazon employees further claim that, to be entitled for hazard pay, they had to put in 60 work hours per week or more.

Tesla Motors owner Elon Musk's wealth soared by more than US$140 billion during the pandemic, overtaking Bezos' to make him the richest person in the world with a total net worth of US$195 bn.
Musk ignored orders to shut down his plant at Fremont, California which was subject to a COVID-19 outbreak earlier this year, and ordered production to be resumed. Tesla's share prices soared during the pandemic.
Musk circulated an internal email to all employees implying they would lose unemployment benefits if they didn't resume work. At least two workers were fired because they stayed home because of Coronavirus fears to themselves and family members. Salaries of Tesla employees were reduced from 10 to 30% from mid-April to end June 2020.