---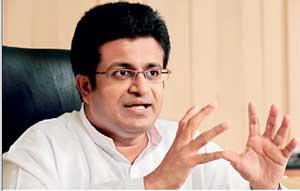 By Lahiru Pothmulla
The assurances made by former prime minister Ranil Wickremesinghe to revive the economy, if elected, are false, Pivithuru Hela Urumaya (PHU) Leader and SLPP Colombo District candidate Udaya Gammanpila said yesterday.
Speaking at a news briefing held at the PHU head office, the former MP said Mr. Wickremesinghe for five years as the Prime Minister had 'slaughtered' the economy.

"Today, Ranil says that foreign countries are refusing to grant Sri Lanka loans due to the debt the country is entangled in. He also says only the United National Party (UNP) can revive the economy. We remember how incompetent his government was, developing our economy," he said.
Mr.Gammanpilla said the amount of debts as a percentage of Gross Domestic Production (GDP) was 103% when the Rajapaksa Government came into power in 2005.

"With the intensification of the war in the country and with many development projects launched, the then government was able to bring down the debt percentage to 87. It is true that within 10 years of Rajapaksa Government, the government debt increased from Rs.2 trillion to Rs.seven trillion. We fought the war with these funds and built harbours, airports, power plants and highways, while, the UNP Government increased the debt from seven trillion rupees to 13 trillion rupees in just five years, simply doing nothing," Mr. Gammanpila said.
He said the per capita income under the UNP Government increased only by USD 33 throughout the five years, with six dollars per year.

"Mr. Wickremesinghe, who displayed the weakest economic performances in the history of the country, asking for votes to revive the economy, is ludicrous," he said.
Today, Ranil says that foreign countries are refusing to grant Sri Lanka loans due to the debt the country is entangled in