---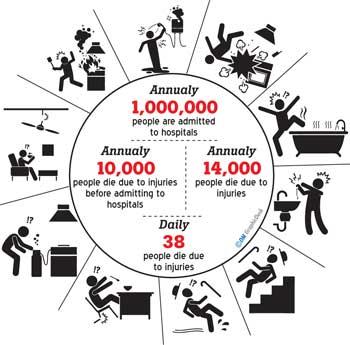 By Sandun A Jayaskera
Injuries are the number one cause of hospitalisation and more than one million people are admitted to hospitals due to injuries in Sri Lanka. However, the estimated number of injuries is as high as three to four million including hospitalisation, a seminar was told.

Every minute at least 2 individuals are admitted to any government hospital and every year, at least 1 out of 5 from the entire population may be subjected to an injury, requiring medical attention and also one to two individuals die due to injuries every hour.

Dr. Samantha Liyanage in a presentation to the seminar conducted at the Health Promotion Bureau for media personnel to mark the 'National Injuries Prevention Week' which will conclude tomorrow said most injuries are due to falls and home is the most vulnerable place for injuries and accidents.

"The number one cause of hospitalisation in Sri Lanka is injury. It has been identified as a leading cause for the disabilities and deaths among Sri Lankans. Annually, millions are affected due to injuries, more than one million Sri Lankans are admitted to hospitals for treatment. This means that in every minute, at least 2 persons are admitted for inward management. It has been estimated that the number of victims attending to government hospitals due to injuries could be as high as 3 - 4 million. Therefore, every year, at least 1 out of 5 from the entire population may be subjected to an injury which needs medical attention. Not only that, when considering the injuries happen in day to day life, each individual in Sri Lanka may be a victim of at least one injury. But the bitter truth is that hidden behind this is most of these injuries can be prevented easily by giving attention and with minor interventions," Dr. Liyanage stressed..
Most of the affected individuals are from the age group of 15 to 44 years of age who belong to the economically productive age group of a country. Additionally, injuries are the number one cause of death among that age group too. Annually, about 2000 admitted to hospitals in Sri Lanka due to injuries, are died due to severe and major injuries or its complications. Though it is the main cause of death occurring in the hospitals, it is the 4th cause of death in Sri Lanka. Injuries kill about 14,000 Sri Lankans annually (10% of total deaths). More than 10,000 individuals die due to injuries before admitting to hospitals. Additionally, this says that, every day, injuries kill at least 38 Sri Lankans, about 3 individuals in every 2 hours, he added..
Dr. Samitha Siritunga said transport related injuries are the number one killer due to unintentional injuries. It claims just above 3000 lives annually.
"Suicides are the number one cause for intentional injury related deaths and annually more than 3000 lives are lost due to suicides. Other than these, poisoning, falls, drowning, animal stings, animal attacks, violence and homicides also kill thousands of people in Sri Lanka," he said.

Furthermore, thousands suffer from some kind of residual disabilities as a result of injuries in the rest of their life. When considering all, injuries affect not only to the victim, but also to the family and in general to the whole society severely. The burden of injuries is projected to increase in next decade as a result in rapid changes in life styles of people due to urbanization, industrialization, mechanization and infrastructure development if appropriate preventive strategies are not implemented. Additionally, a huge amount of annual budget is spent on patient care due to accidents, Dr. Samitha stressed.

It is clearly evident that most of the injuries occur at places where we usually engage with our day to day life. Further, it also shows that if we could use those carefully, most of the injuries could be prevented. Even though almost all injuries could be prevented, it is not possible to do so due to a number of reasons such as lack of knowledge, not taking safety measures adequately, not obeying the relevant legal conditions, carelessness, not having enough first aid skills and problems in transporting of victims, poor environmental conditions and problems in vehicles and other equipment etc. As most of the reasons are related to the personal knowledge, attitudes and behaviour, if the public could
be made aware about the preventive strategies,

the danger is believed to be minimized considerably, he noted.
Most of the affected individuals are from the age group of 15 to 44 years of age who belong to the economically productive age group of a country. Additionally, injuries are the number one cause of death among that age group too