---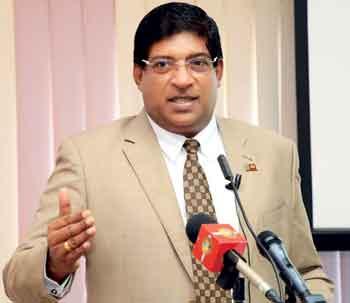 By Sandun A Jayasekera
The Power, Energy and Business Development Ministry is studying the possibility of using atomic energy for power generation, Minister Ravi Karunanayake said.
Some countries are hesitant to turn to atomic energy for power generation but with the advancement of technology and science this uncertainty has passed, Minister Karunanayake added.

Sri Lanka has envisaged the use of atomic energy for power generation by 2036 as part of its Long Term Less Cost Power Generation Plan (LTLCPGP). The Atomic Energy Authority of Sri Lanka (AEASL) has done seven studies on the subject, two of them in 2019, he pointed out.

Delivering the keynote address at a seminar conducted at the BMICH on the these 'Using Atomic Energy for Power Generation' sponsored by the Atomic Energy Authority of Sri Lanka', Minister Karunanayake said it is not only Sri Lanka that will soon turn to atomic energy for power generation as widely used energy resources like fossil fuel and coal will be exhausted in a few decades and hydro-power too has been fully utilized.

"Sri Lanka will have to go for atomic energy for power generation at some stage in future because it is our last option. We have learnt our lessons the hard way after being late or delaying in taking the right decisions at the right time with regard to power generation. Therefore, I believe that we must act now in this regard and not delay. If the government or the private sector is ready to invest in atomic energy based power generation, I will wholeheartedly support their investments with the necessary policy making guidelines," Minister Karunanayake stressed.
It is heartening to note that atomic energy is being used in the health sector. If used methodically and scientifically, atomic energy can be a blessing to any field, be it health, agriculture, industry or nano technology. But Sri Lanka is relatively behind when it comes to the use of atomic energy. We have a long way to go to using it for economic development. Sri Lanka must seek the assistance of the International Atomic Energy Agency (IAEA) and friendly developed countries on this subject, he noted.
Sri Lanka will have to go for atomic energy for power generation at some stage in future because it is our last option. We have learnt our lessons the hard way after being late or delaying in taking the right decisions at the right time with regard to power generation