---
Today is the 75th Birth anniversary of Gamini Dissanayake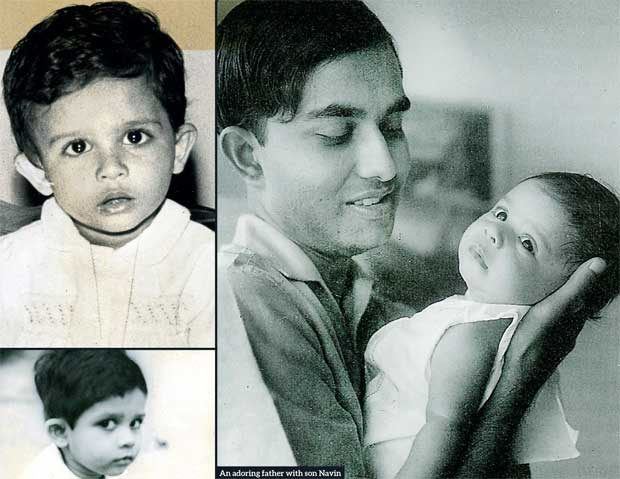 Is this the reason why many good people die early? March 20th is my fathers birthday. He would have been 75 had he lived. He was a wonderful father and a wonderful husband but most of all he was a wonderful human being.
It has been 23 years since my father's untimely death and despite the time, he is always in my heart and mind. Time is supposed to heal all wounds but yet this wound has not healed. How can it? He was my world. I seldom show my emotions, I talk a few words but yet my mind is far too active. Its activity crosses all time spans - Night and Day. My thoughts go to him. I yearn for his presence and his love and guidance. Through my fathers untimely death both my brother and I were driven to politics at a very early age. There was no choice but a necessity. Even whilst he was living and engaged in politics, we as a family supported him throughout and we were on the field. Our father however never expected us to follow in his footsteps and enter politics. He was not a believer in family dynasties. His advise to us was, whatever career path you choose it has to be done by your own merits. "I will not prop you up. You have to stand on your own two feet." How valuable this advise was.

The name Gamini Dissanayake is synonymous with the Accelerated Mahaweli Development Project for he established the foundation of the largest ever multi-purpose national development programme in the history of Sri Lanka. He was identified as a people's leader and in his short span of life, rendered a considerable service to the country especially the rural poor and the plantation sector community. My father entered Parliament as a UNP MP under former Prime Minister Dudley Senanayake, having won the Nuwara Eliya - Maskeliya seat at the crucial 1970 general elections which saw many UNP stalwarts losing their electoral 'citadels'. He was among the 18 UNP MPs who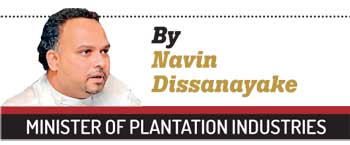 won their seats when the party suffered a surprise overwhelming defeat at the election.
He easily secured his seat in the 1977 general elections which brought the UNP back to power under the far-sighted leadership of President J. R. Jayewardene and was appointed as Minister of Irrigation, Power and Highways, which was held by Maithripala Senanayake under the Premiership of Sirimavo Bandaranaike. Later, Following the launch of the Mahaweli development project by the Jayewardene government he became the Mahaweli and Mahaweli Development Minister aimed at completing the entire project in six years which was earlier earmarked to be completed in 30 years. My father also served as Plantation Industries Minister during President Premadasa's regime.
It is indeed a nostalgic experience for me to be holding the same portfolio he held 25 years ago as Minister of plantation Industries. The beginning of my political journey holding a portfolio was also as deputy minister for plantation industries.

Not a day goes by that I don't think of my father. He was my world and my mentor. My world shattered the day he lost his life and it was my mother who gave me the strength to face his untimely death. We all lose our parents one day and as an adult and with two daughters of my own, I understand this very well. But to lose him at such a tender age, in tragic circumstances never leaves you.
On my parent's advise I left Sri Lanka at a tender age of 15 years and was sent to Australia to a boarding school. The experience of boarding school was very unpleasant for me, new surrounding, new cultures and most of all I missed my father and the long discussions we had. As a 15-year-old my interests were very different to the others of my age. We discussed about taking the country forward, what areas need development and strengthening and where we fail. Recently I spent many hours going through the letters that were exchanged between my father and me. What sound advise he gave me and how he explained the art of politics to me. He was a politician to the core, who loved people. There was genuine love flowing from him whenever he sees someone. He remembers their name.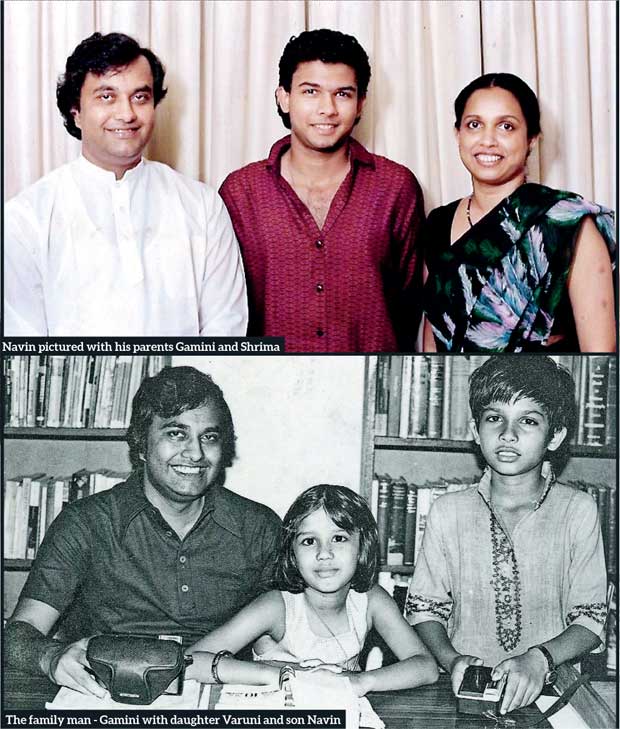 He remembers their story. How can he remember so much I always used to wonder? And the answer is simple. He cared about them. He wanted to help them. My brother and I were so absorbed and moved by the love and respect people had for him.
His ideologies, he had so many years ago, were so far fetched. He believed in sound education and that English and IT were the tools of power. How true it is now to the modern world. This 'was the main reason for setting up the Gamini Dissanayake Foundation and setting up the institute for teaching the much needed English and IT to rural students'.
"If Gamini were alive." How many times I have heard this echoing in my ears, said by many people. If he was alive I would have had a father, as well as my brother and sister. My mother would have had a husband. The love of a family is the most precious gift and this was stolen from us the day he parted. Our grieving processes are different and my grief I keep locked in my heart. The fateful day he departed is still a memory that is so vivid. He was dressed in his usual national costume, with hair neatly combed. I went to his room and asked

"Appachchi, how is it going?"
He said, "Yes, I can win it!"

His voice was filled with certainty and determination. These words are still ringing in my ears and these words I can never forget. That was the last time I saw him - in the upstairs room in our house in Kandy. He was so determined. This happened in the morning and he was killed in the night. I remember that face. He was ready for a fight and was never going to give up.
When I think of this day, I always wonder was he hasty in his decision? Should he have contested at that time? But this is our destiny, his destiny and the country's destiny.
June 20, 2016 was a day that filled me with so much happiness. This was the day that I was able to be part of fulfilling my fathers's wish of completing the Mahaweli Seya. This one single act that gave me much peace and tranquility.
This was done for my father. The foundation stone was laid during his time and the completion took 33 years. I spend many hours at the Seya sitting on the grounds absorbing the calm serene surrounding where I feel his presence. This takes me away from an array of tasks that I perform on a daily basis. The state of calmness that I am able to achieve takes me away from the pains of this world. I feel my father's presence amidst the Mahaweli Seya's surrounding and this alone is enough.
"On my parent's advise I left Sri Lanka at a tender age of 15 years and was sent to Australia to a boarding school"

On this day his 77th birthday I wish him to attain the supreme bliss of Nirvana, even though my heart yearns for his birth again as my father, this yearning will only lengthen this journey in Samsara. I learnt so much from him during his short but productive life. I will never be able to be another Gamini Dissanayake in this political era but I strive hard to be like him. I am his son and with that advantage I will tread this life doing my duties to the best of my ability so that I will serve society and help make Sri Lanka a better country for our future generations. This is what he would have wanted from his sons.