---
Manipulative tobacco cultivation no more a profitable livelihood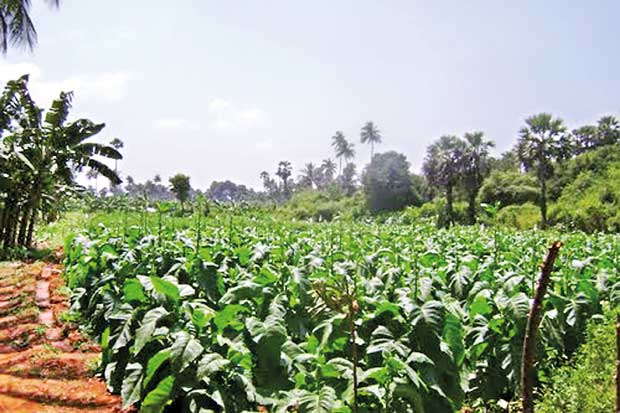 Infamously known as the silent killer, tobacco farming and consumption (chewing and smoking) has encroached in to the lives of many people with its unwavering stance as a global mafia.
The tobacco industry is so powerful that it has become a global challenge to eliminate this form of livelihood.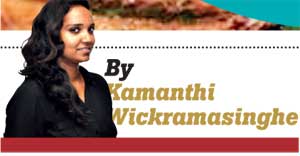 In Sri Lanka, tobacco farming is a main source of income for many farmers including those in the North and several other regions.
In a bold initiative to eliminate the use of tobacco by 2020, the Government is planning to ban tobacco cultivation as well.
While this is a far-sighted approach to a healthier nation, continuing deforestation practices, a decrease in soil fertility and exploitation of labour by the giant industry has raised concerns among environmentalists and health experts.
Several organisations such as the Centre for Combatting Tobacco (CCT) spearheaded by the visionary leadership of its Director Dr Mahesh Rajasuriya, in collaboration with the Presidential Task Force on Drug Prevention (PTFDP) has carried out several research programmes to identify the problems of this livelihood.
In an attempt to unmask the hidden agendas of the tobacco industry, CCT's online information portal tobaccounmasked.lk was launched last year, giving details about tobacco companies, their employees, research and relevant statistics.
Hence the Daily Mirror sheds light on some of its key findings and the possibility of eliminating tobacco by 2020.

Harmful effects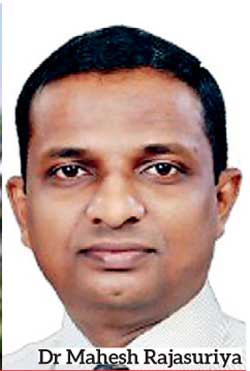 Although the harmful effects of passive smoking, tobacco consumption and tobacco farming have been highlighted in most instances, the industry tends to make people forget about its darker side. Unimaginable amounts of money spent on advertising and marketing have made people come to a conclusion that smoking relieves one from stress and keeps their sorrows aside.
"Harm is multifaceted so much so that it is harmful in ways we would sometimes not imagine," says Dr Rajasuriya in an interview with the Daily Mirror.
"In terms of farming, the harm can be to farmers, their families, farming lands and agricultural practices. Cultivating tobacco affects the quality of life of farmers and their families.
"It affects their health and well-being. It causes great exhaustion and stress, induces wheezing and other respiratory diseases such as the green tobacco sickness. In addition to that, it compels farmers to use child labour and, perhaps above all, it affects agricultural practices in a very fundamental way by distancing farmers from food production.
"The environment is negatively affected, too, in several ways: tobacco cultivation reduces the fertility of farming lands, tobacco cultivation cause emissions harmful to the environment and humans, mainly from tobacco barns or kilns.
"Further, tobacco is not a magical crop as is portrayed in media and promotional campaigns. It is labour-intensive, weather dependent and can be harmed by wild animals. It involves a high initial investment and is not profitable as it is portrayed to be. Further, I also have observed that these farmers have a significant amount of guilt that they contribute to the negative health impacts of smokers, especially young ones and that they contribute to death, disease and suffering."
The Green Tobacco Sickness (GTS) is a type of nicotine poisoning caused by the trans-dermal absorption of nicotine from the surface of wet tobacco plants. Symptoms of GTS include nausea, vomiting, headache, dizziness and severe weakness. These symptoms may be accompanied by fluctuations in blood pressure or heart rate.
"Green Tobacco Sickness is caused by the trans-dermal absorption of Nicotine..."

Alternative crops
As mentioned by Dr Rajasuriya himself, tobacco causes a lot of damage to the environment.
Reports by the World Health Organisation (WHO) show that tobacco cultivation has contributed to many environmental crises in a number of countries.
In many developing countries wood is used as a fuel to cure tobacco leaves and to construct curing barns. An estimated 200,000 hectares of forests and woodlands are cut down each year because of tobacco farming.
"Tobacco itself is an alternative crop," Dr Rajasuriya said further.
"There are no 'tobacco farmers' in Sri Lanka, i.e. nobody grows tobacco exclusively. All of them have other livelihoods. Tobacco is one of them. Many farmers have other crops going right now.
"Farmers themselves and field agricultural officers suggested many alternative crops which could be grown when our team did the data collection. Some of these include corn, pea nuts, manioc, sugar cane, tomatoes, green beans, cow-pea, chilli, or (undu), aloe vera and kantola (thumbakaravila)," he said.
It has also been found that tobacco cultivation involves a great deal of pesticides which need to be used in all stages of tobacco growth.
Tobacco depletes soil nutrients at a higher rate and requires a regular input of chemical fertilisers. They tend to absorb nutrients such as phosphorus, potassium and nitrogen more than any other crop does leading to a decrease in soil infertility.
As a result, these harmful fertilisers not only poison farm workers and cause chronic health problems but they also seep into the soil and pollute waterways and ecological systems causing harm to livestock and food crops.

Tobacco farming regions in Sri Lanka
Other than for smoking, tobacco is also grown for chewing. Many farmers in the North depend on tobacco farming. In addition to that area, such as Galewela, Polonnaruwa, Mahiyangana, Ududumbara, Haliela, Buttala and Wellawaya have been reported as the major tobacco cultivating areas in Sri Lanka.
The CCT research team has visited areas covering Polonnaruwa, Moneragala, Puttalam and Matale Districts. Namely area such as Hingurakgoda, Polonnaruwa, Walikanda, Elahara divisions from Polonnaruwa District; Buttala and Wallawaya from Moneragala District; Kalpitiya from the Puttalam District and Galewela from the Matale District have been covered. It has been observed that farmers in Kalpitiya mainly grow tobacco for chewing, while other areas it is mainly to supply for the CTC.

Loss of income
WHO reports further confirm that tobacco not only impoverishes those who use it but it also puts an enormous financial burden on countries. The costs of tobacco use at national level encompass increased health-care costs, lost productivity due to illness and early death, foreign exchange losses, and environmental damage.
"Profit, in my opinion, if labour and mental agony is counted, is negative," Dr Rajasuriya said, speaking about outcomes exaggerated by the industry.
"It is definitely not profitable as it is portrayed to be. For example, farmers believe that only about 5-10% of them draw a real profit out of it. A study done by the Sabaragamuwa University has actually proven that compared to other crops, tobacco farmers are at a loss of income rather than gaining profits.
"Material on credit and forward buying approaches of the CTC engage the farmers in a viscous cycle of tobacco cultivation, which leads to many negative effects as explained earlier. The main pitfall is farmers being blind-folded to measure the economic gain based on the amount of money received at one time rather than the calculation of actual profit when accounted for all the costs including the cost of labour of the farmer and his family members. Once you are in it, you are under the tight grip of the tobacco company. It is like these farmers' lives are no longer under their control!"
"The Govt. is planning to ban tobacco cultivation as well by 2020.."
A realistic vision
The vision to make Sri Lanka a tobacco-free country in 2020 could only be achieved if interventions could be done at grass-root levels. The CCT itself has taken on this challenge and is making steady progress. One fine example is the Mahakumbukkadawala Cigarette Free Village.
An advocacy programme was conducted targeting the shop owners who used to sell tobacco in their shops. The main aim of the programme was to minimise the availability of cigarettes and other tobacco products in the shops.
When asked if Sri Lanka could become a tobacco-free country in future, Dr Rajasuriya quite positively said yes.
"I know it sounds like a fairy tale. So, let me not tell you a fairy tale. Hence, these are some real stories. In all developed countries the number of smokers has decreased every year. In Sri Lanka, the number of smokers is going down despite it being on the rise in other developing countries. Bhutan, a neighbouring SAARC country is already free of cigarettes. We have outlawed tobacco smoking in public places and sale of tobacco to young people. We have outlawed smokeless tobacco products.
"There is adequate evidence to say that the tobacco industry is pumping money into cannabis legalization, as they can take over cannabis business once cigarette business becomes unprofitable in future. The tobacco industry has openly started to invest in other products other than cigarette business.
Speaking about the PTFDP Dr Rajasuriya said that they have been very effective in executing the anti-tobacco campaign.
"The President, his advisors and the technical team, led by Dr Samantha Kithalawaarachchi, appear to be genuine in achieving true progress in this field. However, there seems to be a concerted effort by the tobacco and alcohol industry to draw the attention of all of us away from alcohol and tobacco.
"In fact they want us to focus on illicit drugs use only. I am certain the President or the Task Force will not succumb to these heinous efforts of these multinational companies.
"So, yes, the signs are there, if you care to take a look. Not that Sri Lanka CAN become a tobacco-free country, it WILL! The journey has started, no doubt," Dr Rajasuriya concluded.
Key research findings
Farmers, tobacco barn/ kiln owners and other labourers involved in tobacco cultivation have alternative livelihoods, i.e. there are no 'tobacco farmers' in Sri Lanka.

Tobacco cultivation reduces the quality of life of farmers and negatively affects agricultural communities.

Number of farmers engaged in tobacco cultivation started decreasing prior to the Government's announcement of its elimination.

The main facilitative factors for tobacco cultivation are the Material on Credit and Forward-Buying strategies employed by Ceylon Tobacco Company (CTC).

CTC uses CSI initiatives and political affiliations to recruit and retain farmers in tobacco cultivation.

Farmers are more willing to give up tobacco cultivation with the Government's support. However, barn owners, the CTC's extended arm in the farming community, are not that willing.