---
A hiring lorry driver's information enables authorities to avert another series of blasts by extremist terrorists
It now turns out that everybody else has been taking credit for the information he provided

I am worried that the finance company would take my vehicle away'

Then he checked with SIS whether the person coming to pick him was working for the Police

Having called him repeatedly to ask for directions, the officials had failed to find the two houses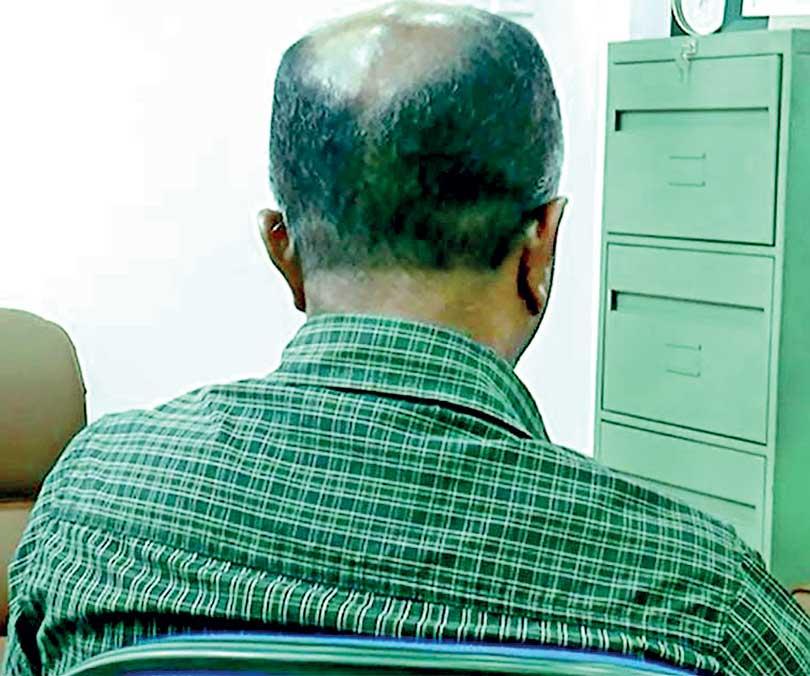 *Prasanna talking to the daily mirror
"When a Muslim person was arrested with ammonia I knew that the hire I went on that day had some connection to the incident"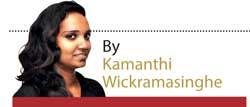 *Prasanna is a man who has faced hardships for the greater part of his life. His plans to continue his father's nylon business too failed. Bankrupt and indebted, Prasanna's only mode of survival was his lorry. Having come across an advertisement by a private cab service, Prasanna decided to sign-up for it and earn an income through hires. Initially things hadn't turned out well until April 9 when he agreed to go on his first long-distance hire. Little did he know that this same hire would later make him an unknown hero. If not for Prasanna, Sri Lanka would have witnessed a second spate of deadly terror attacks that would have claimed the lives of more civilians. Being brave enough to tip off the State Intelligence Service (SIS), it was with his information that the authorities were able to discover the rest of the explosives and ammunition in Kathankudy. However the authorities and officials have obtained credit through his information, but failed in their duties to acknowledge his bravery and also to provide security to his family.

In an exclusive interview with the Daily Mirror, Prasanna recalled the journey, how it linked to the April 21 terror attacks and what the authorities did with the information he provided.

The unforgettable long-distance hire

"That day I only had Rs. 1000 and the cab service asked me to go to Kiribathgoda," he recalled. "We had to distribute goods to a few shops in Pettah. But it turned out to be a bad day since I didn't get the money and on top of that I got copped and had to pay the only Rs. 1000 I had. Then again I got a call from the cab service and this time it was for a hire to Ampara. I was quite happy and agreed to it. But after that Kiribathgoda journey I the battery in my phone was low and I had to call the customer to say that I was coming. They asked me to come to a place down Katuwapitiya Road. When I reached there it was around 11.15 pm. There was a person to give me directions. After some time we reached a fairly large house and I reversed the lorry. There were around eight men there. Then they gave me dates to eat and asked to have a nap until they loaded the items into the lorry. But I wasn't tired and I said I will help them. I saw refrigerators, washing machines, empty rigifoam boxes and many other items. There were certain containers and when asked what they contained they said it was sulfuric acid used to make jewellery. I realised that the containers were heavy. There were packed cardboard boxes, a gas cylinder, generator, fertilisers, plastic chairs, a fan etc. after some time the lorry was packed to the brim and by 12.30 am they were ready to start the journey. A man in his early 40s joined me and hence, we started. Since we were going to Ampara I thought we could go via Nittambuwa, so that I could give some cash to my wife on the way home. But then the other person said that we are travelling past Giriulla, Kurunegala and Dambulla. During the course of the conversation I realised that we weren't going to Ampara, but to Kalmunai. After informing my wife, we continued on the journey. On the way we had to stop at a tyre shop and a fuel pumping station. We stopped for tea at Giriulla. He went onto say that he is a jewellery maker and that they put items to leading jewellery stores in the country. He said that the Negombo house was a rented space and that the warehouse is somewhere else. He didn't ask much about me. On the way he was frequently getting calls, but I couldn't understand because he spoke in Tamil."

After a long journey they reached Batticaloa and since it was Kalmunai, Prasanna had decided to proceed without making inquiries from anyone. "Then the other person asked me to stop and he asked for directions. I was surprised to find out that he didn't know the directions. When asked he said couldn't remember and that he rarely came this way. Then there was someone to receive us near a mosque in Kalmunai and we reached Kaththankudy. Then after sometime the guy on the bike asked whether I knew Samanthurai and since it was my first journey to that area I said no. Then he took us through some winding roads which led us to two big houses."

Prasanna then recalled how they unloaded the chemicals, boxes, and plastic items at this place. "I asked what they are doing with fertilizers and they said it's for farming purposes. Then they loaded the washing machines and refrigerators back into the lorry and started proceeding to another house. On the way they wanted to have sherbet at a wayside sherbet counter. This later became the landmark during search operations. We then reached the next house. After we unloaded the items they settled my bill. Then I dropped that person off at Kalmunai and started my journey home."
When I watched news I repeatedly heard about Katuwapitiya, Batticaloa and I figured out that something wasn't right. It was at Katuwapitiya that we loaded the items and then left to Batticaloa area

Growing suspicions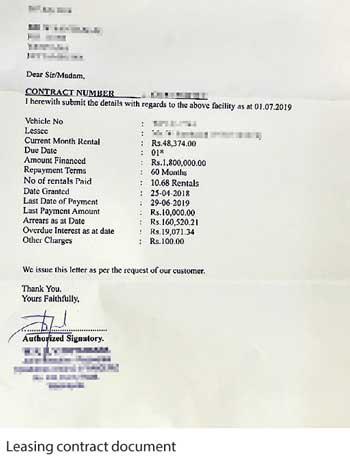 "I was planning to start a textile business with another gentleman employed at a leading private garment manufacturing company in Naiwala," he continued. "On April 21, while I was on my way, the broker called me and asked not to come as there had been some bomb blasts. As a result I couldn't start the business. When I watched news I repeatedly heard about Katuwapitiya, Batticaloa and I figured out that something wasn't right. It was at Katuwapitiya that we loaded the items and then left to Batticaloa area. I felt something fishy. But then people asked me not to worry since I only transported items for a jewellery shop. Then when a Muslim person was arrested with ammonia from Nochchiyagama I knew that the hire I went on that day had some connection to the incident. Then I went to this garment factory I was working at and told them about my suspicions. I was reluctant to tell the Police since the situation wasn't good. But then since I trusted them they suggested that I give this information to the state intelligence service (SIS). I then told them everything that happened and in turn they said that I was a national hero and asked me to keep this information to myself. I was worried about my family, but they assured that I would be safe."

Search operations

With Prasanna's information, it was time for the authorities to take action. Having called him repeatedly to ask for directions, the officials had failed to find the two houses. As a result, Prasanna had to make a second visit to Samanthurai. "On 25th night Ampara Police officers contacted me, but they couldn't find the location. I remembered the place where we had sherbet. Then they asked me to get ready to come there the following morning. Then we checked with SIS whether the person coming to pick me was working for the Police to ensure my safety. We then took a CTB bus to Kalmunai. Around 12.30 pm we got off, but nobody had come to pick us from there. After sometime, somebody came and by 2.30pm we started the journey in our bikes since it would be easy to find our way on the roads. But they had found the wrong sherbet counter. Then with my guidance I showed them the two houses. By the time I went there I recognised a few people who were there. After questioning the Police officials searched the two houses and found bicycle balls bearings, the plastic chairs brought from the earlier trip, wires and explosives. It was then that I realised that those fertilizer bags actually contained explosives. By the time we reached the second house we found that the family had escaped. I realised that the officers had gone thrice to the second house. I was present when the shooting broke out and the first house was on fire after the explosion. I then had to send my vehicle to the Judicial Medical Officer and then I was taken in for questioning by the CID and later identified the suspects.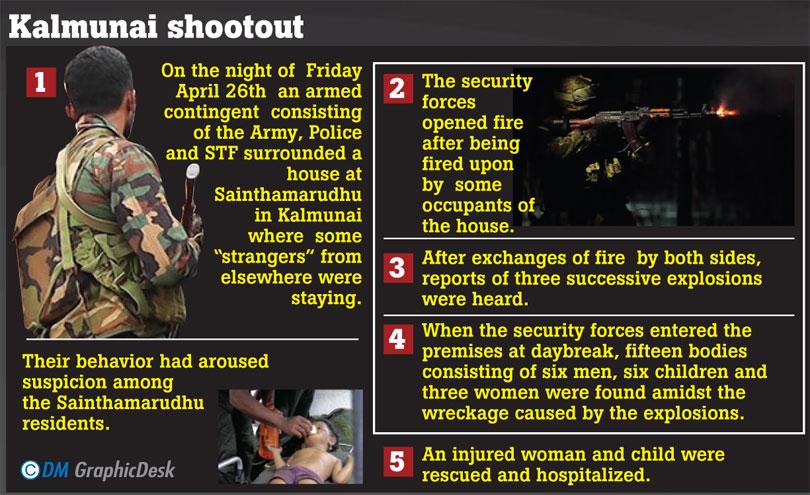 Step-motherly treatment

Prasanna didn't expect anything in return for revealing information. He was happy that he was able to save the lives of many people from a second round of attacks. But what transpired is an example of injustice. "After I told them what I knew I was promised rewards and security, but three months after, myself and my family still live in fear. My children are going through a stressful period and out of fear they can't even concentrate on their studies. I personally handed over a letter to someone working at the Presidential secretariat, but I haven't heard from him since. I am worried that the finance company would take my vehicle away since I haven't settled the instalments on time. It now turns out that everybody else has been taking credit for the information I provided."

He questions whether he took the wrong decision by tipping off the authorities? With the authorities continuing to stay mum and with SIS keeping a close watch on his whereabouts, Prasanna and his family continue to have doubts about the safety of their lives as well as that of their children.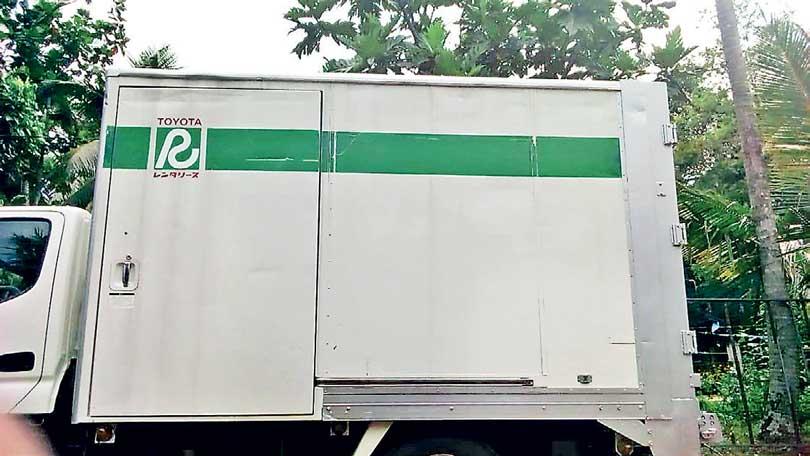 The lorry used by Prasanna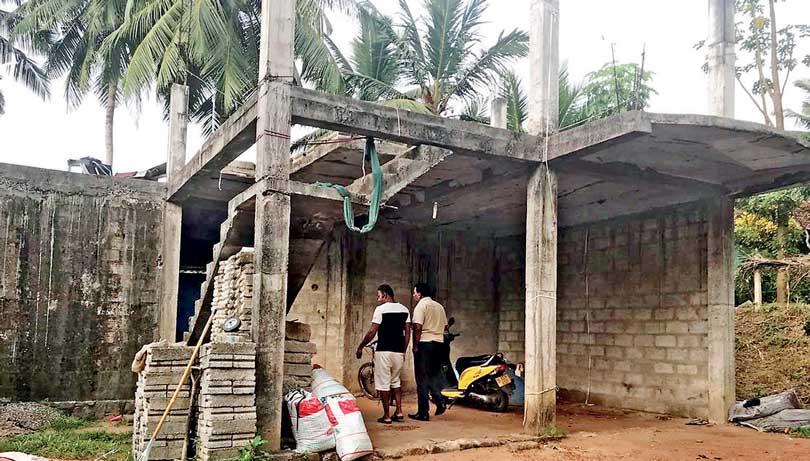 Prasanna's partly constructed house

(The real name of the lorry driver withheld to protect the individual's identity)