---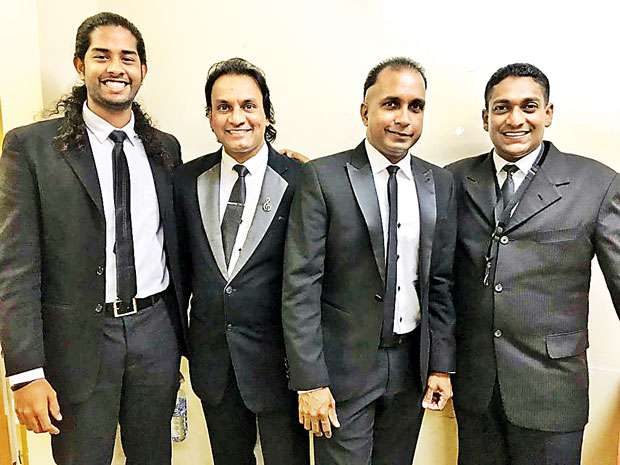 "Beatles go Jazz" concerts are nothing new to the world. It was however, audaciously new to Sri Lanka and, the challenge taken by the popular local jazz group en route to deliver on it in Colombo on February 9, was a resounding success. The concert was organised by the "Women's International Club" to raise funds for the "Christopher Maithree Compassion Therapy Centre" for mentally and physically challenged persons. As conveyed to the audience by the hostess, the En Route Quartet and Sri Lanka's queen of the flute Surekha Amerasinghe, were only too happy to chip in with their abounding talent, for no fee.

The heavy evening downpour did not dampen the enthusiasm of the music lovers; Jazz fans in particular, and many waded across a few inches of water to get to the venue - The Western Province Aesthetic Resort Colombo 7. The organisers were happy that almost 80% of those who had purchased tickets did show up and certainly none would have regretted the trouble they took to get there.

The proceedings took off in the customary manner of an En Route Concert. Dr. Sewwandhi Dasanayaka (Wife of Gananath) introduced the key players in good humour. This time not as Mrs. Frank Sinatra, but as Yoko Ono. No, not "Yaka Nona" she hastily added! Once things got moving what fascinated many were not just the songs rendered with such polished panache by Gananath Dasanayaka the founder of En route, but also the very professional nature of the music arrangements with rhythms changing from New Orleans Street Beat, Old School Jazz Swing, Brazillian Bossonova, to Rhumba. They sang eighteen songs in all; including popular hits such as "Hard Days Night", "She Loves You", "I wanna Hold Your Hand", "All My Loving", "Imagine" and "Yesterday". Each one, perhaps with the exception of "Hey Jude", was jazzed with original Sri Lankan talent which could only be brought out by musicians such as Shobi Perera and Dilip Senewiratne to be delivered by Gananath Dasanayaka himself, with his Saxophone to boot. Shobi was on bass and Dilip on Piano. The young Charith Fernando on Drums, fast developing into one of the best going in Colombo, performed a solo; singing "Come together" while keeping beat for himself. Dilip and Shobi also did solos, not just on their instruments but in signing "Oh Bladdi Oh Bladda", "I saw her Standing There" (Directed to Shobi's wife in the audience) "Here there everywhere" and "Something". Whenever Surekha Amerasinghe joined the rest with her flute it was nothing but mesmerizing!

En Route has earned for itself a reputation as a music group that primarily keeps to a given genre; Pop Jazz. It is great for the Sri Lankan Music scene to have such a focused group such as En Route. Jazz lovers in particular look forward to "En Route" proceeding further on "this route". The way they are doing now, it should not be long before international recognition comes their way.