---
The 89th Birth Commemoration of Lord. Pandit, Prof. Dr. Sir Anton Chitralal Jayasuriya who was born on 20th June, 1930 and died on 6th April, 2005
The above titles were conferred on him by many countries in recognition of his contribution as a great Healer, Teacher and a Practitioner of Medicine.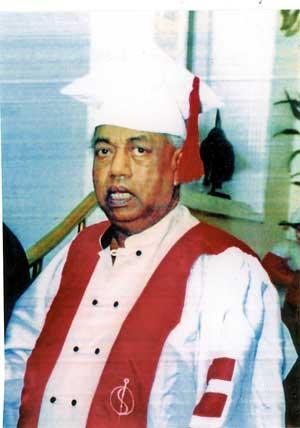 He was a unique and versatile genius who authored over 90 books, (ranging from Medicine to Religion on Buddhism, Christianity and Hinduism) and translated them into nine languages. One of his books on the "Principles and Practice" of Chinese medicine weighs over three and a half kilograms. All this, while being a Doctor of all Allopathy, Acupuncture and Homeopathy.
He has treated over 3.5 million people from 140 countries without charging any fees for 50 yrs. A remarkable act of charity indeed.

He has certified and accredited over 27,000, Doctors, Clinicians and Medical practitioners in the practice of, Acupuncture and Integrated medicine. He was a great innovator and a man of vision who was the "Founding Father" of the concept of Complementary Medicines.

The Secretary General of the United Nations Organization Dr. Kofi Annan, posthumously awarded him with the prestigious. "Millennium Service Award", in recognition of his service to Humanity, particularly in organizing "Medicina Alternativa" and the "Open International University for Complementary Medicine".

His multi-faceted talents and his extra-ordinary genius was also recognized and honoured by the International Community who conferred on him with eleven "Knighthoods" of their respective Countries. As director of Health of Jaffna General Hospital (Now Teaching Hospital), grateful people named the famous Beach Resort Casuarina as "Jayasuriya Avenue." Also,in August 1970 the Jaffna Municipal. Council passed an Unanimous Resolution, requesting the Minister of Health to defer his transfer by four years.

He was a man in a million, a man for all seasons, a pride to the Medical Profession and a pride to the nation.

Truly a remarkable man, whose value and worth cannot be fathomed or appreciated, just yet, as we are still too close to his life's unfinished work that abruptly ended on April 06, 2005.

T. Don Augustine
Chairman Sir Anton Jayasuriya
Birth Commemoration Committee.