---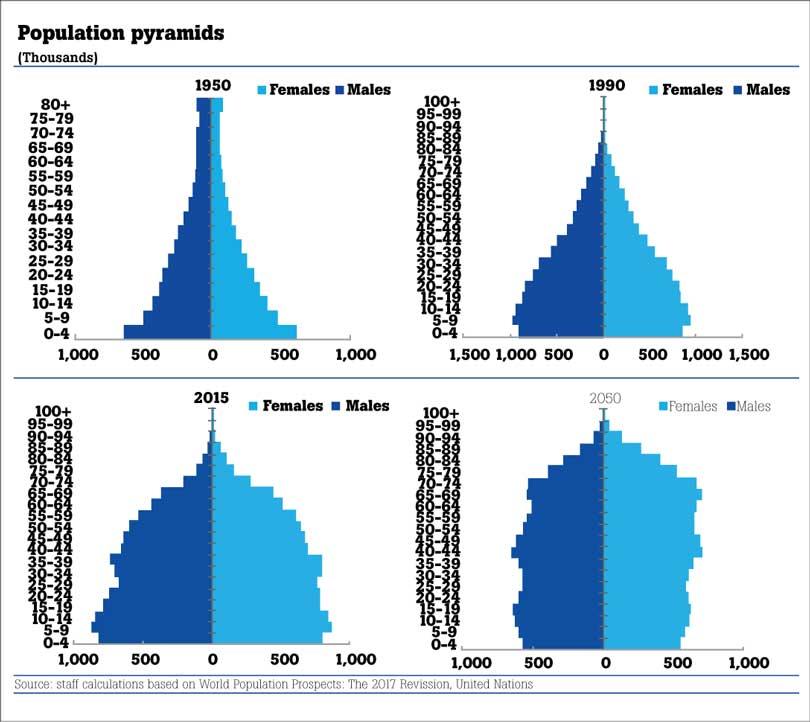 The latest edition of the World Bank's Sri Lanka Development Update (SLDU) was launched in Colombo, on Thursday, February 14.

The report finds Sri Lanka in a challenging macroeconomic landscape. The post-conflict high growth momentum has decelerated. A volatile global environment and structurally weak competitiveness continue to weaken growth and external sector performance. High-interest costs mask limited fiscal improvement.

The report analysed in a global context; the key developments within Sri Lanka over the past six months and presented an updated outlook for the economy. It also provided a more in-depth examination of selected economic and policy issues and analysis of medium-term development challenges.

Recent Developments:
Owing to weak industry performance and political turmoil in the last quarter, economic growth remained subdued.
Due to low food inflation - inflation was low in spite of currency depreciation and high oil prices.
Due to growth in Imports overtaking the growth of Exports the External Trade balance weakened.
Poverty fell further between 2012/13 and 2016. Despite fast poverty reduction, there remain areas with significant poverty.

The update identified significant risks in the Debt portfolio and the total debt service was estimated at 88 per cent of revenue in 2018. Sri Lanka's gross financing needs are large relative to other emerging economies (IMF 2018). Moreover, as the country approaches upper middle-income country status, it has been borrowing on more commercial terms with increased cost and risk.

The rise of foreign currency denominated commercial debt has been a key driver of the deterioration of the portfolio.

Large repayments at a time of tight global financial conditions elevate the refinancing risks. In total, maturities of bullet repayments on Euro bonds from 2019 to 2023 and from 2025 to 2028 alone amount to USD 12.15 billion.

Key reforms, such as the implementation of the Inland Revenue Law, passing of the Active Liability Management Act, are helping prepare for heightened external debt refinancing risks in 2019 and beyond.

"It is important to consolidate on previous reforms to ensure maximum benefits," says Fernando Im- author of SLDU and senior country economist for Sri Lanka-Maldives.
It is hoped that improvements in debt management will help manage costs and risks of the portfolio, develop the domestic financial market and improve access to finance.
The Human Capital Project by the World Bank:

"A child born in Sri Lanka today will reach 58% of his full potential, which is better than the other countries in the region, but it shows that more needs to be invested in human capital," Dr. Hartwig Schafer, Vice President, South Asia Region, The World Bank expressed.

A child born today in Singapore can expect to achieve 88 % of her potential, a child born today in Japan and South Korea 84%, and a child born today in Hong Kong China 82%.
Due to the importance of human capital for development, the World Bank has launched the Human Capital Project (HCP), through which the Human Capital Index (HCI) was introduced in October 2018. Overall, Sri Lanka ranks 74th place out of the 157 countries included in the HCI.

Outlooks:
A rebound of an estimated economic growth from 3.1% to 4.0% is expected along with inflation stabilized around single mid-digit levels.
With the implementation of the Inland Revenue Act, reforms to VAT and Excise laws, revenue is expected to expand.
The fiscal deficit is expected to narrow to 4.7% of GDP by 2021, missing the government's original target of 3.5 %
Debt-to-GDP ratio of est. 83% (2018) is projected to come down to 79.2 % by 2021.
External current account deficit is projected around 2.4 per cent of GDP between 2019- 2021.

If continued, Sri Lanka's fiscal consolidation efforts will gradually bring the public debt burden to a downward path.

Debt is likely to stabilize and start to fall but is sensitive to growth, fiscal and exchange rate shocks. The update also expects reserves adequacy metrics to remain weak given large refinancing requirements.

The Launch also directed a special focus onto questions and issues as:
Increasing female Labour participation is not an easy endeavour due to deep-rooted discriminatory social norms. What can Sri Lanka do to address the gender gap?
Is Sri Lanka's social security program adequate? What are the market-based reforms we can do to reform social security?
Is the government, its inefficiencies and lack of productivity drag on the country's economic growth?
The possibility of having an education system that directly connects to the market irrespective of gender.

Changes in the demographic structure of the Sri Lankan population are expected to have significant effects on the labour market. Factors directly linked to demographics such as population ageing, the number of children, age of childbearing and fertility rates, together with other factors indirectly linked to demographics and associated with cultural norms and social behaviour such as women's labour participation and education attainment – delaying entry in labour markets are expected to impact people's choices in the labour market.
Sri Lanka is undergoing a gradual ageing process of its population and compared to peers, it has reached an advanced stage of this demographic transition. The population pyramid is already beginning to show signs of ageing.

By 2050, it is projected that the proportion elderly (23 per cent) to surpass that of the youth (17 %).

The consequent shrinkage of labour supply will also expect long term implications to service delivery, pensions, employment etc.

"Sri Lankan population will continue to grow, even by the 2060s, it is expected to be growing…very soon we have to consider an elderly person as 65 years and above," said Prof. Indralal de Silva, former (Chair) of Demography, University of Colombo.

Among several factors that could mitigate the impact of demographic factors on growth and labour markets, the expansion of the female labour force stands out.

Sri Lanka's labour force participation rate has remained relatively unchanged over the past 20 years and is low compared to other developing countries. Thus, the closing the gender gap in labour force participation would buffer the impact coming through the reduction in the number of workers and could mitigate the impact of demographics on growth.
"The GDP will rise as soon as you get the women from being housewives to being in the labour force. How do you do this?" Prof. Amala de Silva, Department of Economics, University of Colombo spoke on the importance of increasing female labour force participation.

"What is strongly needed are institutional factors. On the one hand, everybody stresses childcare, but there is also the school system. There are many women who leave the workforce to invest in their children. The burden of education is shifted from the schools to the parents, where supervision and tuition are involved," she continued. She also added that attention should be paid to elderly care and the health care of the working sector.

With regard to improving the labour force, education reformations to lift productivity and participation rates of younger cohorts and the reallocation of labour to more productive sectors were other recommended courses of action.

"Sri Lanka currently has 3.1 million elderly people. More than 50% of them are not having proper protection from the retirement level," Prof. Indralal de Silva quipped.
Considering this current condition, he stated that it is vital that the retirement age must be lifted.

He also mentioned that although Sri Lanka experiences higher longevity of life, health problems are rampant.

Dr. W. A. Wijewardana, Former Deputy Governor of the Central Bank of Sri Lanka shared that the government must set up a fund where at least a part of the pensioners may be allocated a part of the government revenue. "It is high time that we must consolidate all the social security schemes, amalgamate ETF and EPF and establish a social security board for Sri Lanka," he expressed.

Adding her thoughts with regard to the social protection issues within Sri Lanka, Prof. Amala de Silva shared that "there is a discrepancy between male and female retirement ages. One cannot see the justification of having 50 years (as the limit) for the females... such a big difference doesn't seem to be backed up by any evidence considering the longevity and the need for financial support. The social service sector must work closely with the health sector."

Yet another aspect that was analysed was Sri Lankan Education, which was viewed as a system fairly accessible, yet heavily flawed especially in terms of curriculum. With regard to gender, it was discussed that even at A/L level there exists gendered discrimination regarding the choice of subjects. The arts are still recommended to women and industries like beauty culture are still seen as female-oriented.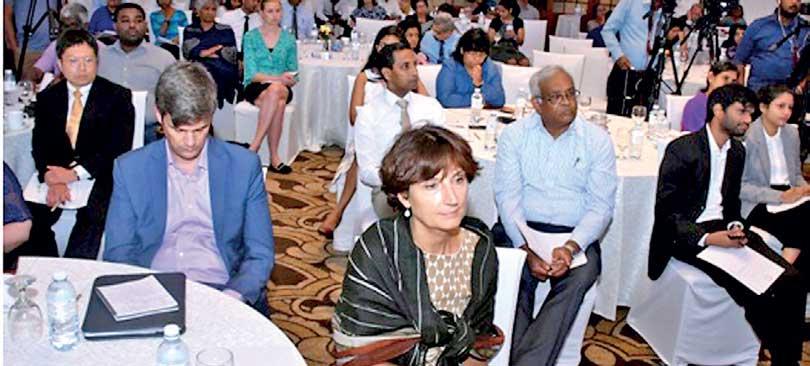 The participants of the launch at the Galle Face Hotel.

"Even at university level there are discrepancies with regard to gender, there are discrepancies regarding funding given to extracurricular activities by gender," Prof. Amala shared.
The much needed social awareness schemes that should eventually result in a higher female labour force participation should, therefore, begin at the school level, was the message delivered.

State Minister, Ministry of Finance and Mass Media, Eran Wickramaratne, shared his thoughts about the awareness of policy makers regarding the current problems of the system.
"Implementation should be largely in the hands of the permanent government," he stated. He continued that implementation comes through a comprehensive and sustained plan involving training, investment and exposure.

"If there is one single reform I had to pick for the country, I would say it's public service," he expressed.

Pics by Kushan Pathiraja