---

On Monday, Sinhala New Year commences in the ancient Kandyan Kingdom, with the distribution of "Nanu" for New Year at the the Natha Devale - the abode of the future Buddha - God Natha. This has been the tradition since the time of King Wimala Dharamsuriya who built the ancient shrine for the Sacred Tooth Relic.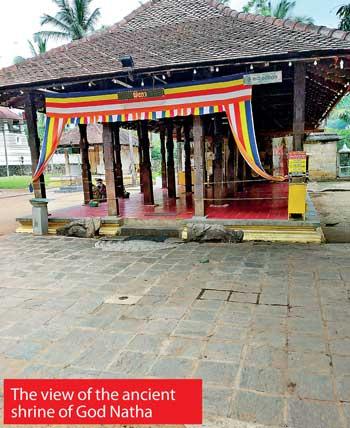 But the rituals were encouraged with the advent of the Sangharaja Weliwita when he encouraged King Kirthi Sri Rajasinghe to continue these rituals as they also form rituals of the Hinduism. Sangharaja never advocated Hinduism, but he had to coax the King who was inclined to Hinduism with the smearing of ash on his forehead. So in order to foster the new year rituals the Sangharaja had this alternative to encourage the King to foster Sinhalese New Year

The "Nanu" is prepared at the Natha Devale, for the Oil anointing ceremony would be distributed at this point of Natha Devale on Monday April 12 at 2.00 pm to all the Devales so that they could hold the Oil Anointing ceremony on April 17, 2021
In fact this is the commencement of New Year in the Hills superseding other rituals..

Sir John D'Oyly describes the oil anointing ceremony and the distribution in his diary at the Natha Devale. In fact he had sat and watched he ceremony.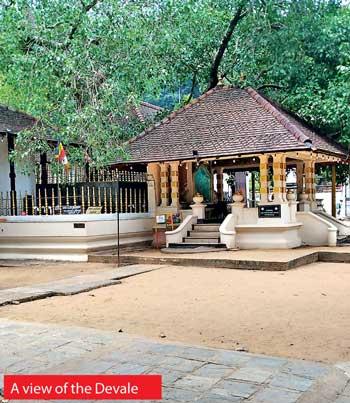 The person in charge of the ceremonies is the Kariya Korale of the Sri Dalada Maligawa K.M.Karunatileke. He said that the lightning of the Hearth at the Sri Dalada Maligawa would be on the 14th Morning at 2.33 am at the Sri Dalada Maligawa, which is about four Hours earlier than that done by the people in their homes. The auspicious time at the Sri Dalada Maligawa differs from those of the normal citizens of the country.

The Nekathrala of the Sri Dalada Maligawa has been sick for the last one and half years and sends the Nekath from home, which is rechecked by the Kariya Korale before its implementation.