---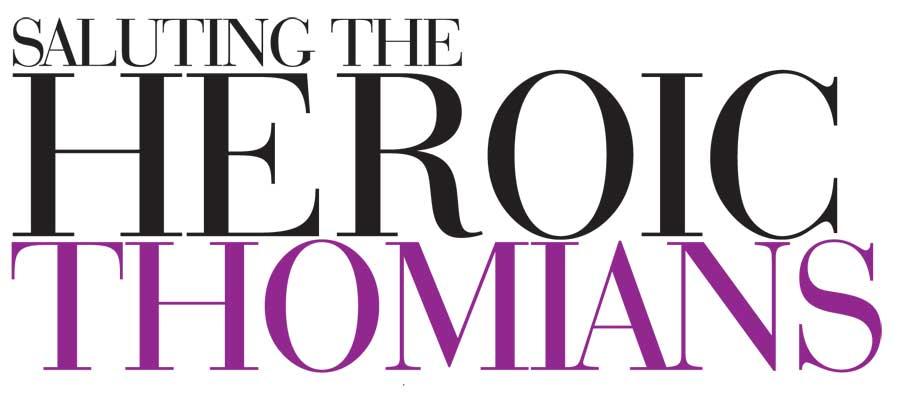 In these days and times when Politics is a dirty word and most politicians are of questionable character Vijitha Yapa Publications and the Political Science Society of S. Thomas' College, Mount Lavinia have released a masterpiece titled THOMIAN NATIONAL HEROES OF SRI LANKA. All present day politicians must read from cover to cover and learn how our national heroes served the country that they loved so much! They spent their time, their energy and their money in serving the country without reservation.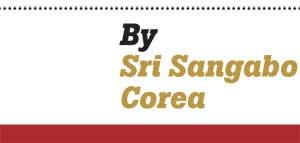 The galaxy of Thomians who are featured in this publication are Maduwanwela Disawe, Sir Solomon Dias Bandaranaike, Anagarika Dharmapala, C.E. Victor S. Corea, Sir James Peter Obeyesekere, F.R. Senanayake, D.S. Senanayake, Arthur Vincent Dias, Edward Henry Pedris, Sir Ratnajothi Saravanamuttu, Paikiyasothy Saravanamuttu, D.R. Wijewardene, Sir Alexander Francis Molamure, Dr. Tuan Burhanuddin Jayah, S.J.V. Chelvanayakam, Solomon West Ridgeway Dias Bandaranaike, Dr. Wijayananda Dahanayake, Dudley Senanayake and C.P.de Silva.

The Warden, Rev'd Marc Billimoria, in his foreword writes: "It is with much pleasure that I write this foreword to the book being published on National Heroes of Sri Lanka who were educated at S. Thomas' College first at Mutwal and then from 1918 at Mount Lavinia.
"This ambitious initiative of the Political Science Society of the College got off the ground in 2018 initially as part of the 100 years at Mount Lavinia celebrations but soon went beyond that when it was realized that S. Thomas' College has produced several men of eminence who could be classed as national heroes even while the school was at Mutwal.
"When Bishop James Chapman, the first Anglican Bishop of Colombo, founded S. Thomas' College and opened it on 3rd February 1851 his primary goal was the education and formation of local leadership for the fledgling Anglican Church in the island. A secondary goal was that all those who passed through the portals of his School would be men of character imbued with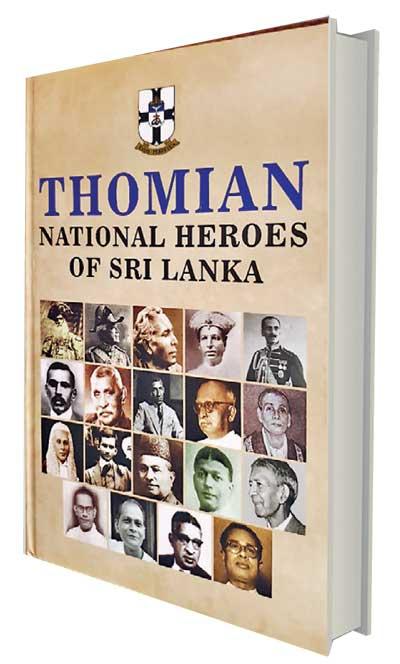 a sense of integrity, knowledge of right and wrong and a commitment to serve the community at large. There is no doubt that in its 168 years of existence, S. Thomas' has fulfilled the Founder's vision in more than one.

"It is ironic perhaps that the very system of liberal education introduced by the British colonial masters proved to be the foundation of the unravelling, decline and fall of their Empire, on which the sun was never meant to set! Young men, and later women, who had the good fortune of a missionary school education which introduced them to western liberal and enlightenment thought and if fortunate enough have the resources to do so attended the Universities of Oxford or Cambridge, returned to their native land infused with liberal political views and nationalistic fervor that resulted in them supporting the cause of nationalism and the movements for self rule and independence. S. Thomas' played a clear role in this movement, knowingly or unknowingly, by introducing Thomians to an education system that taught freedom, equality and liberalism as ideals in an imperialist world.

"It is not surprising therefore, that many leaders of the renaissance of national religions and cultures in the 19th century and of the temperance movement and the national and independence movements of the early 20th century received their early education at S. Thomas' College, Mutwal and Mount Lavinia. This small volume deals with a few of the prominent and well known individuals as well as some who are lesser known or have not been given due recognition up to now.

"I wish to thank the former Teacher in Charge of the Political Science Society, Mrs. Lakmini de Silva for her enthusiastic support for this venture together with her dynamic student committee led by Uthsara Dunusinghe, the live wire behind the project. I also wish to place on record my thanks to Warden Prof. Indra de Soysa for having gone through the text and for his valuable comments and to Dr. Nimal Sanderatne for having consented to be the Chief Editor of the book. I also thank Mr. Vijitha Yapa for his support with the printing. This is, as a result of all this collaboration, a fully Thomian product. I commend it to Thomians young and old."
Additionally, Chief Editor Dr. Nimal Sanderatne, writes in the Preface: "I am certain 'National Heroes of Sri Lanka from Mutwal to Mount' will be a valuable contribution to the political and social history of Sri Lanka and an inspiration for generations of Thomians."