---
The COVID-19 pandemic struck during the harvesting season and most produce went to waste
The biggest issue we have is the lack of water because during the dry season the tanks dry out
Right now there's a Rs. 40 tax and a kilo of B onions costs between Rs. 90-100
We have seen most storage facilities filled with B onions imported from India, China and Pakistan
Grading system introduced to solve middleman mafia
Prices fluctuate depending on quality and demand
Who gets profit from SCL?
Storage facilities stocked with imported items during harvesting season
Lack of water, low value for produce, main challenges for farmers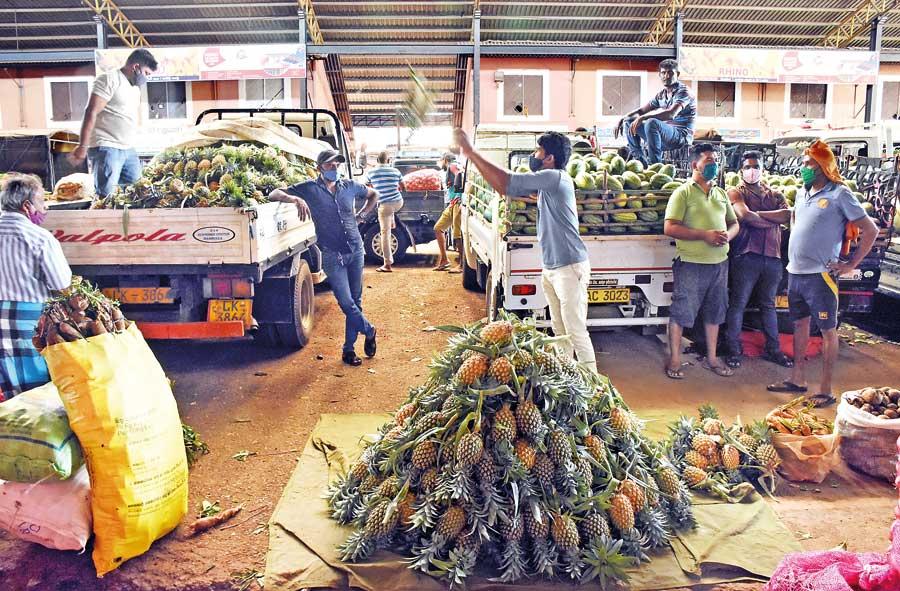 The DDEC is a hive of activity where farmers, collectors and traders compete to get the best bid
The Dambulla Dedicated Economic Centre (DDEC) is a hive of activity from 5.00am onwards on any given day. Vehicles, both big and small, drive through the gates with fresh produce from many parts of the country. Farmers walk in with high expectations, but prices per kilogramme fluctuate daily. There was a time when they sold their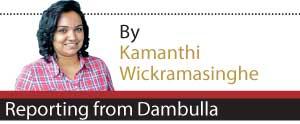 produce to a collector but with the emergence of the middleman mafia and other issues, many farmers travel long distances and bring their produce directly to the market. As uncertain as it may sound, these farmers have lived with such uncertainties for the greater part of their lives. However with special levies and taxes imposed on food items, local farmers are facing newer challenges to thrive in this once flourishing occupation.
Operation at the Dambulla Market
At any given time a number of vehicles line up at the gates, mostly owned by middlemen and traders themselves. Farmers spend the entire day expecting that they would get a good value for their produce. Once the produce is weighed and a price has been decided they are sent to Colombo. Although most farmers have got used to testing their patience in long queues, many others now opt to sell their produce at whatever the price available. The Dambulla market also has commission agents who take commissions depending on the price per kilogramme. Having said that, there are instances when farmers walk back with their produce since they are not happy with the rates given to them.With the COVID lockdown many home-grown enterprises also emerged as people started growing their own produce at home and now, many of them also send their produce to the market, adding to the competition.
Middleman mafia
"The middleman mafia mostly affects the consumer," said R. B Herath, Joint Farmer Association President at DDEC. "But the President directly got involved when matters turned into a bad shape. What usually happens is that when produce is being brought to shops, it's either bought on wholesale rates or traders get them on credit.
Then traders would go to another shop and sell it while keeping a margin. So an item that actually costs Rs. 35 will be sold at Rs. 40. Therefore the consumer is at a disadvantage. When produce goes to Colombo the cost per item would be at Rs. 130. Sometimes items belonging to one trader would be sent and at times items of several traders will be taken in one vehicle. Here a considerable amount of produce goes to waste. That added with the vehicle hire comes as a disadvantage to the farmer. When sending items together it affects the quality of produce. A wholesale farmer would send all vegetables together whereas a retail farmer has to chose the best quality produce and send it. Depending on the quality of produce the price also differs. But the price hike doesn't benefit either the farmer or the consumer. This is the background to this middleman mafia."
"After we got involved in this matter farmers now do a grading of their produce," Herath added. "According to the grading the freshest and clean produce goes into one bag and the prices are relatively high compared to produce of a second grade, which are partly damaged. If this continues, it won't be a disadvantage to the farmer. For example a farmer has to harvest Ladies-finger every other day. But in case if he skips this harvesting routine he will not leave the partly ripe vegetables aside. He would definitely add them and ones that are fit for consumption in one bag. Therefore the trader will have to filter it and send the best ones."
The commission system
Commissions taken by traders at DDEC are as follows :
Cost per kilo (Rs.)
Commission (Rs.)
"Therefore if a kilo of cucumber is Rs. 10 we pay Rs. 9 back to the farmer," he continued. "This is a standard system that is being followed. Farmers send their produce in gunny bags and for that we pay them Rs. 20. A farmer is being paid Rs. 100 for a box of tomatoes. An outside trader will charge Rs. 100 for the box but when he brings it back the box could be sold again."
The Daily Mirror also learned that helpers who carry gunny bags and do the support work at the Centre are also being paid by the traders.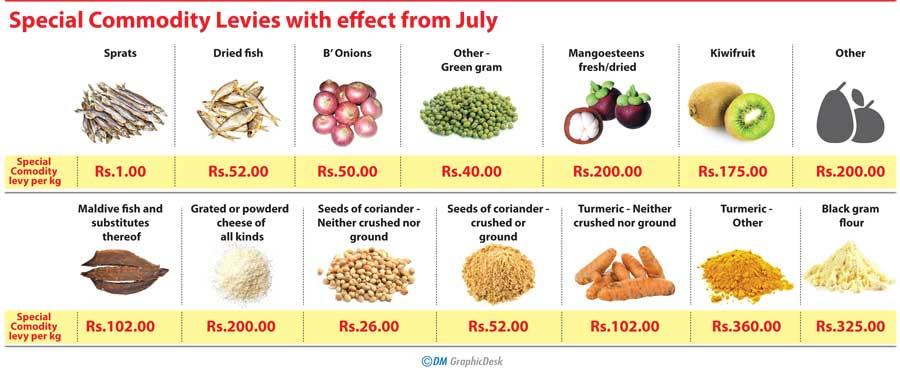 Taxes, levies and challenges
Speaking on the SCL, Herath said that there are many B onion farmers in the Matale District. "At the onset of the onion growing season the agriculture department requested the government to impose a tax. Right now there's a Rs. 40 tax and a kilo of B onions costs between Rs. 90-100. In the case of Indian onions the cost of production and import tax is considered before adding the tax. Right now local onions cost much more than Indian onions. This is a relief for the farmers and it's the same when it comes to potatoes."
However, farmers continue to reap best quality produce amidst many challenges. "They are mostly affected by the dearth of fertilisers. Fertilisers for vegetables, onions and paddy are in high demand. Therefore farmers expect to get fertilisers on time in order to get the best yield. There are issues in obtaining water. During the past few days there were heavy rains and a fungus formed on onions, and all of them were thrown away. However, the Agricultural and Agrarian Insurance Board is making arrangements to pay insurance to farmers at Rs. 40,000 per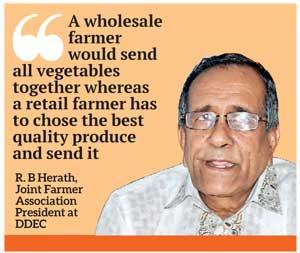 acre."
Special Commodity Levy
A Special Commodity Levy (SCL) is charged on certain imported food items. The SCL rates on basic food items are changed frequently creating uncertainty for importers. Locally manufactured products are not subject to SCL. Items subject to SCL include sugar, canned fish, chickpeas, potatoes, onions, vegetable oil and margarine. Apples, grapes, oranges, dairy spreads, butter and yoghurt are also subject to SCL. While the SCL is in force no other duties or taxes will be applicable to the import of such goods.
However in June, the SCL on certain vegetable oils was reduced from Rs. 600 per kilogramme to Rs. 160 while other margarines were reduced from Rs. 600 per kilogramme from Rs. 200.
Who benefits from the SCL?
Sharing his thoughts on the special commodity levies on B onions and potatoes, Namal Karunaratne, national organizer at All Ceylon Farmers Federation said that this levy is imposed during the harvesting season. "Speaking from past experiences we have seen most storage facilities filled with B onions imported from India, China and Pakistan. So by the time local produce reach the storage facilities they are already stocked. There's a 30% tax for B onions and the consumer has to buy a kilo of B onions at Rs. 200. Hence the farmer is at a disadvantage. So it's not clear who really gets the profit from this levy."
Farmers' laments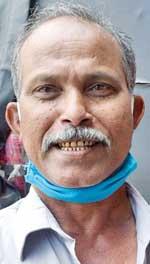 Can't expect profits everyday
H.M.W. Muthubanda from Ihala Elahera has been a farmer for over 25 years. "I started growing winged beans in 1998 and a kilo would cost around Rs.8-10. At the time a person's wage was Rs. 150. But today a kilo of winged beans would cost around Rs. 50 but may reduce to Rs. 25 as well. But the contract workers' are being paid Rs. 1500 apart from being provided their meals and the tools required for farming purposes. It would be better if there's a standard pricing system. The COVID-19 pandemic struck during the harvesting season and most produce went to waste. We managed but there were no huge profits. We can't expect profits everyday but when there's a dearth of produce the cost is high and vice versa."
Challenges are immense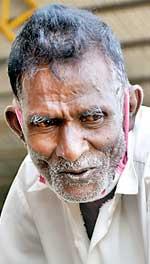 "We didn't get a good price for our produce during the pandemic period," opined W. Premaratne, another senior farmer from Thalawilahena. "Today I brought sweet potatoes and the price per kilo is between Rs.20-25. Challenges are immense but this is our main mode of income. So we have to manage somehow."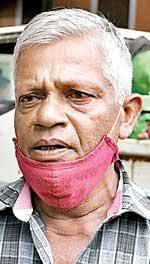 Water – the biggest issue
B. M Jayarathna from Madawala Ulpatha, Wewathanna also echoed similar sentiments. "I have been a farmer for over 15 years and the price fluctuations take a heavy toll at times. When there's more produce the cost is less. I grow paddy, Ladies finger, pumpkin and corn. Today I brought winged beans and the price is Rs. 90 per kilo. The biggest issue we have is the lack of water because during the dry season the tanks dry out and there's no mechanism in place to divert water in small waterways towards the paddy fields or vegetable plots."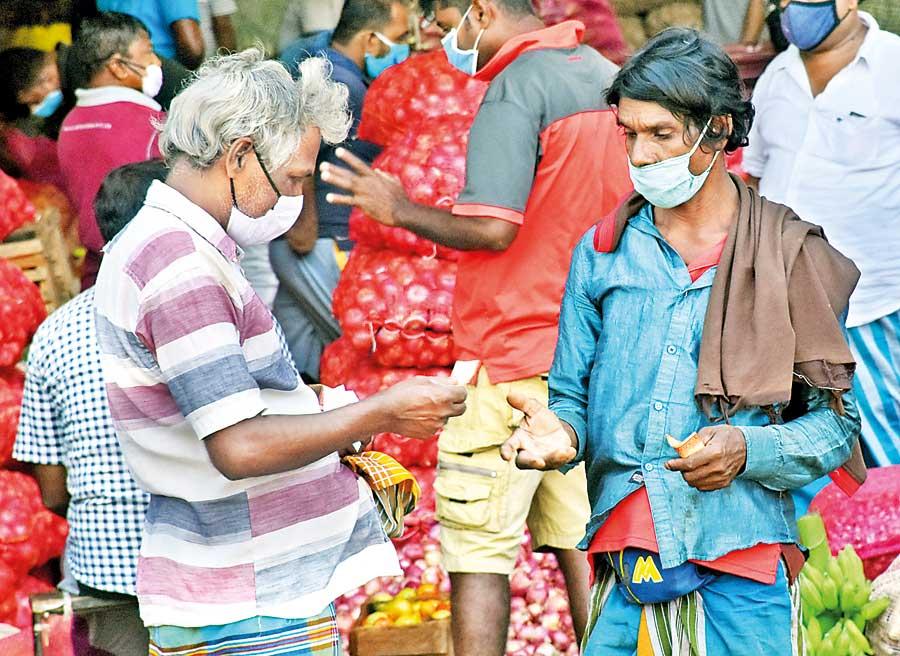 A commission agent getting his share
Pics by Kushan Pathiraja