---
It was the past we lived far back in 1990, with committed lay leaders like George, walking by day and night alike on the streets of Kotahena
Last week a couple stepped into the parish office. It was for their daughter's wedding, scheduled for this month at St. Anthony's Church, Mount Lavinia. Since they are from the Cathedral Parish of Kotahena, I simply inquired, "How is George, my good old friend? I wonder why he does not answer my calls anymore." Crestfallen, they broke the news. "May this faithful servant of God rest in His arms till we meet one more time, in eternity" were the words I muttered to myself, on hearing the heart-breaking news. He was the ever loving husband of Josephine, darling dad of Chrishanthi, loving father-in-law of Freddy Sebastiampillai and darling grandpa of Marinos and Damariu.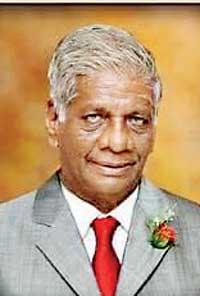 I got to know George in 1990. He coordinated well the parish census work, in the halcyon days when Fr. Marcus Ferdinandesz was the Parish Priest, and that's how we, the seminarians of the day, came into contact with him. Five of us were sent to work in five zones of the Parish. Out of the 'famous five', three became priests (Frs. Sudath, Gemunu and the present writer) later and the rest (Damian and Sanjeewa) do serve the Lord as good laity. George uncle was de facto an inspiration to all the 'famous five.'

Since then we have seen his dedicated service to the Cathedral Parish of Kotahena. His characteristic smile, voice, push-bicycle and house at Mayfield Road are some of the sweet memories treasured of the golden past. Both Frs. Mahes Ganemulla and Placidus de Silva used to admire, among many others, his yeoman service to the Parish. He was a live wire of the Parish and tower of strength to all priests.

I was blessed to have witnessed the golden wedding anniversary of George and Josephine. They did not forget their old friend. Nor do I forget them, since they gladly witnessed far back on September 19, 1998 my ordination to the priesthood by the saintly Archbishop of Colombo, His Grace Nicholas Marcus Fernando at St. Lucia's Cathedral. It was 22 years ago and then, glimmered the dawn of eternity on your immortal soul, dear George, in the same sweet September, etching it all in my memory.

Today when we are blessing people and listening to their grievances especially during this pandemic situation, or take the bold step of celebrating the holy Mass to the descendants of St. Peter on the Mount beach, we strongly feel how the past comes alive and is present to us one more time. It was the past we lived far back in 1990, with committed lay leaders like George, walking by day and night alike on the streets of Kotahena.

The holy heavens should be thronged with such simple, silent and humble lay missionary saints, like you. Fare thee well hence, dear George, till we meet just one more time in eternity. Pray for us, we earnestly say.
Tribute/ Appreciation Ministry:
Fr. Don Anton Saman Hettiarachchi
St. Anthony's Church
Mount Lavinia-Sri Lanka
Email: asaman_7@hotmail.com
FB: Saman Hettiarachchi