---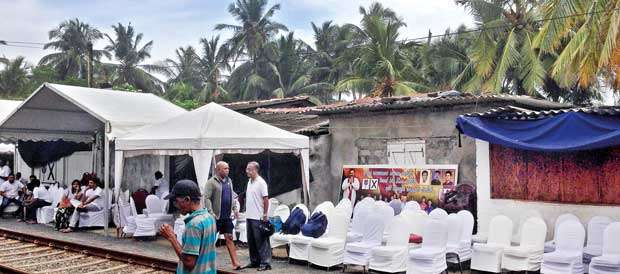 Gang related killings are nothing new in Sri Lanka. Slaying individuals like dogs in broad daylight owing to unsettled narcotic disputes and politically motivated murders by organised armed gangs were widely reported in the last three decades. However, with or without correct punitive measures these organised activities seemed to have subdued somewhat but that was short-lived. The recent murder of Dehiwala-Mt. Lavinia Municipal Councillor Ranjan de Silva in cold blood raises a question, whether drug related, politically motivated murders are emerging once again. Or is the underworld raising its ugly head again?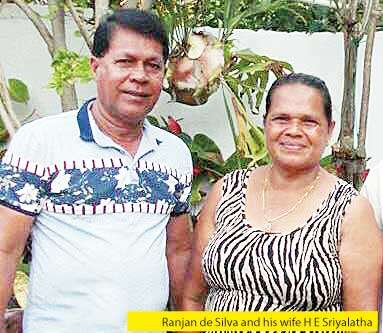 Former DMMC Councillor, for being the beloved father of the Sri Lanka top order promising cricketer Dhananjaya de Silva, had managed to gain much attention on this murder case by the probing bodies compared to many other isolated and gang related killings reported throughout the recent past.

Also the fact being that this was the first killing reported of an elected candidate to a local government body from the recently concluded elections, the authorities are working hard to make a breakthrough as to what led to his murder.

It was just another usual evening to Ranjan de Silva, whose house situated on the beach-side amidst a line of houses parallel to the southern railway track and along Sri Gnanendra Road (formerly Sea Beach Road) that connects between the Ratmalana and Angulana Railway Stations.
Her shock turns into horror when she happens to see two individuals walking away from the crime scene carrying a weapon hanging from shoulder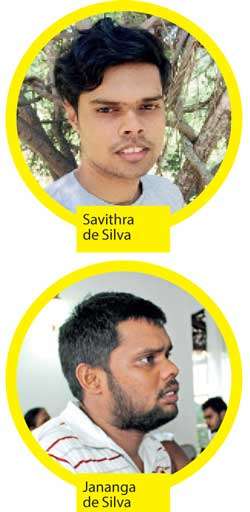 He comes out of the house around 7.00pm on Thursday May 24th and walks along the boundary of his parapet wall towards the next adjoining house, in between where a concrete slab is placed on the ground to casually sit facing the double railway track.

This is Ranjan's favourite spot where he spends every evening chatting with neighbours and those who pass by as well as those who come to buy grocery goods from the small boutique run by the neighbouring house, until television news starts at 8.30pm, which he
never missed.

As usual Ranjan is having a casual chat with a fisherman in the area named Pankiriarachchige Sarath Jayakody (45) and a DMMC labourer Menituge Upali Silva (58) who lit a cigarette he just bought from the adjoining boutique.

It would have been close to 8.15pm when the trio who were engaged in conversation hardly noticed three other strangers approach them in a very casual manner from the other side of the railway tracks through the poorly lit atmosphere.

The next split second, a shower of gunfire sprayed upon Ranjan and his friends for another good few seconds before the assailants quietly retreat to the direction they came from and to disappear through a narrow ally covered with trees leading to the Sri Gnanendra Road.

The household woman Lalani Priyanga who is running the small grocery next to Ranjan's house and who is also distantly related to him was surprised by the string of fire crackers that suddenly went off just outside her boutique and the screams of pain.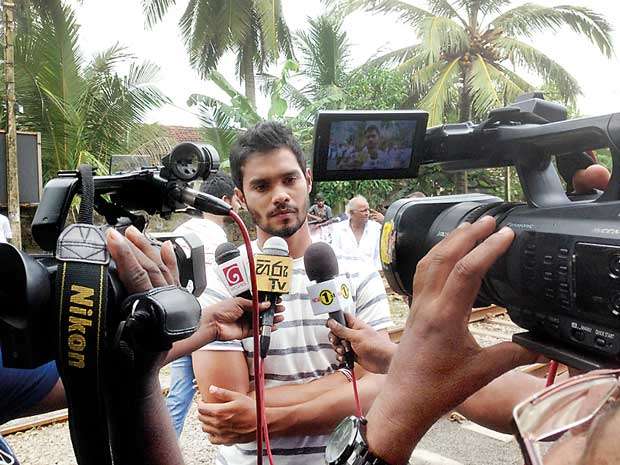 Dhananjaya de Silva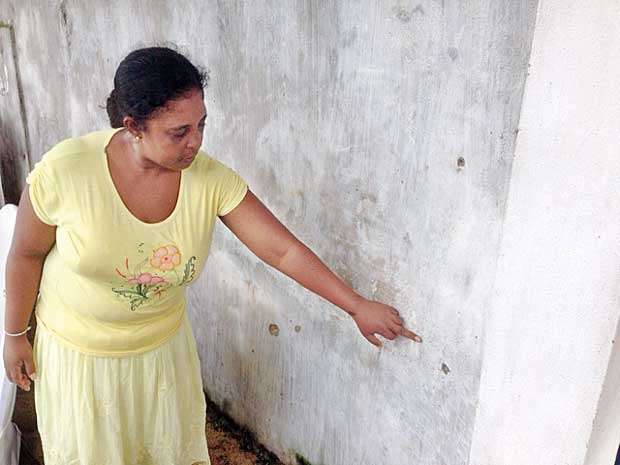 Lalani Priyanga pointing to the bullet riddled parapet wall

Her surprises soon turns into a shock when she rushes outside to find 'Mahatun Mama' (Ranjan's household name) lying in a pool of blood whilst his two associates running for their lives in a wobbly manner.

Her shock turns into horror when she happens to see two other individuals (fairly built) clad in dark clothing unsuspectingly walking away from the crime scene crossing the railway tracks, one carrying a long gun like weapon hanging from his shoulder.
Youngest son Jananga's wish was to dress his father with his tailor made elegant groom kit meant for his wedding next week

Lalani who lifted Ranjan from behind and embraced him in utmost shock could notice 'Mahatun Mama' gazing at her in deep pain and trying to say something but his lips not moving. With blood gushing out of her uncle's bullet riddled body Lalani started crying for help.

With the aid of Ranjan's younger sister Sarojini de Silva, who rushed out of the house hearing the commotion and with another boy in the area, the critically wounded man was being rushed to the Colombo South Teaching Hospital in Kalubowila in a passing-by trishaw.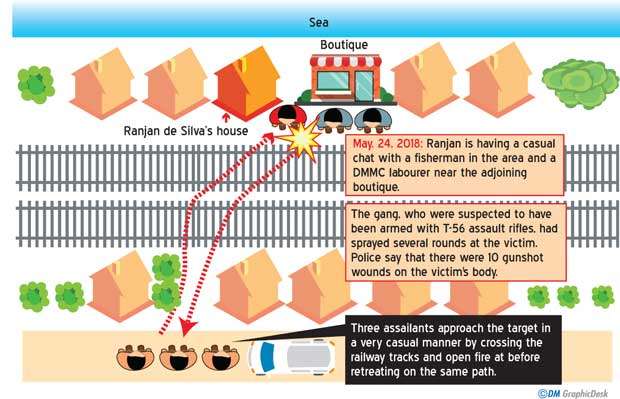 In the meantime, Ranjan's youngest son and Dhananjaya's twin brother Jananga de Silva, who had gone to Dehiwala with his mother to deliver invitation cards to his pre-planned wedding on June 08, receives a distressing phone call from a relative that his father had been shot by an unknown gunman and is being transported to the Kalubowila Hospital.

Jananga rushes to the hospital first with his mother to receive the most unexpected scene of his life, the lifeless body of his father soaked in blood being brought in by his wailing aunts. Ranjan was admitted straight into the Emergency Treatment Unit and within moments Jananga learns that his father is no more. He was soon joined by his twin brother Dhananjaya, who had rushed from Colombo with several of his team mates that were almost preparing to board a flight bound for West Indies on the following morning to take part in the next Sri Lanka test series.

Survived by the loving wife H.E. Sriyalatha sitting next to her partner's coffin said her youngest son Jananga's (26) wish was to dress his father with his tailor made elegant groom kit meant for his wedding next week.

She recalled how Ranjan (born in April 26, 1956) from Aluthgama and married her in 1983 before moved into live in Ratmalana. Being a committed employee at the Dehiwala – Mt. Lavinia Municipal Council for over 30 years, Ranjan retired from the government service few years back to spend life at leisure.

Although his first attempt to enter into active politics in 1991 through the Democratic United National Front (DUNF) led by Lalith Athulathmudali failed, his second chance became fruitful, having accepted his eldest son's ticket to contest for the DMMC in February's local government elections.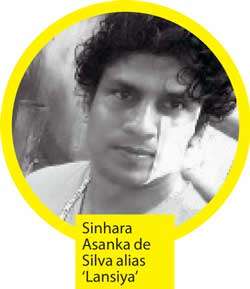 Savithra de Silva, an active youth in his late twenties having completed four-year tenure as a DMMC Councillor since 2014, decides to transfer his contesting ticket to his father with the blessing and guidance of then President and incumbent Sri Lanka Podujana Peramuna (SLPP) Leader Mahinda Rajapaksa and his brother Gotabaya Rajapaksa.

Ranjan known as a mild mannered kind hearted character in the Sea Beach Road area for helping the needy and also raising a voice against the prevailing narcotic menace became more popular than his son Savithra, took his decision to contest for the DMMC in February.

At the same pace Ranjan was becoming popular in the area for his dedicated social work, his attempts to voice against the flourishing heroin trade in the neighbourhood too attracted an untoward danger to his life and the family.

Not only the findings of the investigations of the homicide that surfaced the ugly reality of this drug menace but it was a popular secret in the area that Ranjan's family was too caught up in a long standing lethal feud between two prominent gangs that deal heroin in Ratmalana and its suburbs like Wedikanda, Angulana and Gonakovila.

Senior police detectives of Mt. Lavinia division who are in charge of the probe have unearthed that a long held dispute between two underworld gangs engaged in drug trafficking had led to many tit-for-tat killings throughout the recent past.
The two underworld gangs engaged in drug trafficking had led to many tit-for-tat killings throughout the recent past

Several prominent names that revolves in the Ratmalana drug mafia are Sinhara Asanka Silva alias 'Lansiya' (late) his younger brother Sinhara Amal Silva alias 'Kudu Anju' (who is overseas evading arrest) and their associate Don Salu Shalu Roshan Indika de Silva alias Rosa (who contested DMMC in February from United National Party and lost) whilst their arch rivals Demuni Herald Rohana de Silva alias 'Gonakovila Roha' (who currently serving a term for killing a police officer) and Western Provincial Councillor Amal Silva (who had a narrow shave in a recent shooting).

The recent dispute had started when Sinhara Asanka Silva alias 'Lansiya' who ran the heroin business in Ratmalana was gunned down by his rival 'Gonakovila Roha' in front of Mahara Magistrate Court in 2016.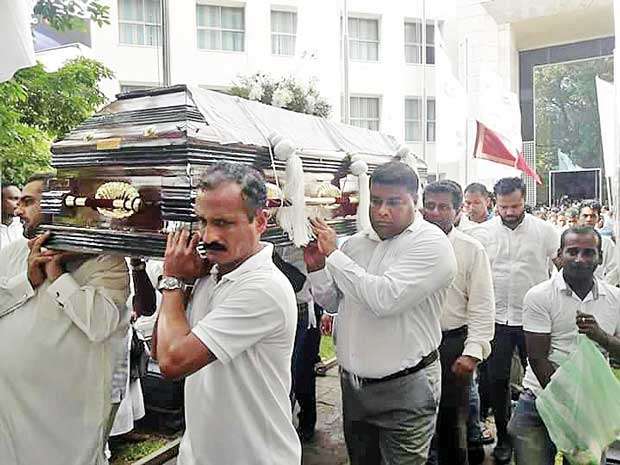 After the killing of Lansiya his younger brother Sinhara Amala Silva alias Kudu Anju took his brother's heroin business into his hands and entered the active underworld. Anju had supported Don Salu Shalu Roshan Indika de Silva alias Rosa to contest the Municipal Council to strengthen his political power. It was Rosa who tried to kill Gonakovila Roha with two pistols smuggled into Mt. Lavinia Magistrate's Courts last year when the latter was brought for production over killing a police officer in Kurunegala. However, Anju who had constant threats from Roha's associates had escaped to Singapore and then to Dubai sometime back.

In the most recent event, the STF raided drug den in Ratmalana on May 17 and arrested seven supporters of Anju with 27 grams of heroin. According to residents, Anju had been misled that his drug den was tipped off by Savithra de Silva alias 'Sangu', the elder son of assassinated councillor. On Vesak Poya Day (April 29) Savithra had beaten three of Anju's close associates at a Dansela in Sea Beach Road over a heated argument. Savithra was the first to lodge a complaint with Mt. Lavinia Police regarding this and the both parties that were summoned to an inquiry later came into a settlement.

But in Savithra's mind it echoes that perhaps it was him the gunmen were targeting rather than his father. What bewilders most is a status post said to have been made by Anju via his Facebook account on the day of the councillor's killing that "it was a great relief that he felt after a long time". The post was soon taken down and the account was deactivated.

But something very few knew and was spoken of was that it was Anju's birthday that fell on May 24th and allegedly it was his supporters that gunned down Ranjan de Silva as a birthday gift to him.
---
Multiple weapons used for the killing
Police probes so far into the gruesome murder had revealed that three men had come for the killing bearing a T-56 assault rifle, a 9mm revolver and a long knife. The assailants who had sprayed bullets targeting Ranjan and his associates had slashed him several times before fleeing the scene and making sure that the targeted victim sustained fatal wounds.

The post mortem at the Kalubowila Hospital revealed Ranjan having received four gunshot wounds except for a slash on the arm below the left elbow and two stab injuries on the right side of the chest.
Statements have been recorded from over 20 individuals including several that suspected to be of supporters of Kudu Anju.

Mt. Lavinia Police led by its HQI CI Rohan Pushpakumara and OIC Crimes Branch CI Udaya Kumara and Mt. Lavinia Divisional Crime Detective Bureau officials are conducting investigations on the instructions of acting SSP Mt. Lavinia Division Rohan Fernando and ASP Saman Jayasekara under the supervision of DIG Western Province South Wasantha Wickramasinghe whilst a separate probe is underway by Police Special Task Force Crimes, Organised Crimes and Narcotic Detection Unit.