---
A TRIBUTE TO MY PAPA AUGUSTINE PAIVA ON HIS 100th Birthday, April 24, 2017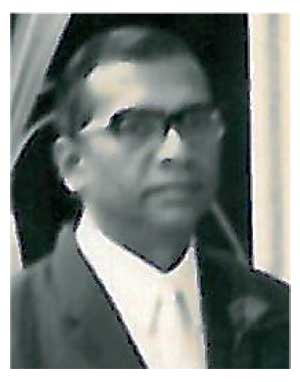 Proverbs 20: 7. The lovers of God will walk in integrity, and their children are fortunate to have Godly parents as their examples.
This portrays my father and mother. Papa loved God. He walked in integrity, was soft spoken, humorous, faithful, committed, kind, loving and a generous soul.
His love for Classical Music was shared at very loud decibels.
Sometimes we were lulled to sleep and at other times the springs of our beds vibrated as the crescendos peaked, which almost tossed us out of our beds, all to the rhythms of, Tchaikovsky, Chopin, Beethoven and the other great composers.
There was a time he played polo on horseback, but after he was thrown off his horse he did not dare the game again.
He enjoyed carpentry and my two brothers benefited by his experienced tutoring. He did create some items for our home, and together we made a beautiful bed for my doll.
We traversed this island exploring towns, rivers, wild life and more, when all eight of us were bundled into the old Humber Hawk. Charades was a household game in which he was skilled, which added to our shrieks of laughter.

Pa was passionate about gardening and the profusion of blossoms and foliage gave our home a delightful setting. It beckoned to people who lingered in the garden and wanted to use it as a back drop for their photos. After his time Mama continued to tend and keep it as beautiful. Papa loved to dress his daughters, grew roses and with pride, would pin them, and adorn our heads.
He was a keen photographer and won several awards for his beautiful photos. Many a time his models were us children and our friends. There was one breath-taking shot he took of my sister Cecelia hanging from our roof on a cable, in her beautiful tutu, holding a very thick rope that was coiled and extended to the ground.
He called it the Rope Trick. Mum was fluttering around and so were we, terribly afraid, for my sister, who was confidently smiling suspended in midair from above, for the photo shoot.
He was very innovative, and as a schoolboy created a steam engine that won the 1st prize. He also created world class mechanized displays for his showcases at Victoria Stores, Colpetty at Christmas time, and many were enthralled by it.

He motorized mum's foot machine when she got pregnant. And this was before electrical sewing machines came to Sri Lanka.
My parents were peace makers and listened and advised many young people, who came to them for advice. Our home was a shelter for many who wanted solace for a while.
But one thing that was carved into my mind and remained in my heart was his love for God.
He would be found daily at mass at the Chapel at St. Bridget's Convent, which was across the road.
All of us children had to follow the model of daily mass from the age of sever years till we left home. But what challenged me most, was, after mass, my Papa spent time in silence, quietly communing with God for a long, long, period of time. I watched it for 16 years. I thank God for his godly example that challenged me and helped me to build up a relationship with God.
His investment in my life towards knowing God is something I will cherish always. I hope I have passed on the baton to my children and my children's, children and the generations to come.
Proverbs 22: 6. Train up a child in the way he should go, and when he is old he will not depart from it.

THANK GOD FOR GODLY PARENTS.
Christine Gomez
Your loving daughter, who will not forget