---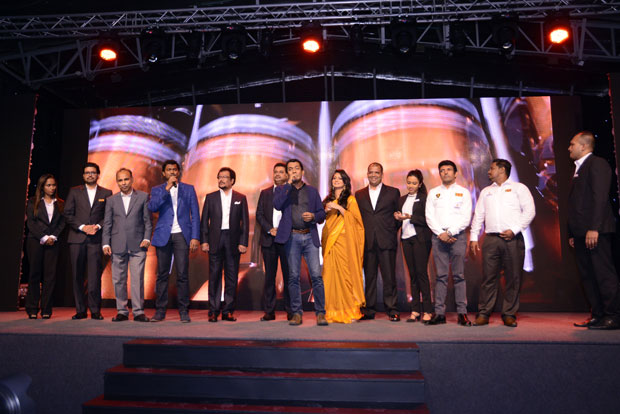 Laugfs Holdings, one of the largest diversified business conglomerates re-launched its gas and lubricant corporate brands with the unveiling of new logos/packaging and advertising campaigns for the season. The new logos will portray company's new aspirations within and beyond Sri Lanka, further strengthening Laugfs vision to expand its energy presence on both local and global platforms.
"The reinvention of our gas & lubricant logos symbolizes the ever-evolving spirit of Laugfs and our commitment to a continuous focus on building lasting trusted relationships by constantly finding ways to create value," W.K.H Wegapitiya, Group Chairman of Laugfs said. "With the new face not only is Laugfs investing for growth for the next decade but is also confident of capturing the full spectrum of the power and energy sector from gas, petrol, lubricant to renewable energy sources in Sri Lanka and regionally."
The new Laugfs Gas logo has been designed to represent the company's strategic foundation. It draws inspiration from the flame of Liquid Petroleum Gas (LPG) and symbolizes the shape of Sri Lanka with the soft curves indicating continued quality and improvements for success. The yellow background in the logo indicates the corporate stability, optimism, and responsible corporate citizenship while the blue flame represents the pure flame and efficient burn of LPG.
The trusted brand, Laugfs Gas has chosen actress Pooja Umashankar as its brand ambassador. Having already spread its wings to Bangladesh, Laugfs is committed to contribute not only to the local power and energy sector but most significantly to the Sri Lankan economy by reaching out to regional markets as well. As an investment for growth in the LPG sector, of the larger power and energy industry, Laugfs Gas has already invested in a LPG import/export Terminal in the Magampura Mahinda Rajapaksa Port and has ventured into shipping and logistics to assume its new role of an 'energy exporter'.
"We are a company that serves with passion. At Laugfs we consider our employees to be one of our greatest assets. They are trained to honour their commitments and take ownership of their actions while being dependable and consistent in what they say and do. This is an integral part of the company's mission," Thilak De Silva, Group Managing Director of Laugfs said. "We also believe that the expansion will be able to offer more employment opportunities to Sri Lankans both here and overseas."
The rebranding of lubricants will see a new vibrant look being used by Laugfs to deliver products which exceeds industry standards with the introduction of an improved formulation to suit local dust, heat and road conditions. The new lubricants logo was created drawing inspiration from the natural form of an oil drop and it will also symbolize the shape of Sri Lanka. The new brand ambassadors for lubricants will be Dilantha Malagamuwa and Ushan Perera. The new brand ambassadors for Laugfs Lubricants also include Bathiya and Santhush.