---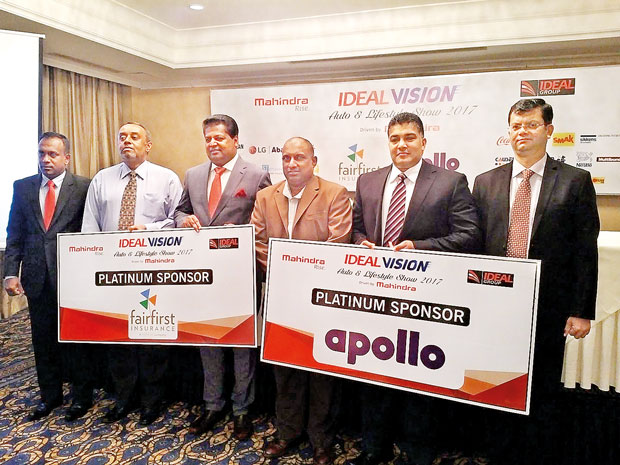 Ideal Group officials with Ideal Vision Auto and Lifestyle Show 2017 sponsors (from left) Ideal Group Automotive Director Chaminda Wanigaratne, Fairfirst Insurance GM Sales and Marketing Niranjan Nagendran, Ideal Group Chairman Nalin Welgama, Ideal Group Deputy Chairman Aravinda De Silva, Mahindra and Mahindra Sri Lanka Country Manager Sagar Bhadkamkar and Ideal Wheels and Tyres CEO Jagath Samasekara
By Zahara Zuhair
Sri Lanka's Ideal Group and India's Mahindra and Mahindra said that they would start operations on their proposed assembly plant, which is to be set up around Colombo, by the second quarter of 2018, with an investment of Rs.400 million.
"We are thinking to commence work in the near future and start operations in the second quarter of next year. We are in talks with Mahindra; we are exchanging a lot of views. Now we have come to the stage where we have identified the vehicle that would be manufactured," Ideal Group Executive Chairman and Founder Nalin Welgama said.
They expect to manufacture Mahindra's micro-SUV, KUV 100 (petrol version) as their first offering, which would go to the market as 'Made in Sri Lanka'.
"And what is important here is in Sri Lanka no auto major has taken an equity partnership in assembling a vehicle. Here is a situation where Mahindra, itself will be coming to our shores through us to ensure technology is transferred. They are also particular about the standards we maintain; they won't just let someone to manufacture a vehicle," he said.
He said that they are looking at various possibilities with the Board of Investment, Industries and Finance Ministries and more, with regard to this plan. In 2011, the preliminary arrangements were made to set up the plant in the country.
He also disclosed their plans to the media on penetrating to the urban sector through electrical vehicles, whereas they have their dominance in the rural areas at present.
He said that they are looking forward to introducing seven new Mahindra vehicles, which include electrical vehicles and school buses designed for locals, at Ideal Vision Auto and Lifestyle Show 2017. Driven by India's Mahindra and Mahindra, the event is to take place on July 15 and 16, at the Nelum Pokuna, organised by them for the first time.
He also stressed that it is important to move to renewable products as they have plans to introduce greener vehicles to the market.
Mahindra and Mahindra Ltd Country Manager Sri Lanka Sagar Bhadkamkar said that Sri Lanka has been one of the top three export destinations for Mahindra for the past three years.
"Sri Lanka is a very strategic market for Mahindra; it is not just a neighbouring market. The assembly plant that is coming up in Sri Lanka for Mahindra vehicles as a joint venture shows its significance. It would generate employment and revenue," he said.
Welgama said that they have about 60,000 Mahindra vehicles in the Sri Lankan market, holding about 50 percent of market share. Being a fully-fledged player in the local market, he said that Ideal Group offers vehicles from three-wheelers to heavy trucks to the bus segment.
Ideal Group Deputy Chairman Aravinda de Silva said that they are planning to set up a workshop, where any type of vehicle can be repaired under one roof. He also said that there should be initiatives to look after the local talent pool, whereas many talented mechanics have migrated to countries such as the Middle East.
Ideal Motors Automotive Division Director Chaminda Wanigarathna said that the Ideal Technical Training Centre in Ratmalana has now received the National Vocational Qualification (NVQ) status from the Vocational Training Authority (VTA) of Sri Lanka.
It was noted that Mahindra and Mahindra Group has 24 manufacturing facilities in India and across the globe.
Since November 2009, Ideal Motors has been the sole authorised distributor for Mahindra motor vehicles and motor cycles manufactured by Mahindra and Mahindra Company Ltd, India.