---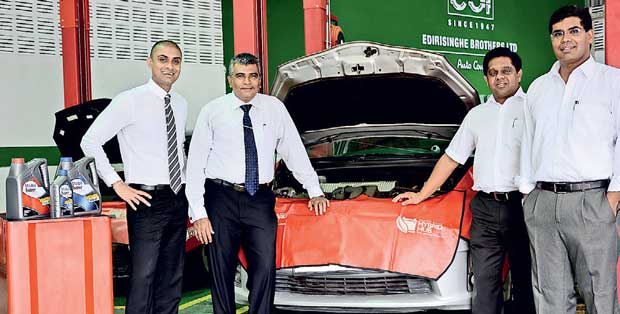 Standing from left: Head of Marketing at McLarens Lubricants Limited, Dilan Seneviratne, Managing Director at McLarens Lubricants Limited, Hemantha Varnasooriya, Co-Chief Operating Officer at Edirisinghe Brothers' Hybrid Hub, Suresh Edirisinghe and Co-Chief Operating Officer at Edirisinghe Brothers' Hybrid Hub, Sanka Edirisinghe
In a calculated bid to enhance automotive maintenance services of hybrid vehicles in Sri Lanka, Hybrid Hub, the only facility in Sri Lanka which specializes in hybrid vehicles and McLarens Lubricants Limited, authorized distributors of Mobil Oil in Sri Lanka have entered a strategic partnership.
The new venture heralds good news to the country's hybrid vehicle owners as it brings together the expertise of two industry leaders in the automotive maintenance industry to offer unmatched products and services.
The strategic partnership is set to usher in a level of service and product offering that is unmatched elsewhere in the country's automotive maintenance industry and in particular the hybrid vehicle market. To ignite the unique benefits of this partnership, Hybrid Hub and McLarens Lubricants Limited will conduct a series of hybrid car clinics from March 25th to give opportunities to customers island-wide to avail themselves of the combined wealth of knowledge and expertise. Commenting on the partnership, Co-Chief Operating Officer of Hybrid Hub, Sanka Edirisinghe said, "McLarens Lubricants Limited is not only a local industry leader but their product, Mobil, is also a prominent player in the global arena. We are extremely happy to tie up with a Company of this caliber and given our own 70 year long expertise in the local automotive engineering market, the partnership would usher in success to both business entities as well as our customer base in Sri Lanka." "It is a privilege to partner with Hybrid Hub, a company that continues to prove its strong position in the local hybrid vehicle diagnostics and maintenance market through its progressive business process and expertise. We are confident that this partnership will enable our customers in Sri Lanka to enjoy best in class services," commented Head of Marketing at McLarens Lubricants Limited, Dilan Seneviratne.
Hybrid Hub launched by Edirisinghe Brothers (Pvt) Ltd. is Sri Lanka's first and only purpose-built facility dedicated to the servicing, maintenance and repairs of Hybrid Electric Vehicles (HEVs). With unmatched diagnostic capabilities including proprietary technology from USA and training and support from their franchise partner in Singapore, Hybrid Hub has redefined how hybrid and electric vehicles are maintained in Sri Lanka.
McLarens Lubricants Limited is the market leader with over 70 percent market share amongst synthetic motor oils in Sri Lanka. The company's key product offering Mobil, is the most sought after motor oil brand in the world, let alone Sri Lanka and consists of a variety of products that cater to diesel and petrol vehicles, motorcycles and even hybrid vehicles. Currently, Mobil Lubricants offers services as a leading oil specialist in Sri Lanka with solutions for any queries with regard to motor oil.