---

In Sri Lanka we often find that the trained talent we have in the country is not sufficient to meet the local demand although it may be just sufficient at the moment for some sectors in the domestic market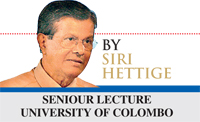 Treasury Secretary DR P.B Jayasundra last week highlighted the need to brand Sri Lanka as a knowledge destination.

The veteran public servant knows very well that the key to improving labour market competitiveness in the economy lies in raising human resource capabilities; that is, to make appropriate investments in human capital through higher education and professional training in order to more efficiently generate and manage new technologies to create wealth.

In this new era of intensified globalization and international competition, we can no longer rely on cheap labour to gain competitiveness. We must continue to invest in our human resource, since the high growth industries of the future such as the information technology (IT) and biotechnology industries, require an increasingly skilled labour force.

Lessons learned from other successful countries in attracting FDI indicate that the ability to create a skilled human resource base is crucial for multinational companies in order to relocate firms and world class high-tech plants to new markets.

In Sri Lanka we often find that the trained talent we have in the country is not sufficient to meet the local demand although it may be just sufficient at the moment for some sectors in the domestic market. The three main reasons for this emerging situation are, a) because the education system in the country is not delivering the volume and quality desired b) we are losing our highly trained talent to other developed markets. c) the existence of stringent labour market regulations limits training opportunities for young people to learn and grow new skills. The areas of growth for the Lankan economy in the future would be in the services sector and therefore, it is knowledge and training of the people that is imperative to build competitive advantage. Therefore given the current development of the BPO industry as well as skilled opportunities in foreign countries, there is now a need to revamp our training infrastructure according to the job market.


Talent challenges for Sri Lanka
The problem still we have is that most Sri Lankan graduates are underemployed, this is often attributed to universities not affiliating themselves fully with good business establishments. Then human resource managerial problems in the public sector and low productivity in the public and private sectors remains a priority concern for both the private sector and the public sector.

The other concern in the economy now is the movement of commercial savvy and trained talent to developed markets like Canada, Australia, Middle East, UK and South East Asia. Furthermore developed countries have progressed from simply relaxing their laws to actively luring highly qualified people. In addition many of them are using their universities as magnets for talent. Therefore to stop the skills drain and lure back some of our brightest people back, the private sector and the government need to collectively address this issue now.


Wooing back our professionals
Today, the most mobile people now are not political refugees, but the educated, and they are being sought after as never before. Most governments are easing restrictions on the entry of qualified people. For a start the government should focus on wooing our highly skilled professionals working abroad by making it very attractive for them to come back. But the government's effort will depend on whether the country is backed up by a vibrant economy and also governed properly.

Our best bet would therefore to woo back some of our top Sri Lankan expatriates who have gone abroad to make their money but still feel the tug of their home country, to fill some of our short term critical skills gaps. Therefore we need to be more imaginative about attracting our trained talent abroad and developing and retaining our skilled talent that we have in Sri Lanka.

To achieve that we need a framework that provides a way of looking at the skills and abilities of our people, and how these can be used successfully to create wealth and to bring all skills training interventions under one roof to ensure alignment with country's development goals. The budget 2014 needs to address these challenges if we are serious about branding Sri Lanka as a knowledge hub.

(The writer is a thought leader in HR)