---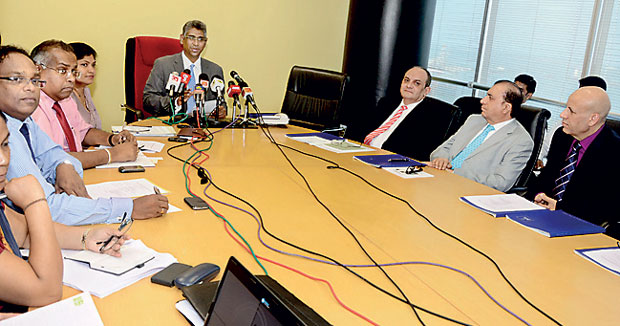 Sri Lanka's sole investment promotion agency, the Board of Investment (BoI) yesterday held closed-door discussions with Middle Eastern (ME) envoys in a bid to increase the investment flows from the oil rich nations.
According to Investment Promotion Deputy Minister Faizer Mustapha, the objective of the discussions was to have an 'unified approach' to promote Sri Lanka's offerings to the ME region as opposed to a 'piece-meal approach' as the country is known only for its 'Ceylon tea' and 'housemaids' in this region.
"So, I thought it is timely that we made use of this opportunity to collectively promote Sri Lanka in attracting foreign direct investments (FDIs). Middle East has invested all over the world and we have got a very small share of this," Musthapa said.
To this end, Sri Lanka will also hold two investor forums in the United Arab Emirates' (UAE) largest city Dubai and Saudi Arabia, the largest Arab state in Western Asia, before the end of this year.
According to BoI Media and Publicity Director Dilip S. Samarasinghe, Sri Lanka is trying to get investments into areas such as hotels, construction, information technology, financial services and logistics and bonded warehouses.
In addition, the BoI is also hopeful that the ME businesses will set up or relocate their regional headquarters in Sri Lanka.
"Middle East investments in Sri Lanka totalled US $ 121.3 million in 2013, which represents nearly 10 percent of the country's FDI inflow. The total cumulative Middle East investment is estimated to be around US $ 543.7 million," a statement by the BoI said.
Asked of medium-term FDI projections from the ME region as a result of yesterday's dialogue and the forthcoming investor forums, Samarasinghe said the BoI was unable to give a forecast.
"However, the BoI is confident that in the future, there will be more investments from the ME region in view of the interest expressed by various parties in the countries in the ME," the statement further said.
Sri Lanka achieved a record FDIs of US $ 1.064 billion during the first eight and half months, a jump of 22 percent from the same period last year.
Among the largest Middle Eastern investments in Sri Lanka were the Dubai-based Al Futtaim Engineering LLC buying a 71 percent stake in Associated Motorways PLC in 2008 for Rs.7.0 billion and the Abu Dhabi-based Emirates Telecommunications Corp. or Etisalat acquiring a 100 percent stake in Tigo Sri Lanka for a consideration of US $ 207 million.
The closed-door meeting with the ME envoys was held at the BoI with the participation of the Sri Lanka Tea Board, Sri Lanka Tourism Promotion Bureau, Export Development Board, Colombo Stock Exchange, Securities and Exchange Commission, National Chamber of Commerce, National Gem and Jewellery Authority, Coconut Development Authority and the private sector representatives.
The discussion was chaired by Deputy Minister Mustapha. (DK)