---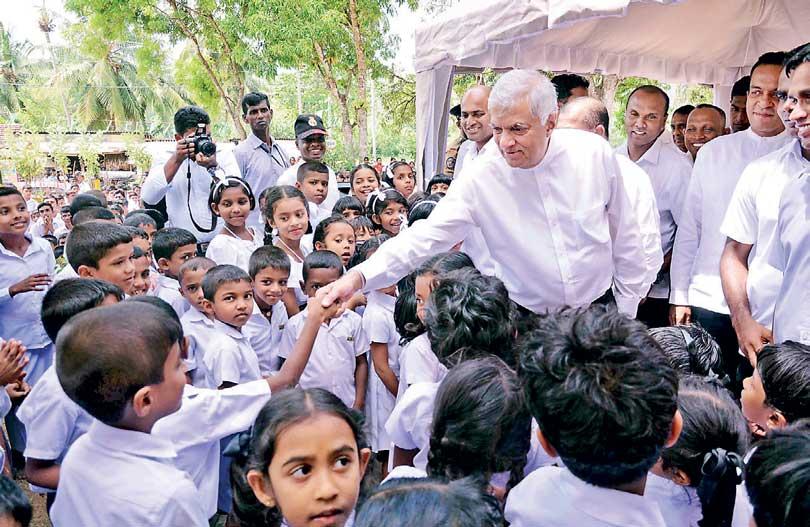 Prime Minister is seen talking to some children in Daliwa Maha Vidyalya in Moneragala.
pic by pradeep pathirana
By Yohan Perera in Moneragala
Stating that four main political parties representing Parliament are against the implementation of the death sentence, Prime Minister Ranil Wickremesighe yesterday said he will go for a dialogue with President Maithripala Sirisena on the matter shortly.
Prime Minister Wickremesinghe was referring to the current situation that had arisen after the recent statement made by President Maithripala Sirisena that four persons would be executed shortly.

He was speaking at a Jana Hamuwa (public meeting) in Mariarawa, Moneragala last morning.

" I discussed the matter with Leader of Opposition Mahinda Rajapaksa with regard to imposing of death sentence and he informed me that he is against it. Later he made a public statement saying he is against it. I spoke to JVP and TNA and both these parties said they too are against imposing the death sentence. Death Sentence was abolished by late President J. R Jayewardene in 1978" he said.

The Prime Minister further stated that some opposed this move but President Jayewardene went ahead and abolished it. "Both President Ranasinghe Premadasa and D. B. Wijetunga who ruled the country after President Jayewardene continued the same policy. President Chandrika Kumaratunga and President Mahinda Rajapaksa also continued the abolition. Imposing the death sentence is against the UNP policies as well. This means that four main parties which represent Parliament are against imposing death sentence," he added.

" UN brought a resolution to abolish death sentence in 2016. Sri Lanka also voted in favour of this resolution. The resolution was effective for two years. Sri Lanka also voted in favour of extending the UN resolution for two more years in 2018. I was not the Prime Minister of this country then as I was ousted. Former President Rajapaksa was the Prime Minister then while Dr. Sarath Amunugama was the Minister of External Affairs," he added.

" I intend to have a dialogue with President Sirisena about it. I will have a dialogue with Speaker Karu Jayasuriya on the matter as well as majority in Parliament members do not favour the imposing of death sentence. We can even have an all party discussion on the matter if it is needed," Prime Minister also said.
I discussed the matter with Leader of Opposition Mahinda Rajapaksa with regard to imposing of death sentence and he informed me that he is against it