---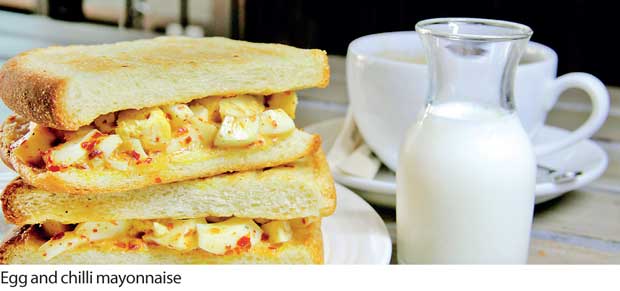 What better way to start the day than with a hearty breakfast. But with the busy lifestyles that we city dwellers lead, it is often difficult to find time to make a healthy and filling meal. So we opt for a quick bite, which may not always be what you need to start the day. Enter The Cauldron!

With its vivid imaginative food creations, The Cauldron introduces its exclusive Roast Paan Breakfast range. With a twist on the traditional sandwich, this Sri Lankanised version of a typical breakfast sandwich comes packed with tastes that are familiar of home.

The Roast Paan Sandwich range includes an eclectic mix of East meets West in a sandwich that is also the right mix of sugar and spice with its 'seeni' sambol and cheese combination. Perfect for the vegetarians, this sandwich is also for those who need a fiery start to the day.

For those who need a daily dose of 'pol' sambol, The Cauldron offers it combined with a 'halmasso baduma' (sprats fry). For a more European flavour, there is also the egg and chilli mayonnaise. The range also includes a hearty option for the meat lovers with a 'kalu' chicken curry, 'pol' sambol and cheese.

Introducing the range Founder of The Cauldron Tharanga Perera said, "We are working our magic to combine Sri Lankan classics and turn them into delicacies. The Cauldron continues to live our dream whilst sharing our best with our customers. We are cheerfully excited to write many more chapters in our joyous story at The Cauldron where all good things combine."

The greatest part about The Cauldron's Roast Paan Breakfast is that it isn't limited for breakfast and can even be picked up for a brunch snack or early lunch. Add to this a cup of Lavazza coffee or a pot of tea and you have a complete meal to tuck in to at The Cauldron's cozy interior. The range will be available for just 350 rupees from 7:00 a.m. to 11:30 a.m. daily.