---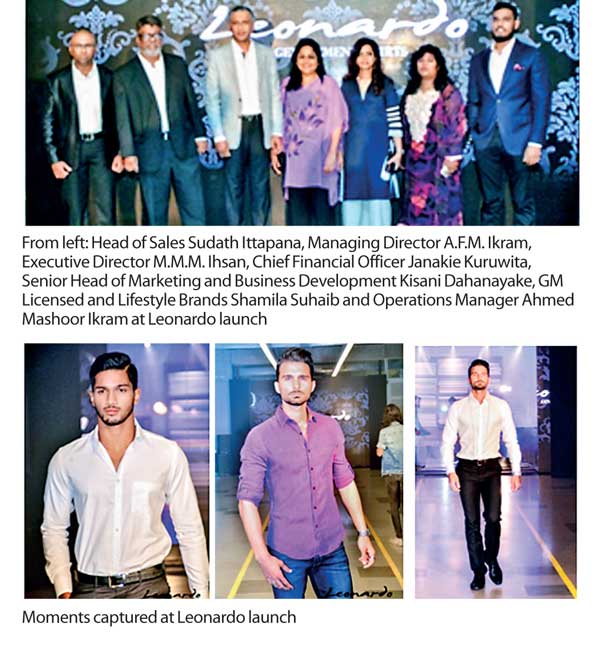 Premium shirt brand Leonardo is poised to transform power dressing for influential executives to make a suave and powerful impression.

Made from Luthai, the world's number one fabric, the cut and style of Leonardo shirts is at the cutting edge of international fashion trends. Preferred by high-profile customers for its attention to detail, intricate crafting and eclectic color combinations, Leonardo's sophisticated range offers harmonious styles to balance the wearer's moods. Designed to exacting standards, Leonardo reflects its impeccable heritage of high-quality shirt-making.

Commenting on the exciting campaign of the Leonardo brand in Sri Lanka, Emerald International (Pvt.) Ltd Managing Director A.F.M. Ikram said, "We are pleased to bring the Leonardo brand of shirts to high-powered individuals and business leaders in Sri Lanka. The local apparel segment has a dearth of exclusive and eye-catching shirts for males and Leonardo has been launched to cater to the discerning and fashion-conscious male, who values quality and style as part
of lifestyle.

Power dressing is a necessity to make a powerful impression and Leonardo elevates the concept to a sophisticated level where every Leonardo shirt makes a bold statement about who the wearer is, depending on the mood. We are confident that the Leonardo brand will become the preferred choice for successful and prominent male personalities in
the country."

Apart from the quality of fabric used for the shirt, the quality of stitching is masterly and is reflected in different stitching for different purposes. The brand also offers stitch-less shirts engineered meticulously without a single visible stitch. The stitch-less shirt is a first in Sri Lanka and a super luxury niche product, which delivers a superb fit without thread, stitch, needle or scars. It is perfection personified. This exclusive range of stitch-less shirts is purely for the selected few. Leonardo shirts are true collectibles for discerning gentlemen and fashion-conscious users, as every shirt in its portfolio is crafted from premium 100 percent cotton with easy care and fabrics such as Giza Cottons and Supima Cotton from Luthai, which is acknowledged to be the world's No. 1 fabric. The benefit of owning a Leonardo shirt made of Supima Cotton with its finest possible weaves is that the shirt remains incredibly durable and retains the brilliance of its color over many years of usage.
Furthermore, Leonardo shirts are treated to enhance flexibility and shrinkage for better texture, hand-feel, elasticity and ability to observe water as a function of humidity, whereas the
addition of Silk Protein makes the garment hypoallergenic and maintains the body temperature of
the wearer.

The most exciting aspect of Leonardo shirts is the unique fit they offer. There's an exquisite Leonardo shirt for every occasion, every mood and all body types. Leonardo shirts come in the generously fitting classic or regular fit, the streamlined super slim fit and slim fit. Most importantly, a single collar size fits every neck, which makes purchasing Leonardo shirts a simple process. The brand introduces Flexi Collar, which allows the neck freedom and does away with discomfort in the neck after wearing the shirt for a long time.

The Leonardo shirt portfolio is exciting and caters to every mood and occasion to make selection simple. The Leonardo Formale is for formal occasions, offering simplicity in the form of ultimate sophistication. This range establishes the wearer's sophistication and leadership in a formal setting. The Leonardo Casuale is ideal for casual occasions and includes relaxed, carefree yet confident classic casuals. A variety of washed and non-washed shirts designed specially offer the best look to suit this defined mood. Leonardo Cerimonia is for celebratory occasions, when the wearer wants to standout in a crowd. The mood and colour of the shirt lends itself to joyous celebrations.
Leonardo is a premium brand that will be coveted by CEOs, senior managers and board members in the corporate sector for its powerful brand image and superior quality. In order to reflect this brand positioning further, the advertising campaign for the shirt has been shot exclusively in South Africa. Available in all Shirtworks outlets and exclusive Leonardo
dealers islandwide.