---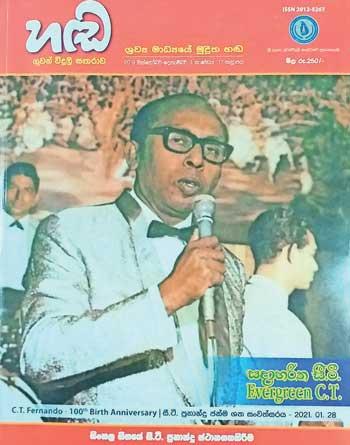 The birth centenary of veteran singer C. T. Fernando who revolutionized the Sinhala music scene serving as a bridge between the English and Sinhala audiences, fell recently. The latest edition of Sri Lanka Broadcasting Corporation's quarterly magazine 'Handa' edited by senior journalist Thilakaratne Kuruwita Bandara, has been dedicated to the inimitable singer whose 100th death anniversary fell on January 28.

Handa includes a series of articles written on CT's outstanding music career. Cyril Tudor Fernando who passed away in 1977, entered the music scene in the 1940s.

He was praised by critics for the themes and wording of his songs like Piyumehi Pani Bothi, Bilinda Nelawe, Suwanda Rosa Mal Nela, Ambili Mame, Pin Siduwanne, Sigiri Sukumaliye, Ranwan Rankendi Pirala, Parawunu Mal Newatha Nathe Pipenne, Kimada Sumihiriye, Meewadayaki Jeewithe, Lo Ada Ninde, Ane Dingak Innako, Dawasa Gwee Dan Tika Tika, Ma Bala Kale, Selalihini Kowul, Malbara Himidiriye, Bilinda Nelawena Ukule, Ambaruk Sewanelle, Mal Loke Rani, Sihina Lowe and hundreds of other popular songs.

Moratuwa-Fernando who was educated at St. Mary's College, Nawalpitiya showed interest in the arts participating in school dramas and singing with the local church choir. In 1946, Fernando successfully auditioned for a position as grade one radio artist on Radio Ceylon. There he had his first popular song with "Pinsinduwanne," a plea to children to stop harming birds. The song was written by R. N. H. Perera.

He also sang for films like Deiyyanne Rate, Kawata Andare, Chandiya, Hathara Maha Nidhanaya, Sanda Nega Eddi, Kawda Hari, Nimawalalla and others.

From 1959 to 1960 CT Fernando was rated the most popular singer in the country.

text: Ramesh Uvais