---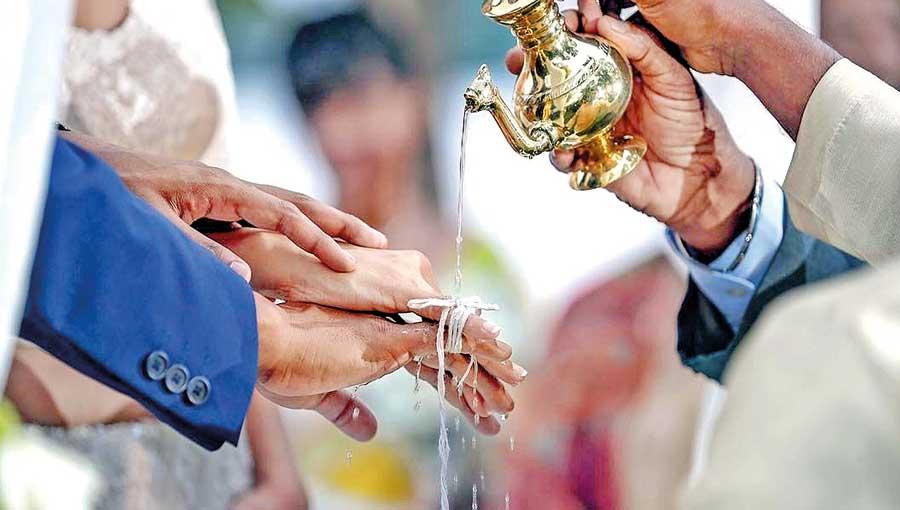 Muhurtha is an important subject in Astrology. There are many classical works like Phalitanavaratna Sangrah and

Rajamartanda written on this subject.
What is Muhurtha?
Muhurta means auspicious moment. According to Astrology, success in any work depends entirely on the natural forces that operate at the moment when it is commenced.
Five basic factors
Basically, five-time factors called Panchanga are taken into consideration when determining a Muhurtha for commencing a particular activity. They are namely, Tithi (Lunar day), Vara (weekday), Nakshatra (constellation), Karana and Yoga. Of these five factors, nakshatra is reckoned as the most decisive factor for determining the Muhurtha for marriage.
11 Nakshatras auspicious for marriage
Of the 27 Nakshatras (constellations), only 11 Nakshatras are considered auspicious for marriage. They are Rehana, Muwasirasa, Ma, Utrapala, Hata, Saa, Anura, Moola, Utrasala, Utraputupa and Revati.
In the case of activity other than marriage, such as administering medicine, commencing agricultural work etc. certain nakshatras considered unfavourable can be turn auspicious by combining them with specific weekdays to produce the auspicious Sarvartha Siddhi Yoga and Amrita Yoga. However, none of the Nakshatras considered evil for marriage can be turned auspicious by combining them with a weekday or a Tithi.
However, following Marriage Nakshatra – Tithi combinations giving rise to Nishidha Yoga are considered auspicious for marriage.
Diyawaka combined with Anura
Viseniya with Ma
Diyawaka with Rehana, Utraputupa or Utrasala
Ekaloswaka with Rehana
Teleswaka with Saa
Satawaka with Hata
Satawaka with Moola
Satawaka with Rehana
Following Marriage Nakshatra – Vara (weekday) combinations giving rise to Yamaghantaka, Dagdha and Utpata Yogas are also recommended for marriage though considered unfavourable for other auspicious activity.
1. Yamaghantaka Yogas
Sunday with Ma
Wednesday with Moola
Friday with Rehana
Saturday with Hata
2. Dagdha Yogas
Thursday with Utrapala
Saturday with Revati
3. Utpata Yogas
Wednesday with Revati
Thursday with Rehana
Saturday with Utrapala
Results produced by Marriage Nakshatras
Rehana: The couple is assured of good progeny. Birth of a son is assured at least after the 5th year of marriage. Husband is greatly attached to wife
Muwasirasa: Children would be beneficiaries of Rajayoga. Mutual affection and long and happy marital life assured.
Ma: Good progeny; happy married life
Utrapala:
Good health; a good start in life after two years
Hata: Happy long married life; good progeny, highly respected.
Saa: favourable results soon after marriage
Anura: Good progeny; comforts; luxuries and servants assured
Moola: Long marital happiness
Utrasala: Husband is assured of much happiness
Utraputupa: Happy married life; a good star in life after three years.
Revati: Happy married life; wealth and prosperity after four years
The 1st Pada (quarter) of Ma and Moola Nakshatras and the 4th Pada of Revati Nakshatra should be avoided when determining the Muhurtha for marriage.