---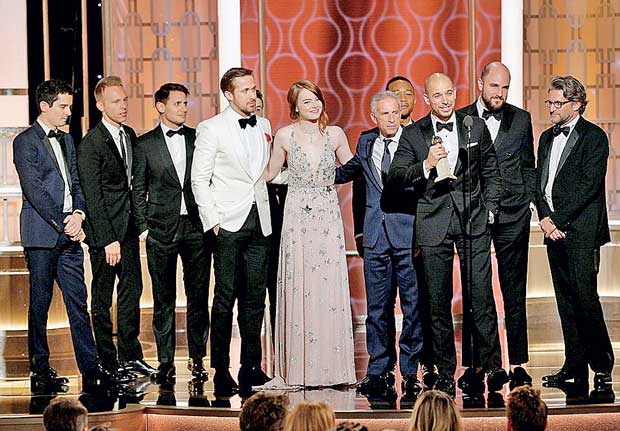 The musical also won Best Motion Picture - Musical or Comedy en route to a record-breaking seven wins ( Dailymail)
Ryan Gosling and Emma Stone gave very emotional speeches as they led La La Land to a very impressive record-breaking showing at the Golden Globes.


The two stars each accepted the Best Performance by an Actor and Actress in a Motion Picture Musical or Comedy gongs while the musical as a whole took the Best Motion Picture - Musical or Comedy award for a clean sweep of seven gongs at the event held at The Beverly Hilton in Beverly Hills, California.

The ceremony featured several references to Mr Trump - not least when Meryl Streep launched an attack on the US President-elect while accepting the Cecil B Demille award for outstanding contribution to entertainment.

Meryl Streep was honoured at the Golden Globes for a lifetime of notable work, and used her moment in the spotlight to attack on US President-elect Donald Trump, without mentioning him by name, by calling the moment the president-elect mocked a disabled reporter the most stunning performance of the year.

'There was nothing good about it, but it did its job,' Streep said in the powerful speech that left many teary-eyed.'It was that moment when a person asking to sit in the most respected seat in our country imitated a disabled reporter -someone he outranked in privilege, in power and in the capacity to fight back.

That instinct to humiliate, when it's modeled by someone in a public platform, it filters down into everyone's life because it gives permission for others to do the same.

'Disrespect invites disrespect, violence incites violence. When the powerful use their position to bully others we all lose.'