---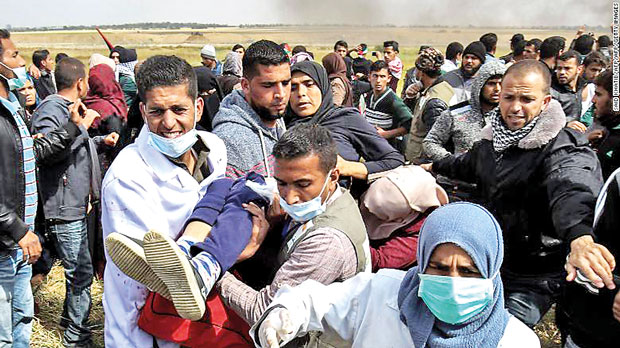 TEHRAN AFP March31, 2018- Iran's foreign minister on Saturday condemned the fatal shooting of 16 Gazan protesters by Israeli troops and mocked the fact that it happened as Israeli Jews prepared to mark Passover.

The protesters were among thousands who marched along the Gaza-Israel border on Friday and set up protest camps at the start of a six-week campaign for the return of hundreds of thousands of Palestinian refugees who fled or were expelled during the war surrounding Israel's creation in 1948.
The week-long Passover festival, which began at sundown on Friday, commemorates God's liberation of the Jewish people from slavery in Egypt as told in the Book of Exodus in the Hebrew Bible.

"On the eve of Passover (of all days), which commemorates God liberating Prophet Moses and his people from tyranny, Zionist tyrants murder peaceful Palestinian protesters -- whose land they have stolen -- as they march to escape their cruel and inhuman apartheid bondage. Shameful," Foreign Minister Mohammad Javad Zarif tweeted.

Iran has long been a supporter of Islamist group Hamas which controls the Gaza Strip. Ministry spokesman Bahram Ghassemi condemned the "savage massacre of a large number of Palestinians by the armed forces of the Zionist regime (Israel)".