---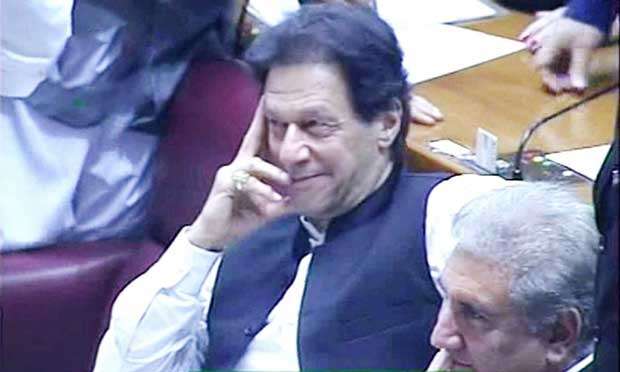 Pakistan Tehreek-i-Insaf (PTI) Chairman Imran Khan was elected Pakistan's 22nd prime minister on Friday, marking the pinnacle of his 22-year-long political career.

Khan clinched victory with 176 seats while his opponent, PML-N President Shahbaz Sharif, secured 96 votes in the polling that took place in the National Assembly today.

"Imran Khan is the new prime minister of Pakistan," parliament speaker Asad Qaiser announced at the end of the voting. As the newly elected speaker of the assembly, Asad Qaiser, announced the results, the House erupted with chants of "na manzoor" [unacceptable] and "Wazir-i-azam Nawaz Sharif" [PM Nawaz Sharif]. The protests by PML-N leaders continued nearly all the way through the session despite the speaker's attempts at restoring order in the House.

Khan, in the meantime, sat smiling in his seat, accepting congratulations from his party members.
The speaker suspended the proceedings of the National Assembly for 15 minutes due to the persistent sloganeering of PML-N legislators.

Prime Minister-elect Imran Khan, in his first speech following his victory, promised "the change that this nation is starving for".

"We have to have strict accountability in this country; the people who looted this country, I promise that I will work against them," he asserted. "I did not climb on any dictator's shoulders; I reached this place after struggling for 22 years. Only one leader struggled more than me, and that was my hero, Jinnah. Twice every month I will answer to the people during the question-answer session in the assembly."

Khan's oath-taking ceremony will take place tomorrow.
Islamabad (dawn.com), August 17, 2018