---
A lawyer for former national security adviser Michael Flynn has told President Donald Trump's legal team that they are no longer communicating with them about special counsel Robert Mueller's investigation into Russian election interference.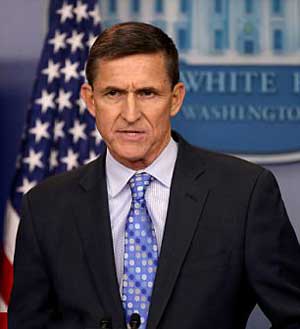 The decision could be a sign that Flynn is moving to cooperate with Mueller's investigation or negotiate a deal for himself.

The decision was communicated this week, said a person familiar with the decision who spoke to The Associated Press on condition of anonymity to discuss an
ongoing investigation.

The former national security advisor's split with the Trump administration is sudden. Just last week his lawyer Robert Kelner and the president's legal aide John Dowd were discussing strategy with Donald Trump Jr. and Jared Kushner.

The schism, first reported by the New York Times is an ominous sign for the Trump administration which has long denied any interference by Russia in the 2016 election.

Lawyers for Flynn and his son, Michael Flynn Jr., declined to comment Thursday. Flynn's son has also come under investigation from Mueller's team of prosecutors.

Flynn was forced to resign as national security adviser in February after White House officials concluded that he had misled them about the nature of his contacts during the transition period with the Russian ambassador to the United States.
US, (Daily Mail), 24 November 2017