---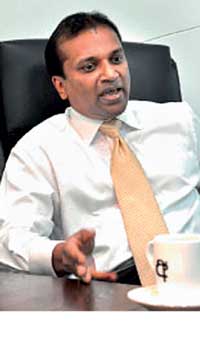 Sri Lankan business powerhouse Softlogic Holdings PLC celebrated its phenomenal growth into one of the country's most successful conglomerates when it completed 25 years of operations in July 2016.

Even though its website proclaims the fact, few people now connect the Rs 57 billion group with the 12-employee software development company of the same name that commenced operations with Rs 1 million in capital in July 1991.

Acknowledged today for its visionary boldness, eye for opportunity and appetite for calculated risk, the Softlogic Group has grown into a conglomerate that has firmly entrenched positions in six growing sectors of the domestic economy, and has become the dominant force in Healthcare and Retail. The Group also holds leading positions in ICT, Financial Services, Automobiles and Leisure.
Looking back on two and a half decades of meteoric growth, Softlogic founder and Chairman Ashok Pathirage credits "the group's rapid organic growth and aggressive acquisitions" as a significant contributor to its current position, singling out as game-changing examples its acquisitions of the Asiri Hospitals group and ODEL PLC.

With sales growing an impressive 46 per cent from Rs 39 billion to Rs 57 billion in the last financial year alone, Pathirage says the Group is positioned to double in size in the next five years, "if everything goes to plan."
"We are on a sound platform to take the business to its next phase, which may be much easier than the first 25 years," he states. "This is because we are where we want to be, a position we have achieved as a result of our vision and our people. A lot of hard work has been done, but it's not just hard work, nor the brands alone, that matter: it's having the right people with the right frame of mind that makes Softlogic what it is. A certain degree of boldness is required, but that stems from the confidence we have in our people who are empowered to carry out the Group's business objectives and to take it to the next level."
Expansion within the chosen growth sectors will drive the Group's short and medium term growth, Pathirage forecasts, disclosing that the Group is not looking at venturing into new sectors at this stage. "We believe there is enough potential within the sectors we are in, to achieve the growth we seek, and to generate robust shareholder value," he adds.

The Healthcare and Retail sectors, as well as Financial Services look "very exciting" in the roadmap for the Group's immediate future, Pathirage avers. The Group is also positioned to be a key player in the Leisure sector with the opening of its second international hotel property, Mövenpick later this year, but will "pick and choose" its investments, given the capital-intensive nature of the sector,
he reveals.

"We will also be focussing on profitability in the immediate future as a key component of the next phase of growth," Pathirage notes, adding that Softlogic will build further on its dynamism, continuing to look for opportunities where others may not see them, the mantra formuch of its past success.

Optimism about Sri Lanka's future fuels the group. "When we started operations, there was a war on. For about 20 years, we lived with that war and grew despite its impact on business. Some of our acquisitions based on our strategy of taking leadership positions in our chosen sectors may have surprised our peers. We now see those strategic decisions reaping much fruit," Pathirage explains.

"Sri Lanka is now moving towards a per capita income of US$ 7,000 by 2020, and Softlogic is perfectly positioned to support an economy of that size. We are building the country's biggest mall, The ODEL Mall, and we have many of the top global brands in our portfolio. We have been a catalyst in the growing popularity of designer brands in the local market and we can see the retail sector emulating Singapore and Dubai. We want to be in that space. Further,the construction of the 150 bed Asiri Hospital in Kandy has begun and is slated for opening in 2018. It will contain state-of-the-art facilities on par with its other hospitals in Colombo," he declares.
Ranked second among Sri Lanka's most valuable conglomerate brands in 2015, the Softlogic Group now provides employment to more than 9,000 people in Sri Lanka and Australia and has representations and strategic alliances with reputed global institutions and large multinational corporations.

The extensive global brand portfolio represented by Softlogic in Sri Lanka includes Panasonic, Samsung, Whirlpool, Candy, Xerox, Microsoft, Burger King, Levi's, Nike, Giordano, Mango, Mothercare, Fossil, Splash, Charles & Keith, Dockers, Tommy Hilfiger, Pepe Jeans, Emporio Armani, DKNY, Fossil, Diesel, Skagen, Michael Kors, Adidas, Dell, Blackberry, Epson, NEC, Cisco, Ford and Mövenpick to name but a few.