---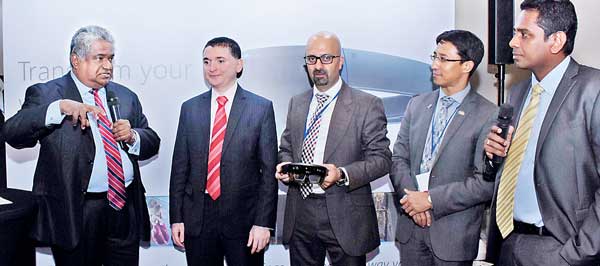 Standing from left: Deputy Minister of Health, Nutrition, Medicine Faizal Cassim Microsoft Asia Pacific Health and Social Services Industry Director Callum Bir Clinic to cloud CEO Rafic Habib, Vital Images Asia Pacific General Manager Dr.Ravi Shrestha
Pic by Kushan Pathiraja
By Zahara Zuhair
To provide a glimpse into the digital transformation of the health industry, Microsoft Sri Lanka hosted Triennial Commonwealth Medical Association Conference for the 24th time in Colombo last week.
It was held under the theme 'Digital Health for Health and Wellbeing'.

RingMD, Clinic to Cloud, OneView, ConnectedLife were some of the companies which participated in the three-day exhibition along with Microsoft.

At the media briefing held to announce the event, Deputy Minister of Health, Nutrition, Medicine Faizal Cassim requested Microsoft to give their fullest support to get a total technology solution for Sri Lanka' healthcare, as the country is still in the ground level when it comes to health technology.
He said that the technology displayed is very promising and he is keen on exploring how they can leverage it for Sri Lanka.
The journalists were provided with the opportunity to witness the real life examples of how healthcare providers are using Microsoft's Artificial Intelligence (AI) platforms such as Skype. They demonstrated a step-by-step scenario of a patient in need of urgent medical attention through smartphones and other technology-driven solutions that can be used in future healthcare.
Speaking to Mirror Business, Microsoft Asia Pacific Health and Social Services Industry Director Callum Bir said, they will be talking about the future of patients' journey and how to get people engaged to that.

As Sri Lanka has e-channelling technology for healthcare for now, he was of the view that it is not enough as it is the beginning of that journey.
He said that the exhibition would focus on four key themes on how to use technology for healthcare; at home, at work, at the hospital and at the clinic.
At home, he explained how patients can take charge of their heath conditions by connecting with doctors and Bots virtually.

Available on Skype and leveraging Microsofts's Conversation as a platform, he said that RingMD has developed an automated yet personalised solution called Cardea, that brings conversational intelligence to life.

"Cardea can be added as a contact on Skype. For example, John has a friend called Cardea which is a Bot, it responds to health related questions. Talking to Cardea is real time asking questions. If I say I have a shoulder pain, it will guide the conversation to a point whether it's a serious problem, if he/she should go to a doctor or not," he said.

However, he said that none of the hospitals in Sri Lanka are integrated to this platform so far and through this they are looking forward to connect them.
With the Clinic to Cloud, family doctors could collaborate with specialists using the Surface Pro equipped with Clinic to Cloud's clinical and practice management application to brainstorm on immediate treatment and intervention required before the patient is readmitted.