---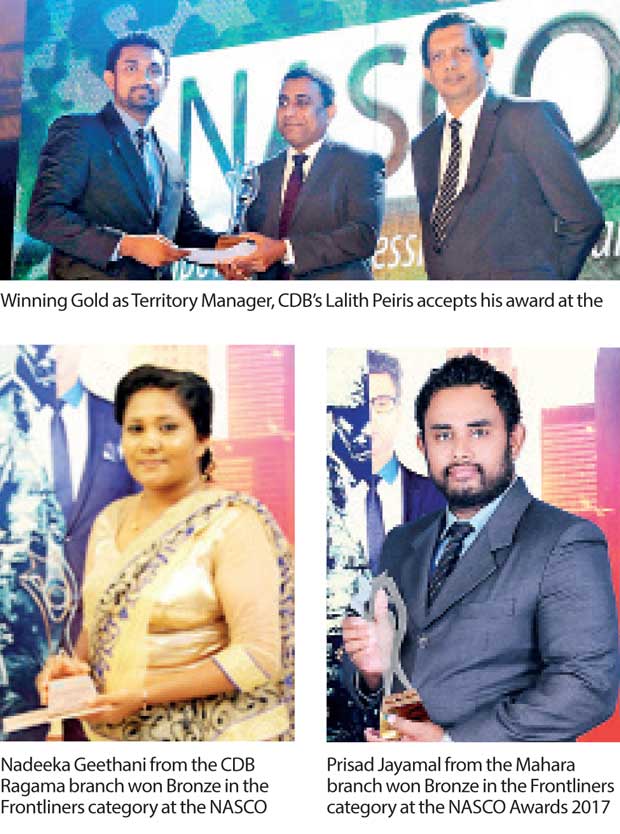 The NASCO Awards held annually to recognise and reward sales leadership organised by the apex national marketing body in the country, the Sri Lanka Institute of Marketing saw its timely theme of 'Prepare to take charge' fittingly crown members of one of the country's most dedicated, committed and proven
sales teams.

Citizens Development Business Finance (CDB) has always espoused team skills in marketing and sales as an integral facet to its continued success, which has placed the company now among the top seven entities in the NBFI sector, no mean feat in an intensely competitive financial services sector. CDB was very proud to have three of its team members wear the exalted NASCO crowns as Territory Manager and Frontliners - Lalith Peiris winning Gold as Territory Manager and Nadeeka Geethani from the Ragama branch and Prisad Jayamal from the Mahara branch winning Bronze as Frontliners.

Chosen to wear these laurels after a stringent selection and evaluation process which included a half day training programme conducted by SLIM, this national event which recognises efforts and performance of sales personnel is the only such event held in Sri Lanka to reward the country's sales force. The three winners from CDB who won under the Finance category are now among an exalted roll of honour of sales personnel who are in the forefront of 'Preparing to take charge' where their performance, capability, capacity and potential have been recognised.

Winning Territory Manager Lalith Peiris who faced an interview with the panel of judges and had to make a 10 minute presentation on the two main evaluation criteria of Capacity and Capability said that being awarded the highest award as a Territory Manager is surely a reflection of not only his individual abilities but also CDB's continuous commitment to having a winning sales team. "Our training and development initiatives have always been many steps ahead, designed to anticipate paradigms in sales while optimising our inherent skill and talent to meet our individual aspirations and add value to CDB's vision."

The two Frontliners who won bronze awards, Nadeeka Geethani and Prisad Jayamal have now proven that they have the ability to move up their career path undertaking the imperative responsibilities that come with such roles. Having exampled past successes that showcase their progressive thought processes in pushing the sales trajectory upwards at the evaluation process, they said: "We are truly honoured to have been recognised for our efforts by the national body for marketing. This proves that the intense training and development we continue to receive at CDB are of immense value in the macro sales environment and is surely what is needed in this fast evolving corporate sphere."