---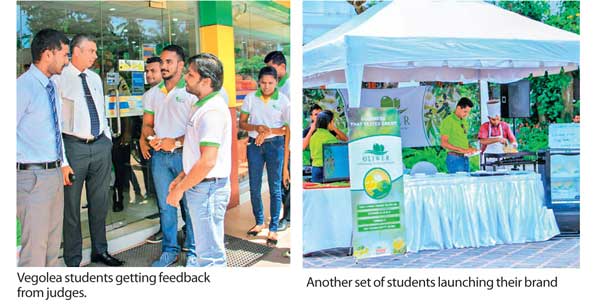 Students of the Diploma in Strategic Brand Management (DSBM) of Sri Lanka Institute of Marketing (SLIM) recently launched six original brands to the market, gaining instant popularity amongconsumers.

The brands were launched under the 'Student Brand' component of DSBM, which was designed with a view to grooming students as future brand custodians. It enables students to explore their branding talents by strategising amongst themselves and launching original brands to the market.

Notably, all students made optimum use of social media to promote their brands, and employed innovative branding strategies which transcended conventional boundaries. Their youthful energy and novel thinking ensured that the launch events, which were carried out in grand style at several supermarkets, attracted a lot of attention from customers.
The six brands were launched by six groups, and the assigned product type was fat spread margarine. The product of the group 'B'S' was Amare, which offered superior taste and health benefits in addition to being an ambient product. It was launched at Yasiru Traders Homagama, with posters and advertisements on an
LED screen.

'Castle Corps' launched DELISH, as a fat spread with a novel taste and only 60% fat. This was launched at Ananda Traders Horana with potential customers having the chance to taste fried rice and sandwiches made with Delish fat spread. 'Final Stars' launched its fat spread priced atRs. 160, branding it as the most affordable fat spread in town. The launch took place at Laugfs Supermarket Rajagiriya, and even employed a drone for aerial videography. Surapathi Super Center Star United Katunayaka was the venue for the launch of '7 Spirits' brand Vegolea, where puzzle games, sample food tasting and giveaways ofbranded key tags and recipe books were carried out for customer engagement. 'Vitrous' launched its product at Arpico Dehiwala, marketing it as elevating the activeness of all members of the family. This group allocated Rs. 3.00 from the sale of each tub to build a school sports grounds in a rural area. 'Mantra'marketed its product, Oliwer, as the only fat spread whichcontains 20% of pure virgin olive oil. AFacebook teaser campaign called "Guess the TWIST" enabled customers to win a Rs. 10,000 gift voucher as well asa special invitation to the launch event, held its launch at Arcade Independence Square, by guessing
the product.

The Diploma in Strategic Brand Managementis the only avenue open to marketers in Sri Lanka who aspire to become Brand Managers. The course covers areas such as the Role of a Brand Manager, Brand Marketing, Branding in Merchandising, Campaign Planning and Process, Strategic Level Branding and Brand Finance. In addition to the theoretical element, the DSBM programme includes experience sharing sessions featuring eminent personalities in Branding and an added focus on practicality to prepare students for the challenges of the corporate world. SLIM is the national body for marketing and offers the most sought after proprietary postgraduate and diploma programmes in the fields of marketing and sales. The SLIM calendar includes premier annual events such as SLIM Brand Excellence, Effie Awards, People's Choice Awards and NASCO. SLIM is a member of the National Chamber of Commerce of Sri Lanka (NCCSL), Organisation of Professional Associations of Sri Lanka (OPA) and Federation of Chamber of Commerce and Industry of Sri Lanka (FCCISL). Internationally it is affiliated with ESOMAR, the Federation of Marketing Research Industries and is a member of the Asia Marketing Federation, which is affiliated to the World Marketing Association.