---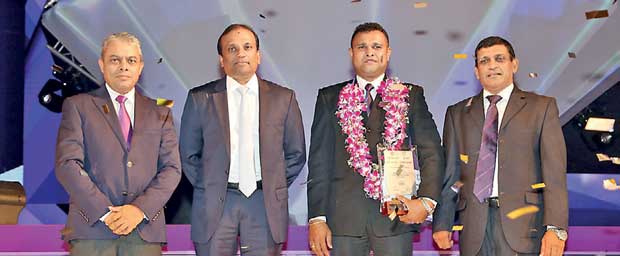 Gayan Amarathunga with the Most Valuable Sales Person Award and Managing Director Iftikar Ahamed (left), Softlogic Life Insurance Chairman Ashok Pathirage and Softlogic Life Chief Operating Officer Chula Hettiarachchi
With a fitting theme of 'Leading Life with Pride', which demonstrates the distinction brought in for their policyholders, Softlogic Life Insurance PLC celebrated the achievements of its top Life Sales performers at the annual Life Sales Convention, held at the BMICH recently.
Slated as the best sales event in the industry, the gala celebration hosted the highest achievers of the company for the year 2016 and rewarded them with Platinum, Gold, Silver and Bronze accolades.
The lively and vibrant evening included the presence of Softlogic Life Insurance PLC Chairman Ashok Pathirage, Deputy Chairman Paul Ratnayeke, Board Directors Sujeewa Rajapakse, Ray Abeywardene, Iftikar Ahamed, members of the senior management and other distinguished guests.
A total number of 181 awards were distributed among the winners. This year, two new awards – Most Popular Advisor and Best Customer Service – were introduced to symbolize exceptional client relationship and encourage Softlogic Life's sales team members to constantly deliver outstanding service to their clientele. The newest additions to the existing accolades further strengthen the untiring effort of top performers in offering outstanding customer service.
Continuing its outstanding performance from 2015, Softlogic Life cherished a strong growth of profit and revenue by concluding 2016 on a buoyant spirit. The life insurance business entity recorded a gross written premium (GWP) income of Rs.5.6 billion – increasing its growth by a significant 38 percent. The company has also recorded a profitability of Rs.967 million and return on equity (RoE) of 48.1 percent amidst a challenging business environment.
Softlogic Life has continuously shown growth and development potential. The company has achieved annualized new business premium (ANBP) of Rs.2182 million, a growth of 27 percent year-on-year (YoY), whilst the market capitalization increased 28 percent YoY to Rs.7.7 billion from Rs.6 billion in 2016.
"Our strategic focus on growth supported by a thriving business model coupled with our strong technology and innovation capabilities has invigorated our operations in the fast-growing life insurance industry," Softlogic Life Insurance Managing Director Iftikar Ahamed said to the audience.
Explaining the idea behind the 'Diamond' – the official logo of the awards ceremony, Chief Operating Officer Chula Hettiarachchi stated, "A diamond comprises of a myriad of features and qualities and they are perfectly mirrored in our company. The performance of our Life Sales team over the last year has further strengthened the many facets of our company. Softlogic Life is the diamond in the Sri Lankan insurance industry and it is leading life with pride."
Softlogic Life Insurance PLC is a subsidiary of Softlogic Capital PLC and is part of the Softlogic group, which is recognized as one of Sri Lanka's most diversified and fastest-growing conglomerates, with interests in healthcare, retail, ICT, leisure, automobiles and financial services. Significant stakeholders in the company also include FMO and DEG, who are rated 'AAA' Development Financial Institutions from the Netherlands and
Germany, respectively.