---
SLIM Marketing Roks, the vibrant marketing programme for school children, innovated by the Sri Lanka Institute of Marketing (SLIM) had its grand finale recently at the BMICH.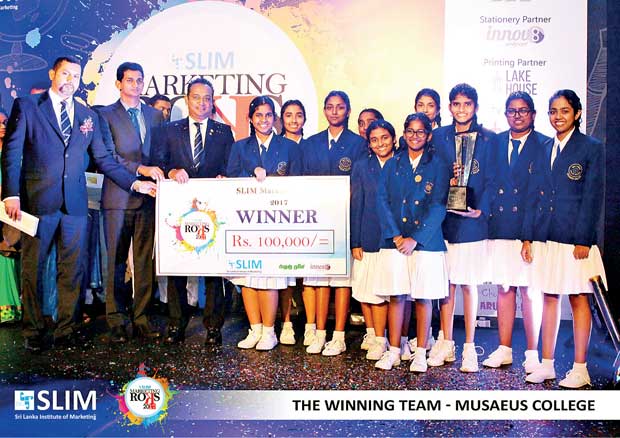 'Marketing Roks' is a power packed and educative project designed by SLIM with a view to creating awareness among students on 'Marketing and Entrepreneurship' and encouraging them to unleash their hidden talents.

This national level CSR project directly caters to senior school children with a futuristic vision. Through this unique and innovative program, SLIM is on a quest to groom students to enter the challenging business world confidently. Thus SLIM Marketing Roks is approved by the Education Ministry of Sri Lanka.

The programme with the participation of schools from districts across the island, along with the awards ceremony, marked its eighth year. The competition was held under the observation of an eminent panel of judges headed by G. S. Sylvester.

Out of 60 schools registered for the 2017 competition, 16 schools were selected from the gaming session to the presentation session. Ten teams were selected as the top teams of the Marketing Roks Challenge and three teams were selected as grand winners.

The gaming session comes with an attractive mechanism to open up the mindset of students towards the real business scenarios. This segment stimulates and enhances their creativity and strategic thinking prowess, presentation skills and leadership qualities with a view to converting them into future leaders of this country.

The 'Marketing Roks Challenge' also offers every student an opportunity to experience a real-life situation of solving and presenting a 'Corporate' solution to a given issue. Being analytical, creative, and smart, prepare young school children to face challenges in the corporate world which are in store for them, with greater confidence, dedication and integrity.

Musaeus College became the Winner of Marketing Roks 2017 while the first and second runners-up were St Anthony's College, Kandy and Mahamaya Girls' College, Kandy respectively. The winner of the 'Innov8 Take Home Challenge' was Sirimavo Bandaranaike Vidyalaya.

Nipuni Dayanada of Musaeus College became the best presenter of Marketing Roks 2017. The Best Presenter for 'Innov8 Take Home Challenge' was Yasali Madigahewage of Sirimavo Bandaranayaka Vidyalaya. The Best Logo was awarded to Lyceum International School, Nugegoda.

The Top three winning schools of the Marketing Roks 2017 Challenge were awarded cash prizes worth Rs.100,000, Rs.75,000 and Rs.50,000 respectively for first, second and third positions.
Other prizes were for the Best Logo, Winner of the Facebook Competition and Best Presenter.
SLIM Vice President and CEO/Director of GAP Holdings, Pradeep Edward said, "SLIM promotes marketing excellence and elevates the status of marketing by taking into account diverse perspectives. Marketing Roks was one of the effective examples of SLIM's effort to uplift skills and talents of students at school level".

Project Chairperson and Senior Marketing Manager of Piramal Glass Ceylon PLC, Enoch Perera said, "We were encouraged by the enthusiastic response of the participants. We are confident that Marketing Roks has generated immense interest in entrepreneurship and marketing among the youth of this region, which will help them achieve their aspirations of engaging in successful careers in the corporate world".

SLIM CEO/Executive Director Sanath Senanayake said, "SLIM Marketing Roks is the stepping stone for school children to the marketing sphere and I am truly pleased with the progress which the program has made since 2008. The totality of its positive impact on the Sri Lankan corporate sector will be realized by all in the years to come."

He added, "We have made it possible for students from southern and central region schools to be on par with Colombo students with regard to the exposure to marketing".