---
Sri Lanka's fastest growing commercial bank, Pan Asia Banking Corporation PLC was recognized as the Best Employer Brand at the 12th Best Employer Brand Awards organized by the World HRD Congress held in Colombo last week.
The award recognized the bank's benchmark human resource practices and some of the most innovative measures deployed to attract, develop and retain the best talent.
For instance the bank's benchmark internship programme, 'Pan Asia Stargate' established recently with the Institute of Bankers, Sri Lanka to identify and develop the brightest and most enthusiastic school leavers seeking a career in banking. This is one of many initiatives by the bank to find and build a talent pool which can take on the future challenges. This is in addition to many unique Human Resource Management and Human Resource Development programmes introduced by the bank to promote bench mark HR practices across the bank.
Commenting on winning the coveted award, Pan Asia Bank Human Resources Head, Rohitha Amarapala attributed this success to its policies and activities rolled out since a couple of years ago to build a well contended workforce which has been the single most important asset in the bank.
"I would like to dedicate this award to all our staff at Pan Asia Bank without whom this would not have been possible because this award manifests the efforts of our staff who went that extra mile to deliver their best" Amarapala said.
"Without them we would not have been able to record our recent successes in the spheres of financial and business performance, corporate social responsibility, product innovation, and in particular our exemplary customer service" added Amarapala after receiving the award. Pan Asia Bank became the overall winner at the 2016 National Business Excellence Awards for its excellent business and financial results while emerging the runners' up in the banking sector.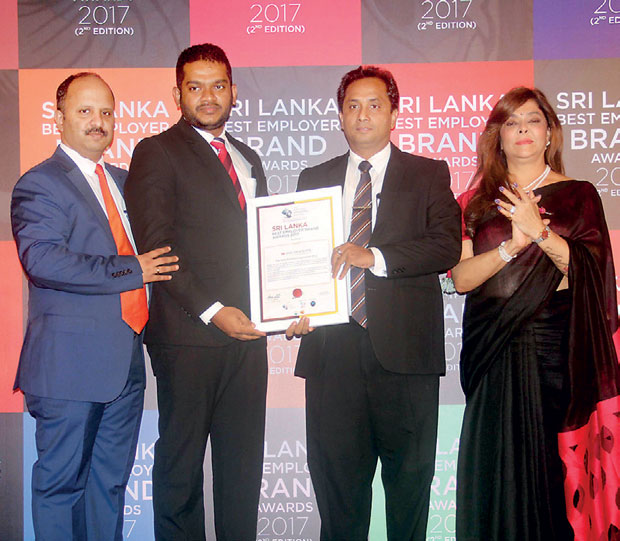 Pan Asia Bank Head of Human Resources Rohitha Amarapala (Second from right) together with Senior Marketing Manager Charitha Karunarathna (Second from left) with the award
Pan Asia Bank last year developed and deployed over 150 certified departmental trainers - probably the largest internal trainers cadre in the industry - who took the mantle of training the next generation of leaders.
Through these initiatives Pan Asia Bank has been developing its young talent to take on tomorrow's business challenges.
Pan Asia Bank also boasts of having the youngest staff pool in the industry and has deployed proactive strategies to meet the skill dearth in the banking sector.
The evaluation criteria for the World HRD Congress Best Employer Brand Award included criteria to ascertain whether the bank's human resource strategy complements the overall corporate strategy and whether the Bank cultivates competencies to build a future ready workforce.