---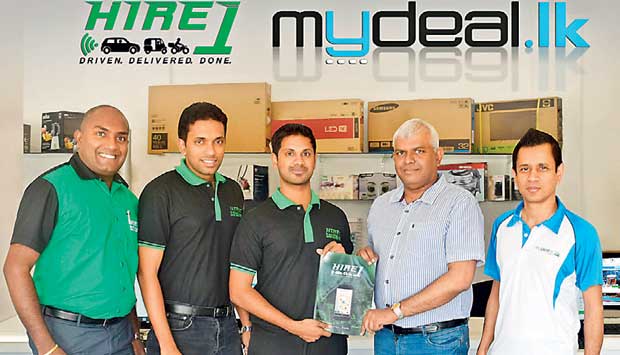 MyDeal.lk Managing Director Damitha Ginigaddarage, Hire1 Co-founder Yeshanth Gunewardena, MyDeal.lk CEO Kumar Melvani, Hire1 Co-founder Indika Tantrigoda and Hire1 Head of Sales Shanaka Perera at the signing of the agreement
Hire1, the country's on-demand logistics company revolutionising point-to-point delivery, has partnered with MyDeal.lk, one of Sri Lanka's pioneering daily deals websites, to guarantee speedy delivery of online orders for its growing customer base.
While consumers constantly seek attractive offers, MyDeal.lk also understands that to underpin the customer experience, raising the bar on delivering orders quickly is just as important.
The partnership brings together a strong logistics partner to provide reliable and timely delivery of orders and a dynamic player in the Sri Lankan deals marketplace, delighting customers through the ultimate shopping experience.
The recent signing with Hire1 will significantly help MyDeal.lk reduce its delivery time from days to 24 hours, in the greater Colombo area, across 51 cities. The value additions offered through the MyDeal.lk and Hire1 partnership are unmatched in the current local e-commerce scene.
Hire1 was founded in 2015 and its app allows users, especially merchants, a hassle-free approach to a strong logistic operation with smarter delivery options. This will be Hire1's fourth partnership with a prominent vendor.
"Hire1, with its growing fleet is in a position to deliver the ordered items to your doorstep within a record time. While we offer competitive delivery rates, customers can select to pay for the items in cash upon delivery of the goods," reiterated Hire1Co-founder Yeshanth Gunewardena.
Hire1 understands that 'tomorrow' is not urgent enough and that the delivery needs to take place on time and they are looking at a same day delivery service along with guaranteeing the safe handling of payments as well.
Established in 2011, MyDeal.lk has evolved into the most prominent player in the Sri Lankan deals marketplace, consistently providing the 'Best Deals in Town' for its customers. Growing exponentially during the last four years, MyDeal.lk continues to offer exciting new deals daily among its growing vast clientele.
With this new agreement MyDeal.lk customers now have the ability to track the delivery and be notified about the status by installing the Hire1 app on their mobile devices. MyDeal.lk can now fulfil orders more quickly, deliver to customers within hours and reinforce its sterling reputation in the market.
"By partnering with Hire1 as MyDeal's new delivery service partner for the greater Colombo area, our customers can now look forward to receive their orders within 24 hours," explained MyDeal.lk Managing Director Damitha Ginigaddarage.
The collaboration between Hire1 and MyDealk.lk will undoubtedly power the future of urban logistics and elevate the online shopping experience where the immediacy of purchase is matched through a fast and reliable delivery, liberating consumers in the process.