---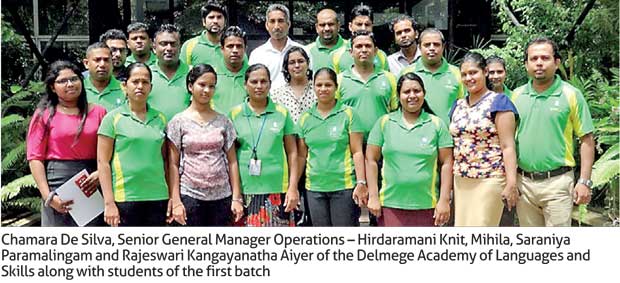 The Delmege Academy of Languages & Skills, a part of Delmege Group, last week concluded its first Business English Training Programme for Hirdaramani Knit Agalawatta.

The programme, which covered training on the fundamental aspects of business English, was conducted on-site at Asia's first carbon neutral apparel factory. It was designed and customised by the Delmege Academy to exclusively meet the needs of the staff. It was a testament to both Hirdaramani's commitment to staff development and enrichment as well as the Delmege Academy's commitment to delivering highly customised and inspiring training for all their valued clients.

Shenali Guneratne, Hirdaramani's Head of Learning and Talent Development, said, "In keeping with Hirdaramani's focus on people development both professionally and personally, we are pleased to have partnered with Delmege Academy, who brought in their knowledge and experience in language skill development and helped achieve the objectives set out at the start of the programme."
Delmege Forsyth & Co., one of Sri Lanka's most revered corporate names, is now in the process of revolutionizing the field of corporate training.
Backed by over 150 years of experience shaping various aspects of Sri Lanka's corporate landscape, Delmege's latest endeavour as one of the country's premier diversified corporates is disseminating knowledge and skills through the Delmege Academy of Languages & Skills. The focus of the academy's latest brand repositioning is expanding the product catalogue to meet corporate-centric requirements in today's market and offer a "One- Stop HR Development Solution, while also offering development-centred training packages for individuals. The expanded service range from the Delmege Academy will revolve around the concept of development-oriented training. This approach to training offers companies the chance to train their employees in line with the goals of developing the employee's job-specific knowledge as well as his/her personal outlook and wellbeing.

Apart from such on-site training programmes, the Delmege Academy has its own, fully-equipped, state-of-the-art training facility in the corporate hub of Colombo offering the latest in audio/visual training aids and equipment.